Main Content Starts Here
Demo Kitchen Recipes: Tamal Azteca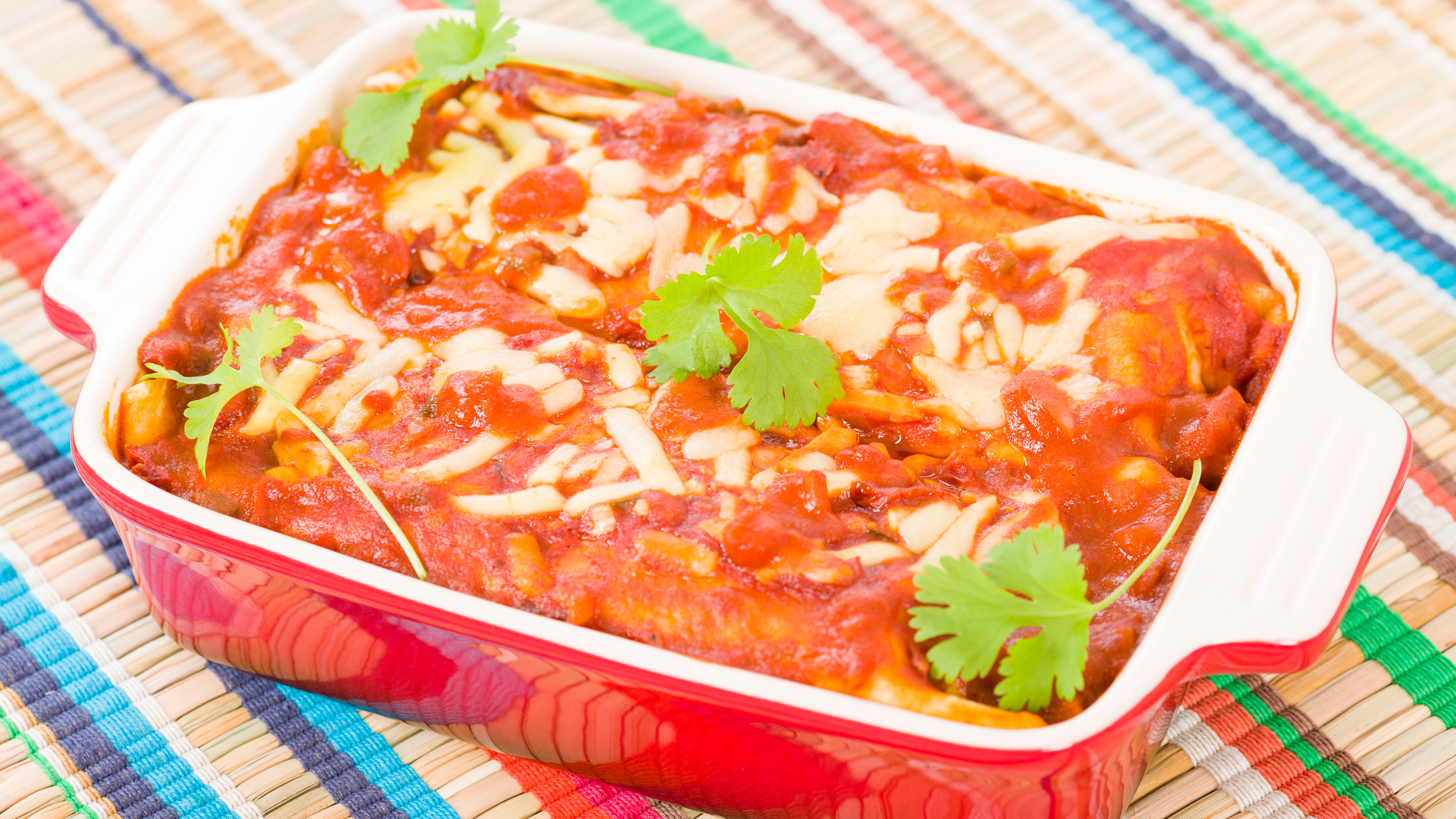 Pastel Azteca, Tamal Azteca, Budín Moctezuma, and Budín de Tortillas are just a few of the names this dish is known by in Mexico. The casual translator might conclude that this is some sort of dessert with all those references to cake and pudding. It is layered like a cake, and when it emerges from the oven it has a rich, creamy, pudding-like texture of tortillas, sauce and cheese melded together, but this is an ultra-savory dish. It is no tamal in the common sense of the word either. There are no corn husks or banana leaves and no fresh masa, just some day-old corn tortillas. And, despite the pre-Columbian references, it is not an ancient dish but almost certainly a product of the modern Cocina Mexicana. Whatever you want to call it, this layered casserole is easy and incredibly versatile, like a Mexican version of lasagna.
We say versatile and really Tamal Azteca can be layered with anything that appeals including shredded meats, cheese, and all manner of veg. Just like lasagna the only real constants are a flavorful sauce and pliable lightly fried corn tortillas playing the role of pasta. In this case we have opted to go strictly vegetarian in celebration of Mexico's abundance of wonderful produce. It is such a hearty and satisfying dish that carnivores won't notice the absence of meat and those who eschew meat can revel in the exciting flavors Mexican cuisine has to offer.
Although we call this a celebration of produce there is a glaring contradiction in the recipe as presented, but we have done this purposefully for ease of preparation and for the good of the dish overall. Since we are presenting this as a great option for an easy make-ahead dish that can serve as a main course or be added to a buffet for Cinco de Mayo celebrations, we had to consider seasonality. The Demo Kitchen is confident that this list of fresh produce will be easy to procure at the beginning of May except for worthy fresh tomatoes. We firmly believe that whether you are cooking Italian or Mexican sauces, canned tomatoes are the way to go in the off season. Otherwise, we would be roasting and peeling plump red plum tomatoes for this recipe. We are also calling for canned chipotles for ease of use, but you can, of course, toast and rehydrate dried chiles if you prefer. In any case, this classically seared tomato sauce is deeply savory, garlicy, spicy, and smokey.
Otherwise, we have opted for typical Mexican produce including poblano peppers (hailing from Puebla, the sight of the Battle of Puebla that Cinco de Mayo celebrates), fresh corn, squash, spinach, and an unsung hero of Mexican cuisine – mushrooms. Although hongos don't have a large role in the most familiar of Mexican dishes, the array of wild mushrooms in Mexico is truly noteworthy and they do play an important traditional role. You can use standard button mushrooms but if you have access to exotic or wild spring mushrooms, we encourage their use.
Mexican sauvignon blanc makes for a remarkable pairing as do fruitier pinot noirs. Mexican lagers are a no brainer, but we like the maltier versions done in the Vienna style like Negra Modelo. We also recommend the Confessions of a Mixologist's Maracuyá Margarita as a must try cocktail.
Serves 8 as a main course and up to 16 on a buffet or as a starter course.
Tamal Azteca
INGREDIENTS:
Sauce:
1 head of garlic broken into unpeeled cloves
10 chipotle chiles in adobo sauce
2 twenty-eight oz. cans plus 1 fourteen oz. can of whole peeled tomatoes
2 tbsp. vegetable oil
salt, to taste
Casserole:
2 large poblano peppers
1½ cups of fresh corn kernels cut from the cob
1 medium zucchini, diced
1 medium yellow squash, diced
1 lb. button mushrooms or wild mushrooms, quartered
4 cups fresh spinach, loosely packed
4 cups shredded Chihuahua cheese
½ cup vegetable oil for tortillas plus more for veg
16 corn tortillas, slightly stale
Mexican crema or sour cream
¼ cup chopped cilantro
INSTRUCTIONS:
Sauce:
In a dry cast iron skillet over medium-high heat, roast the garlic cloves, turning, until soft and the skins are blackened in spots. About 15 minutes. Cool and peel.
Add roasted garlic, chipotles, tomatoes with their juice to a blender or food processor. Work in batches if necessary. Blend briefly until you have a textured puree (not completely smooth).
Heat oil in a heavy pot over medium-high until shimmering. Pour in tomato sauce. The sauce should immediately sizzle and bubble in the hot oil. Cook stirring constantly for about 10 minutes, the sauce will darken slightly and thicken.
Remove from heat and season to taste with salt. About 1½ tsp. Set aside.
Prep the Veg:
Roast the poblanos over an open flame or under the broiler until the skins have blackened all over. Place in a bag or a covered bowl to steam for a few minutes, then peel. The blackened skins should slough right off. Slice peeled peppers into strips and combine with fresh corn kernels.
In a large skillet, sauté the diced zucchini and yellow squash over medium-high heat with a little oil just until tender, about 2 minutes. Season with a little salt. Transfer to a baking sheet to cool.
In the same skillet over medium-high heat, sauté the mushrooms in a little oil until browned and tender, 6-8 minutes. Season to taste with salt. Add spinach to the mushrooms in the pan and toss until wilted. Set aside to cool.
Fry the Tortillas:
In a small skillet heat ½ cup of oil over medium. Meanwhile line a sheet pan with paper towels.
Fry each tortilla for just a few seconds per side and remove to paper towels and blot away the extra oil. They should be soft, not crunchy. Cut them in half.
Build the Casserole:
Preheat oven to 350°F. Grease a 9x13 casserole.
Add a layer of sauce to the bottom of the casserole, then layer eight tortilla halves over the sauce. Aim for maximum coverage.
Add the mushrooms and spinach in an even layer, add about 1½ cups of sauce, then sprinkle on a cup of cheese.
Add another layer of tortillas, the poblanos and corn, another 1½ cups of sauce and another cup of cheese.
Add another layer of tortillas, the diced squashes, sauce, and cheese.
Top with the remaining tortillas, sauce, and cheese.
Bake:
Cover loosely with foil and bake for about 30 minutes. Uncover and continue baking until browned and bubbly, about 12-14 minutes.
Remove from oven, let rest before cutting into squares for serving.
Garnish each serving with a dollop of crema and a sprinkling of cilantro.