Main Content Starts Here
Demo Kitchen Recipes: Summer Seafood Boil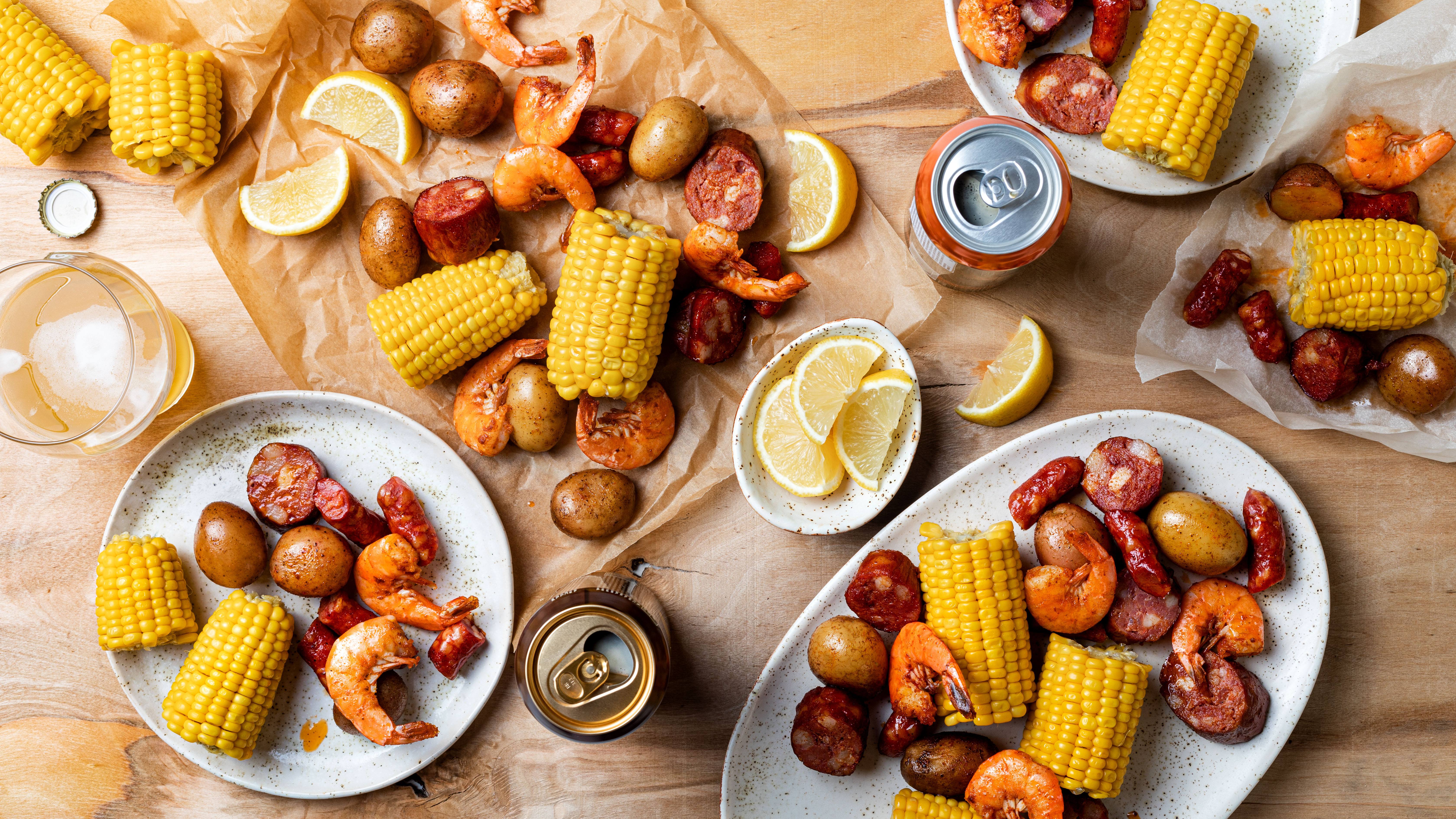 It's the end of the spring and here she comes back...those summer days. Time for hot fun in the summertime and the sly among us will be making frozen cocktails, drinking crisp white wine, refreshing summer beer and eating giant but easy one pot seafood boils. Few dishes speak of easygoing fun in the sun quite like a communal heap of shellfish, sausage, potatoes and corn piled high on a paper-covered picnic table. Likewise, few circumstances demand, so clearly, ultra-refreshing beverages. Perfect pairings must both serve as counterpoint to the blazing summer sun and the salty, highly seasoned fare. Well, we have the recipe, and we have the pairings, so let's do this!
The first thing you need to know is that this is easy! Anyone can make this with impressive results, just follow the cook times closely and you can't fail. Second, our recipe is for easily obtainable shrimp but the same can be done with crab leg clusters or lobster instead of or in addition to shrimp. Just add larger shellfish to the pot earlier. Give 1½ lb. lobsters or live blue crabs about 12-15 minutes. We are working with Old Bay and Flying Dog Dead Rise Old Bay Summer Ale, so Maryland blue crabs are a natural here if you lay your hands on some fresh live ones. You would benefit from crackers to free lobster meat and wooden mallets for crab smashing if you go that route, whereas (very clean) hands will do just fine for shrimp.
That brings us to our beverages of choice. As luck would have it, Maryland's Flying Dog Brewery has teamed up with Maryland's most iconic culinary seasoning, Old Bay, to craft a crushable summer ale in the Gose style. It's fresh, tart and subtly seasoned with Old Bay for a hint of salt and spice. It is the perfect beer for both cooking and drinking with this East Coast classic. This is a must try combo so grab this summer seasonal while it lasts!
If your preferences lean toward wine, this is also unbelievably delicious with crisp, dry whites. We have a slew of great choices on sale right now, we are Binny's after all, but we think this is the perfect time to deploy one of summer's greatest wine pleasures, Chablis. We highly recommend Thomas Labille Chablis 2019 for its steely spine of nervous acidity, briny mineral notes and uncommonly lush fruit flavors. While this well-priced beauty retains the classic brisk Chablis character, the warm, sunny 2019 vintage left its mark on this richly concentrated and relatively fruit forward wine making it the perfect pairing for this casual feast.
By the way no one will complain if you expend the effort to blend up some fresh, fruity, sweet/tart frozen strawberry daiquiris.
Let's go, kiddie pool nation! It's time for a backyard beach party that will have you feeling a cool ocean mist on your face, even though it's just some stewed to the gills party hound splashing around in a foot of Lake Michigan water straight from the garden hose. Still, it's a solid 5 out of 5 on the patented Binny's Barrel to Bottle kiddie pool scale. Dive in!
Serves 8 generously.
Summer Seafood Boil
INGREDIENTS:
4 qts. water
12 oz. Flying Dog Dead Rise Old Bay Summer Ale or dry white wine
2 lemons, halved
2 large white onions, quartered
1 head garlic, halved horizontally
2 bay leaves
3 sprigs fresh thyme
½ cup Old Bay seasoning
2 tbs. salt
2 lbs. small red potatoes
2 lbs. smoked sausage, such as Kielbasa or Andouille cut into 2" pieces
8 ears fresh corn, shucked and halved
4 lbs. 21/25 shrimp, shells on
1 stick unsalted butter, melted
¼ cup chopped flat leaf parsley
DIRECTIONS:
Add water, beer or wine, lemons, onions, garlic, bay, thyme, Old Bay and salt to a large stockpot. Bring to a boil over high heat.
Add potatoes. Cook for 8 minutes.
Add smoked sausage. Cook for 5 minutes.
Add corn. Cook for 7 minutes.
Add shrimp. Cook for 4 minutes until the shrimp turn
Strain through a large colander. Transfer to a large serving bowl. Drizzle with butter, sprinkle with parsley and additional Old Bay, if desired.
Serve in bowl or pour onto a paper-covered table with extra lemon wedges.