Main Content Starts Here
Demo Kitchen Recipes: Spanish Style Grilled Ribeye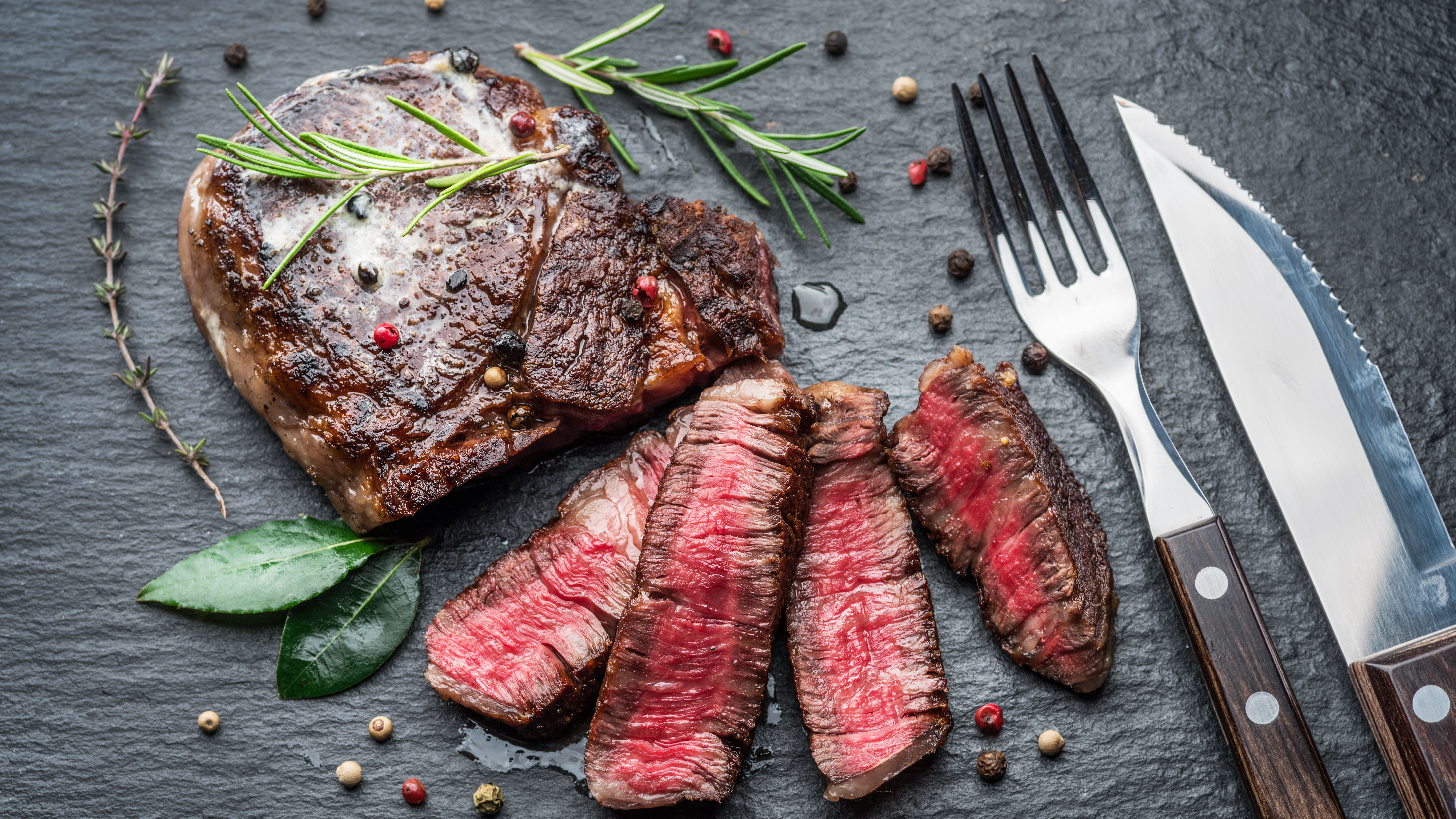 It's Memorial Day weekend and it looks like it's going to be a hot one. So stay hydrated out there people by adding an extra case or two of bottled water to your Binny's shopping list. You'll be glad you did. Not only is it Memorial Day but we have the Crosstown Classic going down. Luckily, our resident mixologist has supplied recipes for some cool, refreshing cocktails to help you beat the heat and enhance your baseball viewing pleasure.
This weekend also marks the unofficial kickoff of grilling season, but never fear, the Demo Kitchen has a big, bold and beautiful recipe for grilled ribeye steaks, accented with a Spanish flare, and topped with marinated red peppers and piquant yet creamy Spanish blue cheese. It's packed with flavor and so simple that you will have plenty of time to party and eat like royalty too. Just marinate the steaks and the peppers a day in advance and you are set up for an easy time when it comes time to grill.
We are also particularly pleased with this week's wine pairing. We are teaming up these juicy slabs of beef with a wine that has all the rich ripe fruit, luxurious French oak and underlying structure that this preparation is screaming for. We speak of the 2019 Juan Gil Monastrell. This baby is a perenial favorite on Binny's shelves and we have it for a ridiculously low Binny's price. The Demo Kitchen was lucky enough to have been a guest at this impressive estate in Jumilla, Spain and can attest to the no holds barred approach to making sexy, ripe and powerful, yet polished wines. The winery is state-of-the-art, the oak is fancy and expensive and the gnarled old vines of Monastrell look like they have been there since Don Quixote was bumbling around the countryside vexing his sidekick, Sancho Panza, with his antics. This is truly a perfect pairing.
However, one could also consider Cliff Lede Claret, an absolutely killer Bordeaux blend at a killer price from one of Napa's top estates. Binny's just happens to have an exclusive in Illinois on this beauty, and we couldn't be happier about it.
We also like richer Stouts and Robust Porters with this, but given the expected heat we wouldn't turn down a crisp lager. Choose something with some herbal noble hop bitterness like a German Pils to play off the rosemary and roasted red pepper.
Enjoy the long weekend!
Buen provecho.

Steak
INGREDIENTS:
6 cloves garlic, minced
1½ tbsp. smoked paprika
1 tbsp. chopped fresh rosemary
1 tbsp. kosher salt
1 tsp. freshly ground black pepper
⅛ tsp. cayenne
1 tbsp. lemon juice, freshly squeezed
⅓ cup extra virgin olive oil
six rib-eye steaks, 1 inch thick
3 oz. Cabrales, Valdeón or other blue cheese
DIRECTIONS:
In a small bowl, whisk together the first seven ingredients. Gradually whisk in olive oil. Pour marinade over steaks, marinate refrigerated overnight.
Remove steaks from refrigerator an hour before grilling. Prepare a hot hardwood charcoal fire or preheat gas grill.
Remove steaks from marinade removing any excess. Grill over a medium-hot fire, for about 8 minutes per side for medium-rare.
Remove steaks from grill, let rest for ten minutes. Serve them whole or sliced topped with marinated peppers and crumbled blue cheese.

Marinated Roasted Red Peppers
INGREDIENTS:
2 red bell peppers
2 cloves garlic, minced
¼ tsp. dried oregano
2 tbsp. sherry vinegar
3 tbsp. extra-virgin olive oil
Kosher salt
Black pepper, freshly ground
DIRECTIONS:
Rinse the peppers. Grill over medium high heat, turning until the skin is charred and black all over. Place peppers in a covered bowl or paper bag to steam. When they can be handled, peel and seed the peppers then slice into long strips.
In a medium bowl, whisk together garlic, oregano and vinegar. Slowly whisk in the olive oil. Add peppers, season to taste with salt and pepper.
Marinate 1 hour at room temperature or overnight in the refrigerator.