Main Content Starts Here
Demo Kitchen Recipes: Shrimp DeJonghe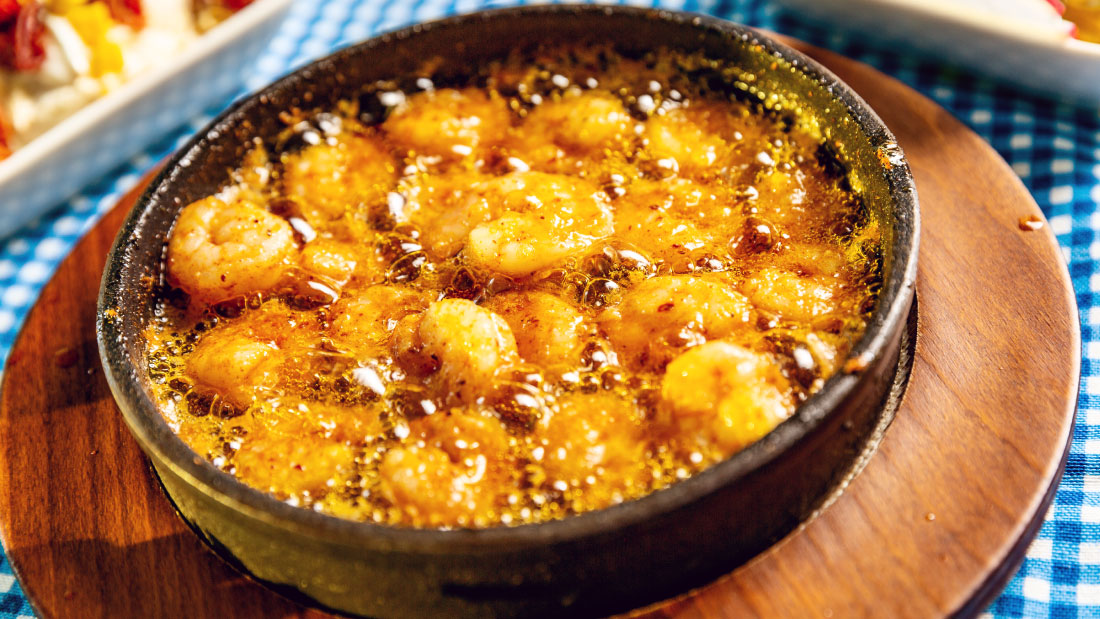 This week, Confessions of a Mixologist took a deep dive into the Chicago Cocktail. That exploration of Chicago's nascent restaurant scene and how prohibition informed Chicagoans' relationship to food and drink set the Demo Kitchen to thinking about classic Chicago recipes. Many sprang to mind but the irresistible allure of a true early 20th century Chicago original, Shrimp DeJonghe, was too great to resist.
This absurdly decadent but exceedingly simple shrimp preparation is credited to the restaurant located in the DeJonghe Hotel that occupied 12 E. Monroe St. from 1899–1923. However, it remains somewhat obscure as to who was actually behind the dish. Credit usually goes to Henri DeJonghe, one of three Belgian brothers, who immigrated to Chicago and established the hotel and restaurant but many suspect Emil Zehr, the restaurant's chef for its entire 24-year run, may have been the author of this beloved recipe.
Most modern takes on Shrimp Dejonghe are quite similar and seem relatively faithful to the original but they do display a notable variation in the amount of garlic and Sherry to add and whether to stick to salt, pepper, and parsley or employ an arsenal of herbs, paprika and cayenne. Nevertheless, the Demo Kitchen immediately turned to another Chicago legend for an authentic take; The 1948 Antoinette Pope School Cookbook by Antoinette and François Pope. As expected, we found not one but two recipes for Shrimp DeJonghe.
If those names don't mean anything to you, let's just say that it is hard to overstate the Popes' influence on Chicago's cuisine. They, quite literally, taught Chicago how to cook and even if their memory has faded their influence on what we eat persists.
The Popes were Southsiders known for extravagant dinner parties in the 1920s. Those lucky enough to be wowed by their cooking prowess pestered the Popes to teach them how to create such exquisite dishes. They decided to oblige by opening a cooking school in their own home. Over the years, venues changed as their renown grew eventually leading to a Michigan Avenue address in 1942 where the Antoinette Pope School of Fancy Cookery flourished for decades. 1951 saw the beginning of the Popes' "Creative Cookery Television Show" which ended its run in 1963, the same year Julia Child's "The French Chef" debuted. Sorry Julia, the Popes beat you by a dozen years.
That's an impressive, albeit truncated, version of the Popes' resume. Given that they were contemporaries of DeJonghe and Zehr, we expect their recipe to cleave closely to the original. That being said, the Popes had a very heavy hand with the Sherry. We kept their heavy pour intact, so consider well how dominant you want that flavor to be before adding it all.
The great thing about this dish is that it is simple enough to make for a quick weeknight dinner, rich enough to qualify as a holiday treat and can serve as an entrée or as an appetizer before a holiday roast. You can even stuff mushroom caps with the shrimp, top with the breadcrumb mixture and bake for a passable cocktail party hors d'oeuvre.
While the book does have a section on wine, the vague call for white wine with fish or chicken is wholly insufficient for our purposes so may we suggest that Terlano Terlaner Classico, a thrilling Italian blend of Pinot Blanc, Chardonnay and Sauvignon Blanc is just about perfect with this dish. Other options include Champagne and Rosé or beers in the Belgian Tripel or Saison styles to honor the DeJonghe brother's Belgian heritage.
Finish the evening with a sugar rimmed Chicago Cocktail, of course.
Cheers!


Shrimp DeJohnge
INGREDIENTS:
2 lbs. peeled and deveined 21/25 shrimp
¾ cup butter
2 cloves garlic finely chopped
1 tsp. salt
⅛ tsp. freshly ground black pepper
¾ cup dry Amontillado Sherry
½ cup finely chopped parsley
1-½ cups lightly toasted breadcrumbs
¼ cup freshly grated Parmesan cheese
¼ cup melted butter
DIRECTIONS:
Preheat oven to 350°F. and butter a shallow casserole just large enough to hold shrimp in one layer.
Add shrimp to a pot of salted boiling water and cook until just pink, about 2 minutes. Drain and cool.
In a bowl beat ¾ cup of butter until very light – about 5 minutes. Add garlic, salt, pepper, and Sherry, beat until incorporated. Toss in parsley and breadcrumbs.
Place shrimp in casserole and spoon bread-crumb mixture evenly over the top. Sprinkle with Parmesan and drizzle with melted butter.
Bake casserole until crumbs are golden brown and sizzling, 30 to 35 minutes.