Main Content Starts Here
Demo Kitchen Recipes: Shepherd's Pie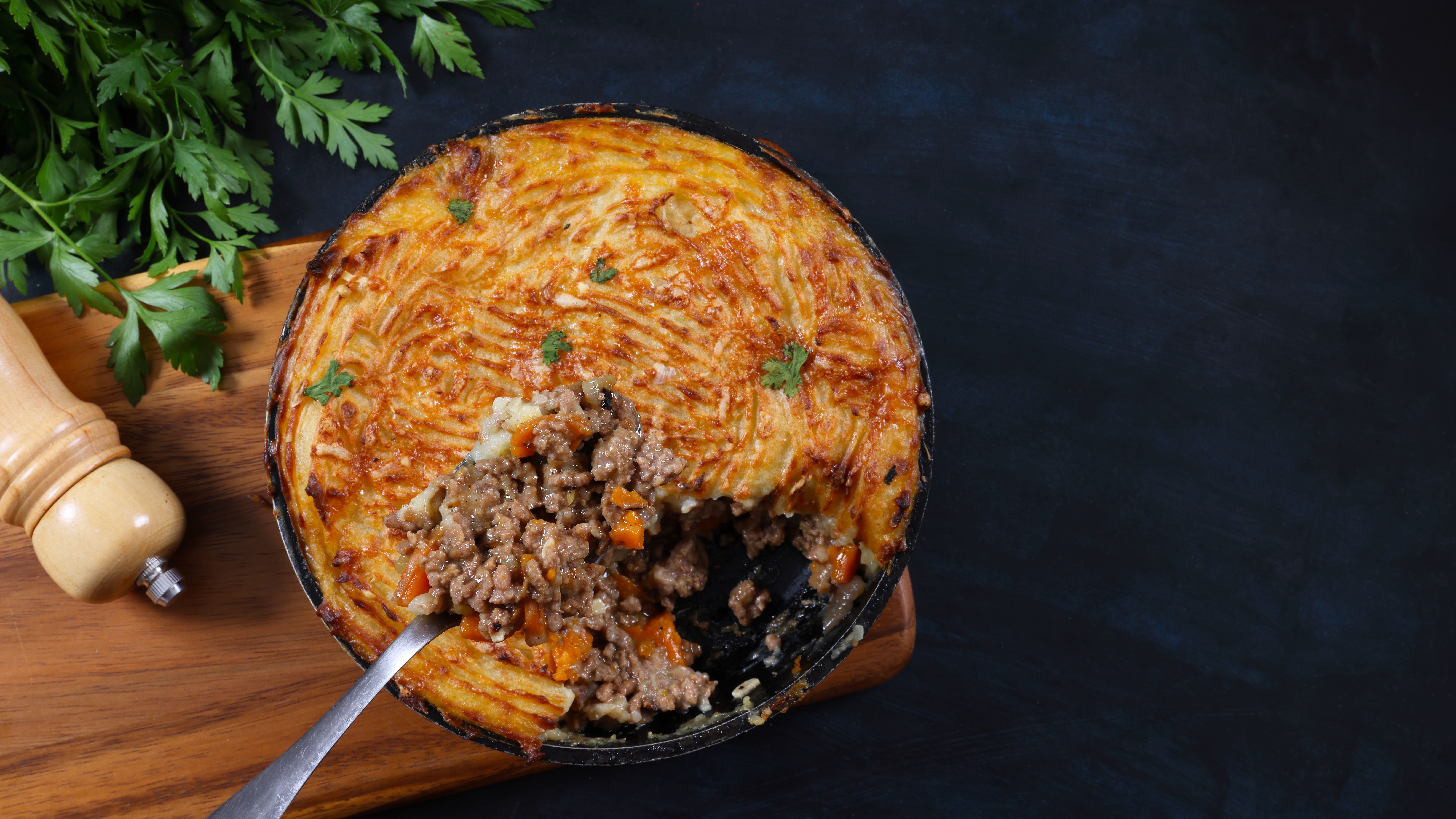 You can already find St. Patrick's Day recipes for Corned Beef and Cabbage and a truly delicious Irish Salmon dish, among others, straight from our Demo Kitchen but this year we thought we might do something a little different. So, we have combined Pi Day (3.14) with St. Patrick's Day (3.17) by providing an easy recipe for an Irish meat pie.
Meat pies have been beloved across Ireland and the U.K. for centuries. Usually that means a hearty crust made with beef suet or lard but when it comes to Shepherd's Pie, rich, creamy and tantalizingly browned mashed potatoes stand in for pastry. Underneath that buttery layer of mash is a savory mixture of ground meat and vegetables, bound together with a thick gravy, making for a hearty and filling dish for a late winter's day. St. Patrick's Day, to be precise.
There is some debate about the name in relation to the meat used, but we are leaning into Ireland's long shepherding history by using lamb and the Shepherd's Pie moniker. Some use the term Cottage Pie to refer to this style whether it is made with beef or lamb, and that's fine with the Demo Kitchen, but it only makes sense that the Shepherd's Pie name should be reserved for lamb.
If you prefer beef this recipe allows for a direct substitution of lean ground beef for the lamb. Plant-based ground meat substitute and vegetable stock can be used to make a vegetarian and Lent-friendly version if that is your preference. Beyond that this is a very simple and straightforward recipe for anyone who can brown meat and make mashed potatoes; well within reach for the least experienced cooks among us and the reward far exceeds the effort.
We have added a little Guinness Extra Stout to enrich the gravy and pull this pie firmly into the realm of Irish cuisine. While Guinness Draught is an excellent partner to this dish, we like the added heft and richness of Extra Stout or even the bold Foreign Extra Stout but it's always a good idea to drink what you've cooked with. If you prefer wine with dinner, Chianti Classico, cool climate Syrah and even Bordeaux are particularly tasty options.
Certainly, nobody will look askance at you if you want to start the evening with a nip of Irish Whiskey or whet your appetite with a Patsy Fagan cocktail, so please do so. We also have plenty of options if you want something sweet after dinner. Check out our recipes for a Shillelagh Shake, Shanky's Fever Dream and the Brass Nail cocktail or grab some Irish Cream. There are many good examples, but the Demo Kitchen is completely enamored with The Whistler Irish Cream for its incomparable richness, nuanced grass-fed cream and genuine whisky flavors.
That's all we have other than to wish you a happy St. Patrick's Day!
Sláinte!
Serves 6
Ingredients:
Filling:
2 tbsp. Irish butter
1½ cups finely diced yellow onion
2 carrots, peeled and diced
3 cloves garlic, minced
2 lbs. lean ground lamb, lean ground beef or plant-based ground "meat"
1½ tsp. kosher salt
1 tsp. freshly ground black pepper
2 tbsp. flour
2 tbsp. tomato paste
½ cup Guinness Extra Stout
1 cup beef or chicken stock (low sodium)
1 tbsp. Worcestershire sauce
2 tbsp. fresh flat leaf parsley, chopped
2 tsp. fresh rosemary, minced
1 tsp. fresh thyme, minced
¾ cup frozen peas
Topping:
2 lbs. russet potatoes, peeled and cut into 1" dice
2 cloves garlic, peeled and crushed
½ cup Irish butter, room temp.
1/3 cup half & half, room temp.
1 egg yolk
kosher salt
white pepper
4 oz. Irish Cheddar, divided
Directions:
Filling:
Melt butter in a large skillet over medium heat. Add onion and carrot. Cook 4 minutes, stirring occasionally. Add garlic, cook for 1 minute.
Add the ground lamb (or beef or faux meat) to the skillet and break it apart with a wooden spoon. Cook 6-8 minutes, stirring occasionally, until browned, season with salt and pepper.
Add flour, stir to absorb fat, then add tomato paste. Stir well and cook for a minute.
Add Guinness and cook until reduced by half. Add stock and Worcestershire sauce. Bring to a boil, lower heat and simmer about 5 minutes until sauce has thickened and tightened up a bit.
Remove from heat and stir in parsley, rosemary, thyme, and peas. Taste and adjust seasoning with salt and pepper if needed.
Transfer to a casserole dish in an even layer. Preheat oven to 400°F.
Topping:
Add potatoes and garlic to a large pot. Cover with cold water. Season water generously with salt and bring to a boil over high heat. Reduce to a simmer. Cook until potatoes are tender, 10-15 minutes.
Strain the potatoes and return them to the hot pot over low heat to evaporate any remaining liquid.
Use a food mill or ricer to mash the potatoes and garlic. Add butter and stir until butter is evenly absorbed. Add half and half, stir until incorporated.
Add egg yolk, and half the cheddar, stir to incorporate.
Season to taste with salt and white pepper.
Assemble and Bake:
Spoon the mashed potatoes on top of the meat mixture in an even layer. Run a fork across the potatoes to create a design and give them texture for browning. Mash can also be transferred to a piping bag with the tip of your choosing and piped into a fancy design. Top with remaining cheese.
Place casserole on a rimmed sheet pan. Bake uncovered for 25-30 minutes until potatoes are golden brown. Let rest for 10 minutes. Serve.