Main Content Starts Here
Demo Kitchen Recipes: Shakshuka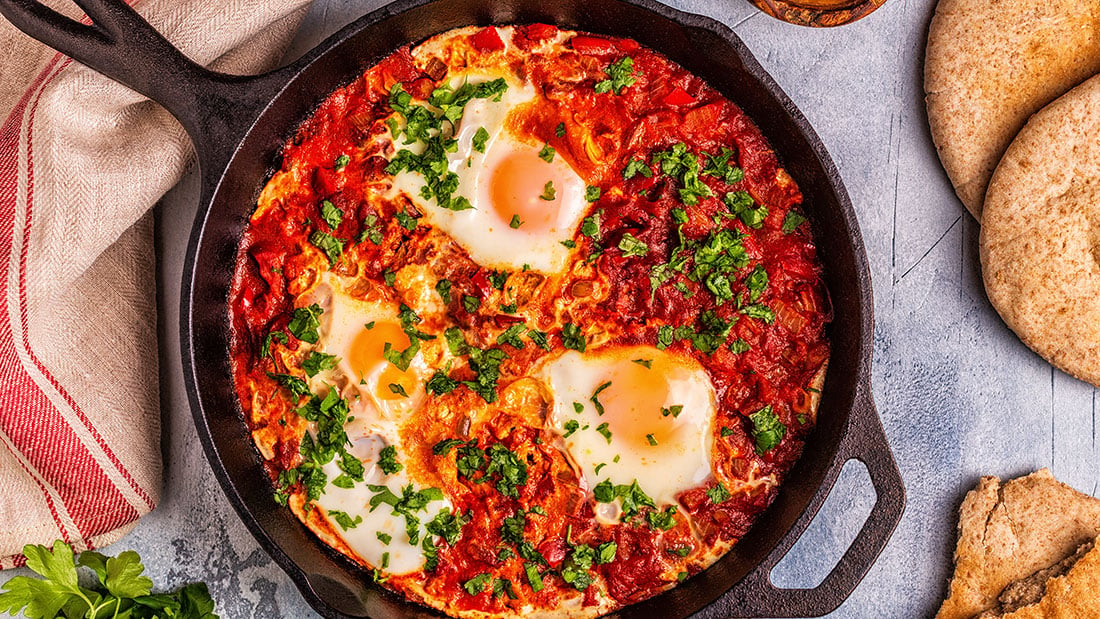 Eggs are virtually indispensable in kitchens the world over. Very few cuisines, outside of those adhering to strict vegetarian and vegan tenets, eschew the versatility of the humble egg and its myriad delights. Eggs can be scrambled, poached, or fried, whisked into batters and doughs for cakes and cookies, separated and the whites whipped into méringue, or folded back into yolks for soufflés, made into custards, sauces, dressings, and soups, the list is endless. One could even argue that cooking eggs in their own shells was the very first example of sous vide cookery. Not to mention their roll in cocktails.
Eggs are so important, in fact, that romanticized and perhaps apocryphal culinary tales have arisen about the mastery of their many uses. It is often said that the chef's toque, so closely associated with the icons of France's grande cuisine, Marie-Antoine Carême and Auguste Escoffier, has one hundred pleats to represent the one hundred ways a chef knows to prepare eggs. It sounds a bit conservative to the Demo Kitchen, as any chef worth their salt certainly has more than a hundred under their hat.
Given the nearly universal popularity of eggs, it should really come as no surprise that as foodstuff from the new world, like tomatoes and peppers, made their way around the world, egg dishes utilizing these exciting new flavors arose in multiple cuisines, sometimes in a continuum and sometimes independently. Italy boasts the Neapolitan Uova in Purgatorio (eggs in purgatory), Turkey has menemen, Mexico - huevos rancheros and huevos ahogados and the Basque region has piperade to nestle eggs into. But today we are focused on Shakshuka, a Maghrebi dish that has been popular for centuries all across North Africa and the Middle East.
Shakshuka is huge in Israel as a breakfast dish but is commonly eaten for lunch or dinner as well and in the last decade or so has become a hipster's darling at restaurants around the States. It is grounded by a savory, piquant tomato, onion and pepper sauce that also serves as the medium for gently poaching eggs. There are countless possible additions, but the Demo Kitchen is particularly fond of adding the spicy lamb sausage, merguez, and some ultra-creamy French feta to create an extra hearty rendition. Either one can easily be left out.
This dish is simple enough to require no further explanation, other than to say that set whites and runny yolks are the goal here. You can easily hard cook the eggs but then you would be missing out on the world's one perfect natural sauce, the egg yolk. We understand that some have not developed an appreciation for runny yolks and still others have health concerns. These objections are incomprehensible to lovers of the yolk, but go ahead, do as you will, understanding that you will always be missing something.
Depending on mood you may choose a crusty baguette, a puffed and pillowy pita or a rich, eggy challah as accompaniment but please have some form of bread for scrapping up those golden yolks that so tantalizingly run into, enhance and balance the acidity and spice of the tomato sauce.
When it comes to pairing wine, Champagne and Prosecco are no brainers with shakshuka at brunch. Fresh whites like Albariño and Picpoul do the trick as do soft fruity reds like Valpolicella and Dolcetto. This is also a great place to deploy a juicy and fruity Hazy IPA, but the Demo Kitchen likes traditional American Pale Ales and IPAs even better.
Now let's get crackin'!
Shakshuka
INGREDIENTS:
2 tbsp. extra-virgin olive oil

1 lb. Merguez, casing removed (optional)

1 large onion, thinly sliced

1 large red bell pepper, thinly sliced

4 garlic cloves, thinly sliced

1½ tsp. ground cumin

1 tsp. smoked paprika

½ tsp. ground coriander

⅛ teaspoon ground cayenne

1 (28-ounce) can whole San Marzano tomatoes with juice

kosher salt, to taste

freshly ground black pepper to taste

1 cup French sheep milk feta (Valbreso if you can find it), crumbled (optional)

6 large eggs

Chopped cilantro and/or chopped flat leaf parsley
DIRECTIONS:
Add olive oil to a large skillet over medium heat. When the oil is shimmering, crumble in merguez and cook until well browned. Transfer merguez to a bowl with a slotted spoon.

Turn heat down to medium-low. Add onion pepper. Sweat, stirring occasionally until soft, 12-14 minutes.

Add garlic, cook another 1-2 minutes. Add cumin, paprika, coriander and cayenne, stir and cook briefly.

Crush the tomatoes by hand as you add them to the skillet along with any juices.

Add the merguez back to the skillet and season sauce with salt and pepper, to taste. Stir well then simmer 10-12 minutes until sauce has thickened. Adjust seasoning with salt and pepper one last time.

Reduce heat to low. Crack eggs and add to a medium ladle one at a time (do not break the yolks). For each egg, use the bottom of the ladle to create a crater in the sauce, then with a twist of the wrist, deposit each egg into its hole. Space eggs evenly in the pan.

Season eggs with salt and pepper. Sprinkle everything with crumbled feta, cover.

Poach until egg whites are just set but the yolks are still runny, 5-7 minutes.

Sprinkle with cilantro and parsley.

Serve directly from the skillet with plenty of bread. Offer hot sauce for those who enjoy extra heat.