Main Content Starts Here
Demo Kitchen Recipes: Seven Layer Bars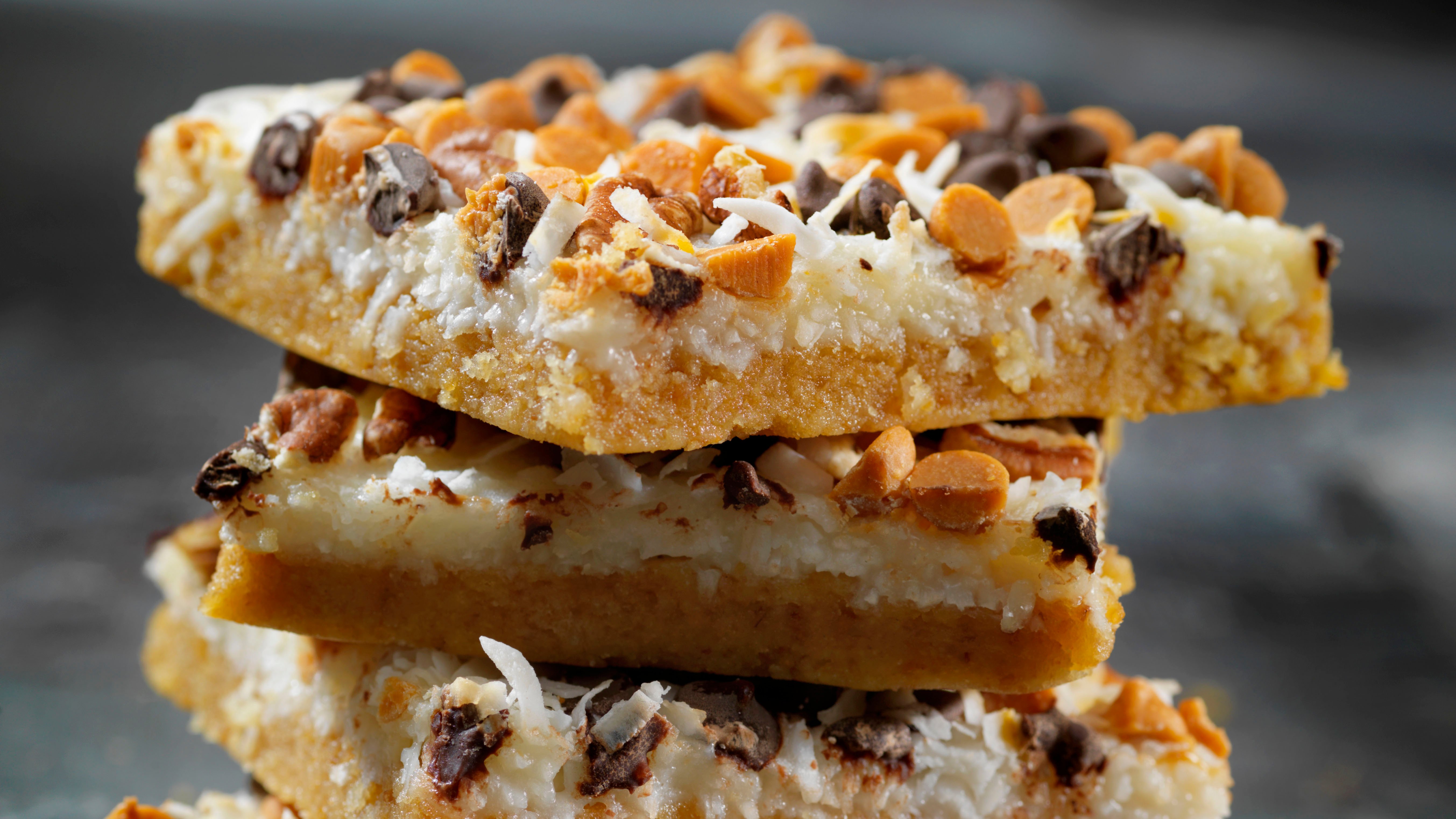 "On the seventh hour
On the seventh day
On the seventh month
The seven doctors said
He was born for good luck
And that you'll see
I got seven hundred dollars
Don't you mess with me"
- Hoochie Coochie Man - Muddy Waters
Mention good luck at this time of year and visions of four-leaf clovers and leprechauns1 immediately spring to mind but for many seven is always the magic number2. There are seven days in a week, seven continents, sailors sailed the seven seas to see the seven wonders of the ancient world. There are even seven colors in that leprechaun's magic rainbow.
Superstitious notions surrounding the number seven have us floating towards the crossroads or, more accurately, the confluence of Central Waters Brewing and Muddy Waters, the late, great Chicago Bluesman. Is it a coincidence that Central Waters named their Porter, MUDpuppy? Or that they have seven beers in their year-round portfolio and, by our count, the newly released 7 Layer Stout is their fourteenth beer in the Brewer's Reserve series? Afterall, what is fourteen but two sevens teaming up for extra mojo3?
And what about Muddy's (I'm a) Hoochie Coochie Man? This song was actually penned, like a lot of amazing Chicago Blues classics, by the legendary bassist and prolific song writer, Willie Dixon. It became a signature Blues Boast for Muddy, but it was Dixon who played with the concept of the lucky seventh son of a seventh son, an ancient formula for the birth of a magically lucky child. Muddy and the boys laid this track down at Chicago's own Chess Records on January 7 (of course) 1954 and it soon elicited an answer song4 from Bo Diddly; I'm a Man, released on the Chess subsidiary, Checkers, in 1955. Muddy answered back the same year with Mannish Boy, returning to the theme with the line - "My mother said I was gonna be the greatest man alive". Dixon also returned to the theme with Seventh Son that he wrote for Willie Mabon, also in 1955 (Chess). Seventh Son went on to be an important song for both Mose Allison and Johnny Rivers.
So, you can see seven is indeed the magic number at Central Waters and in Chicago Blues just as it is in the recipe for seven layer bars, aka Hello Dollys, aka magic cookie bars. There is no elfin magic5 needed to make these incredibly simple but immensely satisfying6 treats. It's as easy as 1,2,3 (4,5,6,7) and before you know it you have a sweet, chewy, crunchy template for and accompaniment to 7 Layer Stout. Central Waters modeled this addition to their Brewer's Reserve series of barrel aged beers after seven layer bars by adding cocoa nibs, toasted coconut, lactose and graham crackers to a 12% abv Bourbon Barrel Aged Imperial Stout. It is a rich, creamy delight on its own but please take just a few minutes to make a batch of magic cookies and see just how well they nailed this beloved flavor profile.
BTW, 7 Layer Stout is strong enough that the Demo Kitchen is inclined to call it a Double Imperial Pastry Stout, so start slowly with, say, a seven ounce pour. It's delicious but this is no session beer. If you are feeling deprived (highly unlikely) just follow it up with seven cans of the new Guinness Zero.
Now get to baking, all you magical elves of Bin-landia!
Cheers!

Seven Layer Bars
Ingredients:
½ cup butter, melted
1½ cups graham cracker crumbs
1 (14 ounce) can Sweetened Condensed Milk
1 cup semisweet chocolate chips
1 cup butterscotch chips
1⅓ cups flaked coconut
1 cup chopped nuts (pecans or walnuts)
Directions:
Preheat oven to 350°F. Butter a 9" x 13" baking pan.
Combine graham cracker crumbs and butter. Press into bottom of prepared pan. Pour about one third of sweetened condensed milk evenly over crumb mixture.
Layer evenly with both kinds of chips, coconut and nuts. Press down firmly. Pour the remaining milk evenly over the top.
Bake for 25-30 minutes or until lightly browned. Cool. Cut into (7) bars.
Footnotes:
Shouldn't we really be talking more about the Leprechaun's lesser known cousin, the booze loving magical sprite known as a clurichaun?
Not 3, as professed by both De La Soul and Schoolhouse Rock! We will allow for disagreements, though. Also, imagine the luck a seven-leaf clover would bring!
This brings to mind Arthur Lee's brilliant blast of proto-punk, Seven and Seven Is. Give it a listen, it will blow your mind. The song ends with a count that only makes it to four (not 7) before the sound of some sort of massive explosion leads to a brief bluesy jam to finish the song. You can find it on Love's incredible 1966 album, Da Capo (Elektra), amid a set of darkly themed but swirlingly beautiful psychedelic pop. Interestingly, for the topic at hand, Love released Seven and Seven Is as a single. The B-side was called No. Fourteen but did not make the cut for Da Capo.
Answer songs were very common back in the day as way for artists to ride the coattails of a popular song but also to send musical messages. Leiber and Stoller wrote Hound Dog for Big Mama Thornton (1952, Peacock) and before Elvis could even record his famous cover (Sun, 1956) there were a number of answer songs, most notably Rufus Thomas doing Bear Cat. Sam Phillips wrote and released the Thomas track on his Sun label and the lawsuits nearly ruined him. People will likely recognize the practice from Hip Hop in the form of diss tracks.
Don't call leprechauns elves, they are usually thought of as a form of fairy, and they don't make cookies. On the other hand, we imagine that elf tree trunk is probably stuffed with gold and easier to find than the end of a rainbow. We mean, those elves have got to be making bank on all those cookies! They definitely have Muddy's $700 beat.
Muddy famously claimed that he "just can't be satisfied" but did he ever have a seven layer bar and a 7 Layer Stout in place of his Champagne and Reefer? Or did Howlin' Wolf deny him the pleasure by scarfing it all down before recording the Dixon penned 300 pounds of Joy?