Main Content Starts Here
Demo Kitchen Recipes: Rouladen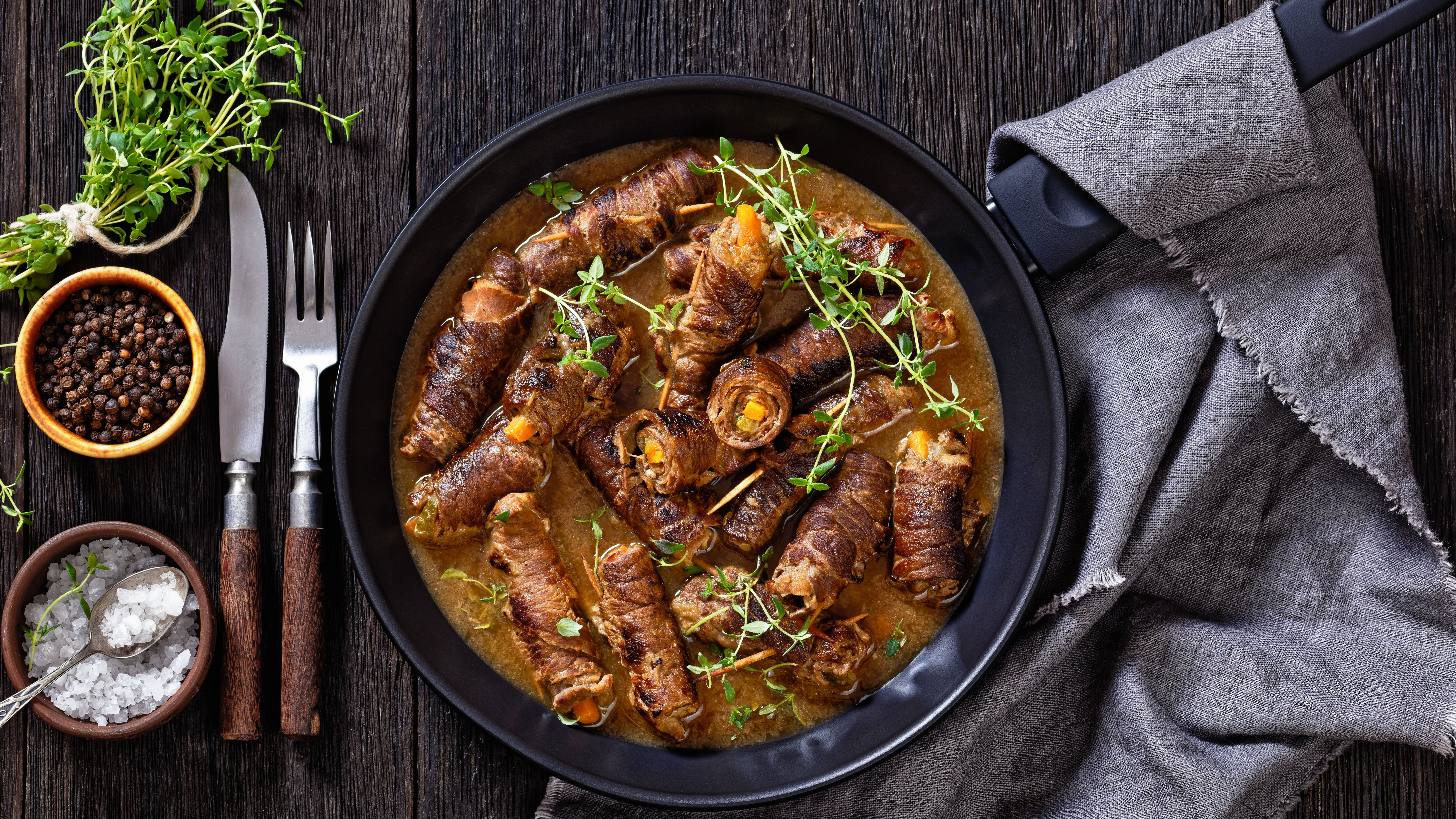 It's Oktoberfest time once again and the real deal in Munich is officially underway after a two year hiatus. You don't have to make the pilgrimage or be a native Bavarian to enjoy the festivities though. A tour through the aisles at your local Binny's will reveal fest biers, fine German wines, schnapps and Krauter liqueurs galore. Binny's has every tasty beverage one could possibly need to throw an Oktoberfest, whether it's for four or four hundred.
As for the Demo Kitchen's part, check out our recipes for obatzda (Bavarian cheese spread) and a full Oktoberfest feast featuring a bratwurst stuffed pork loin, braised red cabbage and spaetzle with smokey bacon. We highly recommend that you purloin those side dish recipes to accompany your rouladen but the pork loin is magnificent and simple as well.
Speaking of which, rouladen are rolls of thinly sliced beef made piquant by a filling of sharp German mustard (sub in Dijon if you like), onion and zesty pickles all smothered in a rich brown gravy. The gravy is fantastic spooned over potatoes or noodles so be sure to make plenty of whatever starchy side dish you prefer.
The deeply browned beef plays extraordinarily well with the caramelly malt in Oktoberfest Märzen beers and Vienna lagers, but a lighter fest bier wouldn't be far from the mark either. Beef dishes usually call to mind red wines and a German spätburgunder (pinot noir) would be a fantastic choice but richer rieslings work remarkably well, playing off of the vinegary acidity in both the mustard and the pickle – it's really a wonderful pairing.
Prost!

Rouladen
INGREDIENTS:
~2 lbs. beef top round, cut into eight ¼" thick, 4"x6" slices.
kosher salt
black pepper, freshly ground pepper
¼ cup Düsseldorf mustard
8 slices bacon
2 medium white onions, coarsely chopped, divided
4 medium dill pickles, each sliced lengthwise into 8 spears
6 tbsp. butter, divided
1 carrot, peeled and chopped
1 celery stalk, chopped
1 tablespoon tomato paste
2 sprigs fresh parsley
1 sprig fresh thyme
1 bay leaf
1 cup chicken stock
1 cup beef stock
½ cup red wine
DIRECTIONS:
Gently pound the beef slices to thin, lengthen and widen them slightly. Season both sides lightly with salt and pepper.
Lay beef slices out flat on a cutting board with the short sides in front of you. Spread 1½ tsps. of mustard over the top of each slice, lay a piece of bacon down the center of the length of each then sprinkle them with half of the chopped onion. Lay four pickle spears across the width of each slice. Space the pickles evenly along the length leaving about 1½" between them and at either end of the meat. Roll the steaks into cylinders and secure with toothpicks or cooking twine.
In a Dutch oven, melt half of the butter over medium-high heat, then add the rouladen. Brown deeply on all sides. Remove the rouladen and reserve.
Reduce heat to medium, add the other half of the onion, carrot and celery, season lightly with salt and pepper, cook until tender. Add tomato paste and cook stirring until paste starts to darken. Add parsley, thyme, bay leaf, stocks and wine. Bring to a boil, scraping up all the brown bits from the bottom of the pan. Reduce to a simmer and return rouladen and any accumulated juices to the Dutch oven. Return to a simmer, cover and reduce heat to low. Simmer for 1½-2 hours, until the meat is fork tender.
Remove the rouladen. Strain the sauce through a fine mesh sieve, pushing on the vegetables with the back of a spoon to extract the Discard vegetables, return the strained sauce to the Dutch oven. Bring to a boil over medium-high heat and reduce the sauce by half.
Remove sauce from heat and whisk in remaining butter, adjust seasoning with salt and pepper if needed.
Remove twine or toothpicks from rouladen.
Serve rouladen whole or sliced smothered in sauce with spaetzle or, boiled or mashed potatoes, and braised red cabbage.