Main Content Starts Here
Demo Kitchen Recipes: Roasted Corn Chowder with Lobster and Chipotle Crema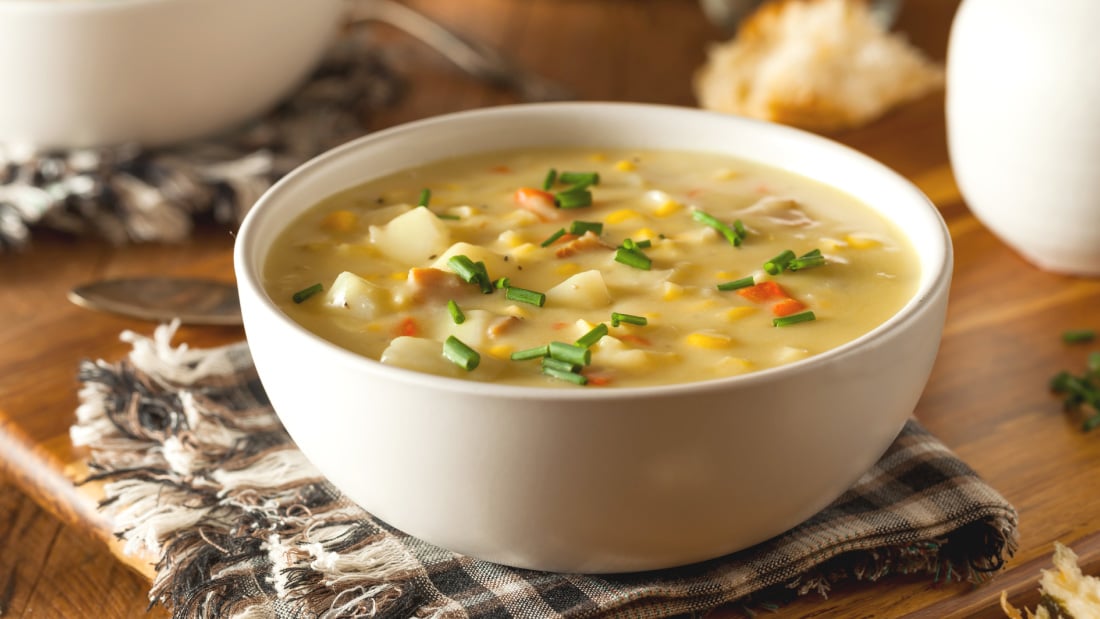 Summer is slowly slipping away but some summer flavors are still at their peak. One could even argue that the weeks surrounding the autumnal equinox are the perfect time to revel in the delights of the sweet, succulent meat of Homarus Americanus, aka the Atlantic lobster, and fresh, ripe, Illinois sweet corn.
There is no denying the natural affinity lobster and corn have for one another or the affinity both have for chardonnay. That alone is reason enough to make this, but the real magic of this dish is that it delivers on the promise of fresh summer flavors, but is also hearty enough to satisfy appetites on a cool autumn evening. Serve it with a green salad and a crusty baguette or some warm cornbread and butter and you have an easy yet sophisticated meal.
This is the time to pull out a generously fruited, buttery California chardonnay like Rombauer or Newton Unfiltered. Beers like Saison Dupont (in a can!) or Westmalle Tripel are also perfect pairings. All these recommendations are quite capable of straddling the summer/fall dividing line as well.
A few notes on the recipe: To roast the corn, simply peel the husk back, remove the silk, then pull the husk back up around the cob. Soak the corn in cold water for 10 minutes then roast or grill in the husk at 450°F for about 15 minutes. Cool until easily handled, remove the husk and slice the kernels off with a sharp knife. Reserve the cobs for stock.
If you are poaching whole lobsters, try to remove the claws in one large piece so you can use them as a garnish on top of the chowder. Using just tails is fine but in either case save the shells to enrich the stock. To make a double stock with the shells and cobs just start with about 5 cups of stock (vegetable, chicken or seafood), add the shells and corn cobs and simmer for 30 minutes. Remove the solids and strain through a fine mesh. If the stock has reduced to less than four cups add a little water to make up the difference and proceed to use it in the recipe. It's as simple as that.
The end of another summer is upon us, but take heart, Corn Chowder with Lobster is the perfect culinary bridge to ease you into the pleasures of autumn.
Cheers!
Serves: 8
Roasted Corn Chowder with Lobster and Chipotle Crema
INGREDIENTS:
Chowder -
3 tbsp. butter
1 yellow onion, finely chopped
3 garlic cloves, finely chopped
1 cup chardonnay
4 cups stock (see note above)
4 ears of corn, roasted then stripped of kernels
1 cup heavy cream
2 lbs. poached lobster, cut into 1" chunks
salt, to taste
freshly ground black pepper, to taste
garnish: chopped chives
Crema -
8 oz. Mexican crema or crème fraîche
2 tbsp. finely chopped chipotle peppers in adobo sauce
1 tbsp. lime juice, freshly squeezed
zest of 1 lime
2 tbsp. finely chopped chives
salt, to taste


DIRECTIONS:
Chowder -
Melt butter in a medium stockpot over medium heat. Add the onions and garlic, season lightly with salt and pepper. Cook until transparent.
Add wine. Reduce until almost dry.
Add stock and bring to a boil. Add 2/3 of the corn kernels. Reduce heat and simmer uncovered for 15 minutes.
Puree chowder with an immersion blender or transfer to a blender or food processer.
Add the remaining corn, cream and lobster chunks. Simmer for 5 minutes. Season with salt and pepper, to taste.
Serve with a dollop of chipotle crema or put it in a squeeze bottle and create a design on top of the chowder. Sprinkle of chives.


Crema -
Mix together the first five ingredients. Season to taste with salt