Main Content Starts Here
Demo Kitchen Recipes: Roast Leg of Lamb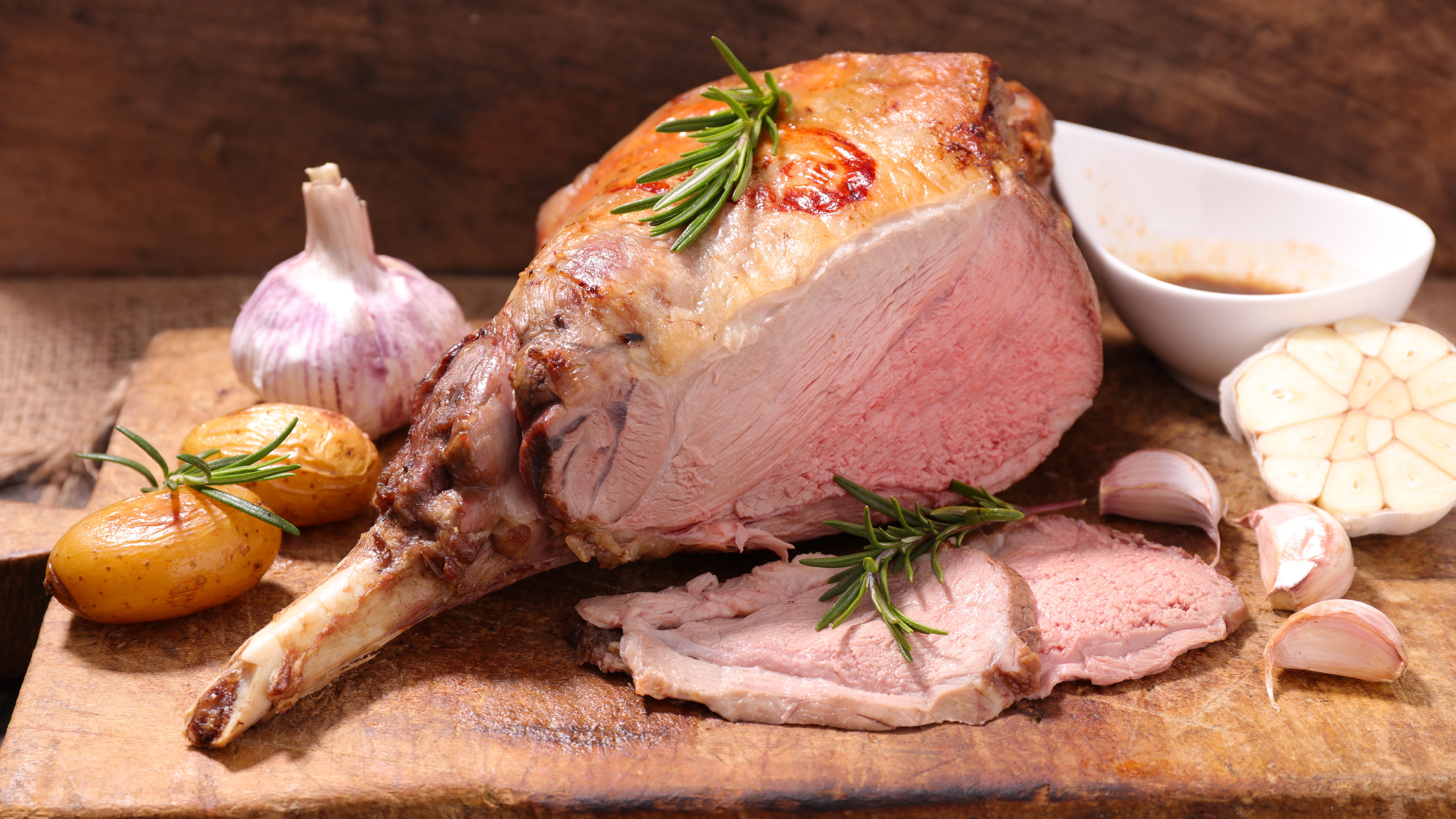 Just a few years ago, back when international travel was still a thing, the Demo Kitchen found ourselves lunching at Le Train Bleu, one of Paris' most ornate dining rooms. The wait staff was impeccably dressed, the flowers - fresh, the wine list - deep, the cheese selection - exemplary, the décor - beyond opulent, and the menu read like a short list of classic French cuisine's greatest hits.
After struggling mightily with the simple decision of what to order, we were finally focusing our full attention on tucking into our main course, a dish of fluffy pike quenelles broiled in a pool of rich sauce Nantua, when the spell was broken by the arrival of a large rolling trolley at a neighboring table. The dome was rolled back to reveal a beautifully roasted leg of lamb.
As the meat was sliced from the bone and served tableside the rich, subtly gamy aroma of lamb heavily rubbed with garlic and herbs wafted through the dining room. A full-blown case of gigot d'agneau envy quickly enveloped us. What were we thinking! Pike quenelles? Look at that lamb! To make matters worse the lamb was soon joined on the plate by a decadent serving of creamy potatoes gratin dauphinois.
Suddenly, with two culinary daggers to the heart, we were transported to the dining room in our childhood home, a much humbler setting than the reality we were currently occupying. There we were, a youthful Demo Kitchen, anxiously awaiting the arrival of the Easter leg of lamb. It is the aroma that plays those time traveling tricks on one's mind, so when the service had concluded and the trolley had departed for some faraway corner of the dining room, we returned to our quenelles, and they were really quite delightful, but thoughts of savory lamb lingered.
That experience left a vague, nagging feeling that we simply didn't eat enough lamb. Sure, we grill the occasional chop, roast a rack every now and then, we even BBQ lamb ribs sometimes or braise a shank or two, but when was the last time we roasted a leg? When had we last taken the simple steps of seasoning and carefully shepherding this glorious primal cut to a sizzling deep brown, then slicing the juicy, succulent meat from the bone? It had been too long.
If you are lucky enough to be anticipating a whole spit roasted lamb for Orthodox Easter, lucky you, but if you are in the same pasture as the Demo Kitchen, it's time to crank up that oven and lay hands on a beautiful bone-in leg. Thankfully, in this case, it is the oven that does most of the work. Roast some potatoes or make gratin dauphinois and maybe some minted spring peas and you will have yourself an easy but magnificent Easter dinner.
This kind of straightforward roast is the perfect opportunity to let a special wine really shine. Great pairings can be found in every aisle, so let us just point to a few of our all-time favorites with lamb. Domestic cab or merlot are great choices, but a Pauillac like Ch. Pichon Lalande would be truly outstanding. Likewise, a top-notch Rioja like La Rioja Alta Gran Reserva 904, ranks as one of our all-time favorites with lamb. Or, given that Malbec World Day falls on Easter this year, why not go for vinous perfection with the 100-point 2018 Zuccardi Finca Piedra Infinita Gravascal?
If you are looking for beer, you can't do better than Chimay Grande Reserve, but we also love Samuel Smith Taddy Porter and Spaten's seasonally appropriate doppelbock, Optimator, with lamb for their rich malty backbones.
Shake off that leg of lamb envy and get cooking!
Roast Leg of Lamb
Serves 8
INGREDIENTS:
1 (8-10 pound) leg of lamb, trimmed of excess fat
6 garlic cloves, peeled and cut lengthwise into quarters
2 tbsp. olive oil
¼ cup chopped fresh rosemary
2 tbsp. chopped fresh thyme
1 tablespoon kosher or sea salt
1 tsp. freshly ground black pepper
½ cup dry red wine
1½ cups lamb or beef stock
INSTRUCTIONS:
Pat lamb dry, score fat, then make twenty-four ½" slits with a small knife all over the leg. Insert pieces of garlic into each slit.
Rub the leg all over with olive oil, followed by the rosemary, thyme, salt and pepper. Place in a large roasting pan and allow to come to room temperature for an hour or two.
Preheat oven to 375°F. Roast for about 1¾ to 2 hours until an instant-read thermometer inserted into the thickest part of the meat reaches 130°-135°F. Remove to a cutting board and let rest 15 to 20 minutes.
Skim any fat from the pan juices then deglaze the pan with the wine. Scrape up any brown bits and bring to a boil over high heat for about 1 minute. Add stock, return to a boil and reduce to about 1½ cups. Strain then season pan juices to taste with salt and pepper. Serve with lamb.