Main Content Starts Here
Demo Kitchen Recipes: Risotto all Zucca (Butternut Squash Risotto)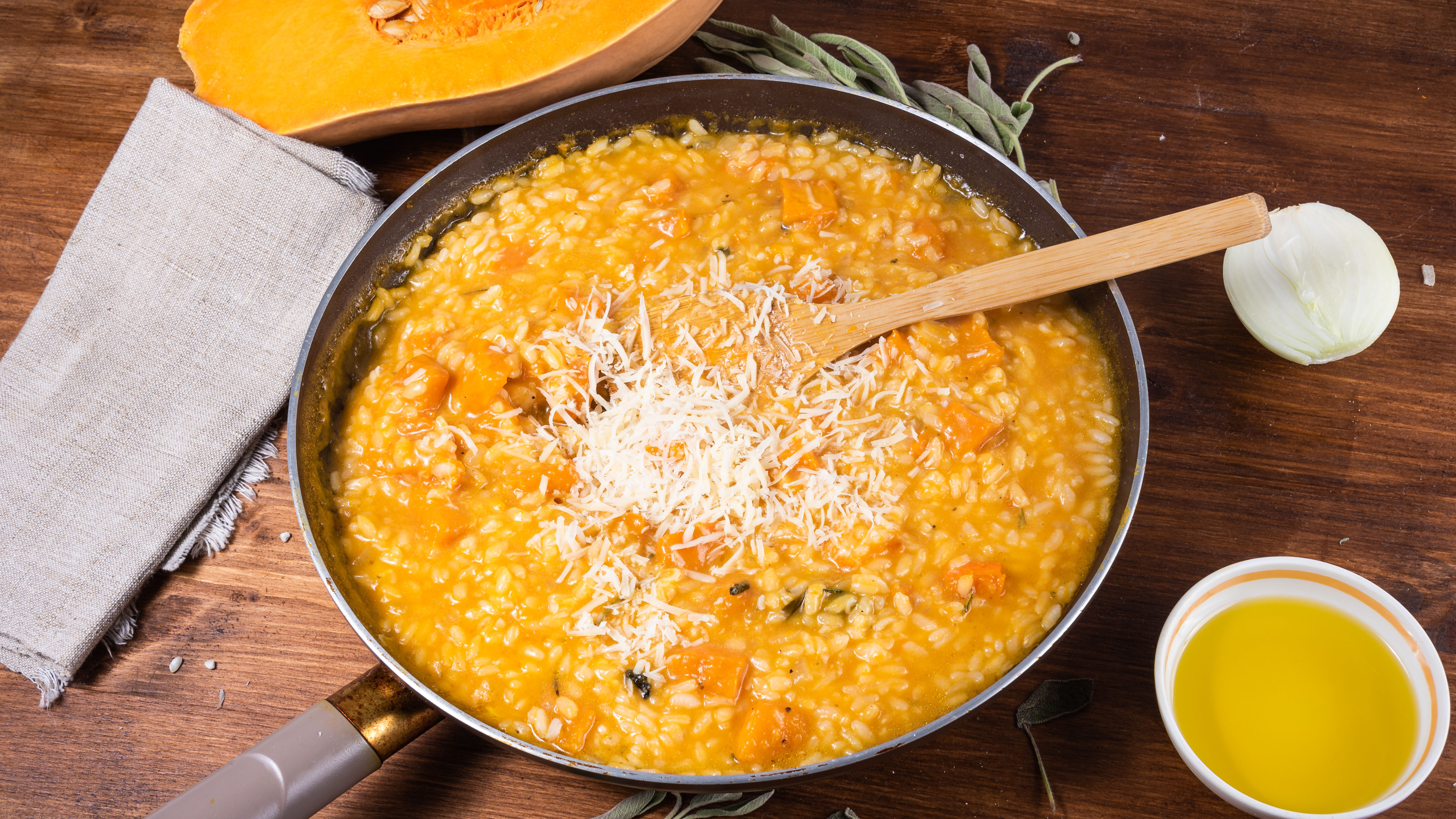 Leaves are falling all around, it's time I was on my way... to the kitchen to whip up a supremely comforting pot-o-risotto. Pretty much any well-made iteration of this classic Northern Italian rice dish is guaranteed to bring those warm, fuzzy feelings that we all crave so intensely when darkness begins to descends early and the wind blows cold off the lake. Don't get us wrong, the Demo Kitchen loves a wild porcini risotto in the fall and anxiously awaits the impending arrival of white truffles in hopes of one more year of indulgence in those fragrant wonders, thinly shaved over a steaming bowl of risotto or tagliatelle, but nothing says fall quite like risotto alla zucca.
In Lombardy this dish is traditionally made with Mantua pumpkin and these days one can likely find these sweet, green skinned and turban shaped squash at a farmers market or an adventurous (and sincere) pumpkin patch but the very easy to obtain butternut squash makes for excellent eating as well. The resulting dish is rich, creamy, sweet, savory and toothsome all at once. Add the pungent complexity of Gorgonzola and the crunch of toasted walnuts to bring a counterpoint to the sweetness of the squash and crunch to the firm but yielding texture of properly cooked rice and you have attained the next level.
While the success of risotto is highly dependent on nailing perfectly al dente rice coupled with a rich creamy texture that is neither too tight nor too soupy, doing it well is less finicky or difficult than many would have you believe. Although, there is some variability in how "wet" the dish should be, depending on the exact version one is making, it is our considered opinion that in this case a scoop of finished risotto should leave the ladle or spoon and slowly flow out from the center in a creamy lava-like fashion toward the edges of the bowl rather than plopping like a cohesive clump or running at the edges with excess stock.
When the Demo Kitchen first learned to make risotto, long ago, the need for constant stirring was drilled into our head, as if stopping even for a moment would result in disaster. Over the years we have learned that stirring frequently rather than constantly works just as well to develop the desired starchy creaminess. If you find yourself wanting for more action, try your hand at a quick flip of the wrist, with pot in hand (the classic technique employed for sauteing), that sends creamy rice shooting skyward from the pot like a geyser. The trick is to also catch it as it falls, but if not, you can busy yourself with cleaning up the mess rather than stirring.
Prosecco makes for an excellent pairing, especially Adami Prosecco Superiore Vigneto Giardino as does Lombardy's own Lugana; a dry, crisp but fruity white. If beer is your thing, we like domestic Saisons with this. Try, in particular, Ommegang Hennepin or Boulevard Tank 7 for a more "American" hop profile. If you are a cocktail fan, kick the evening off with classic Negroni or perhaps use Prosecco in place of the gin for a Negroni Sbagliato. In any case, you are in for a treat.
Serves 8

Risotto alla Zucca
INGREDIENTS:
1½ lb. butternut squash, peeled, seeded and cut in ½ inch dice
8 cups low sodium chicken stock, more (or less) as needed (preferably homemade)
4 tbsp. extra virgin olive oil
1 medium onion, diced
2 large garlic cloves, minced
2 cups arborio or carnaroli rice
1 cup dry white wine
1 teaspoon chopped fresh sage or rosemary
4 tbsp. cold unsalted butter
2 oz. Parmigiano Reggiano or Grana Padano cheese, grated
salt to taste
black pepper to taste, freshly ground
2 tbsps. chopped Italian parsley
2 oz. Gorgonzola Dolce, crumbled (optional)
roasted walnuts, roughly chopped (optional)
DIRECTIONS:
Preheat the oven to 425°F. Toss the squash with 1 tablespoon of olive oil, season lightly with salt and pepper. Spread evenly on a baking sheet. Roast for 35 to 40 minutes, stirring occasionally, until tender and caramelized.
Bring stock to a bare simmer in a saucepan.
Heat remaining oil over medium heat in a large saucepan. Add the onion and cook, stirring, until translucent. Add garlic, season with a little salt and pepper and cook for about a minute.
Add the rice and stir to completely coat with oil. Continue to cook, stirring, until the rice is glossy and fragrant.
Add wine and cook, stirring, until it is almost absorbed.
Add 2/3 of the squash and two (¾ cup) ladles of hot stock, just enough to cover the rice. The stock will quickly come to a light simmer. Cook, stirring often, until most of the stock is absorbed. The cubes of squash will start to break down as you stir.
Add your herb of choice and another ladleful of stock. Continue to cook, stirring frequently, adding more stock each time the prior addition is almost absorbed, about 20 minutes, or until the rice al dente.
Remove from heat, add ½ cup of stock to loosen up the risotto. Vigorously stir in the butter and Parmesan.
Gently stir in the remaining squash. Season to taste with salt and pepper. It should not be too tight or dry. If it is, stir in a little more stock.
Serve in warm bowls garnished with a sprinkling of parsley, Gorgonzola and chopped nuts, if desired.