Main Content Starts Here
Demo Kitchen Recipes: Risi e Bisi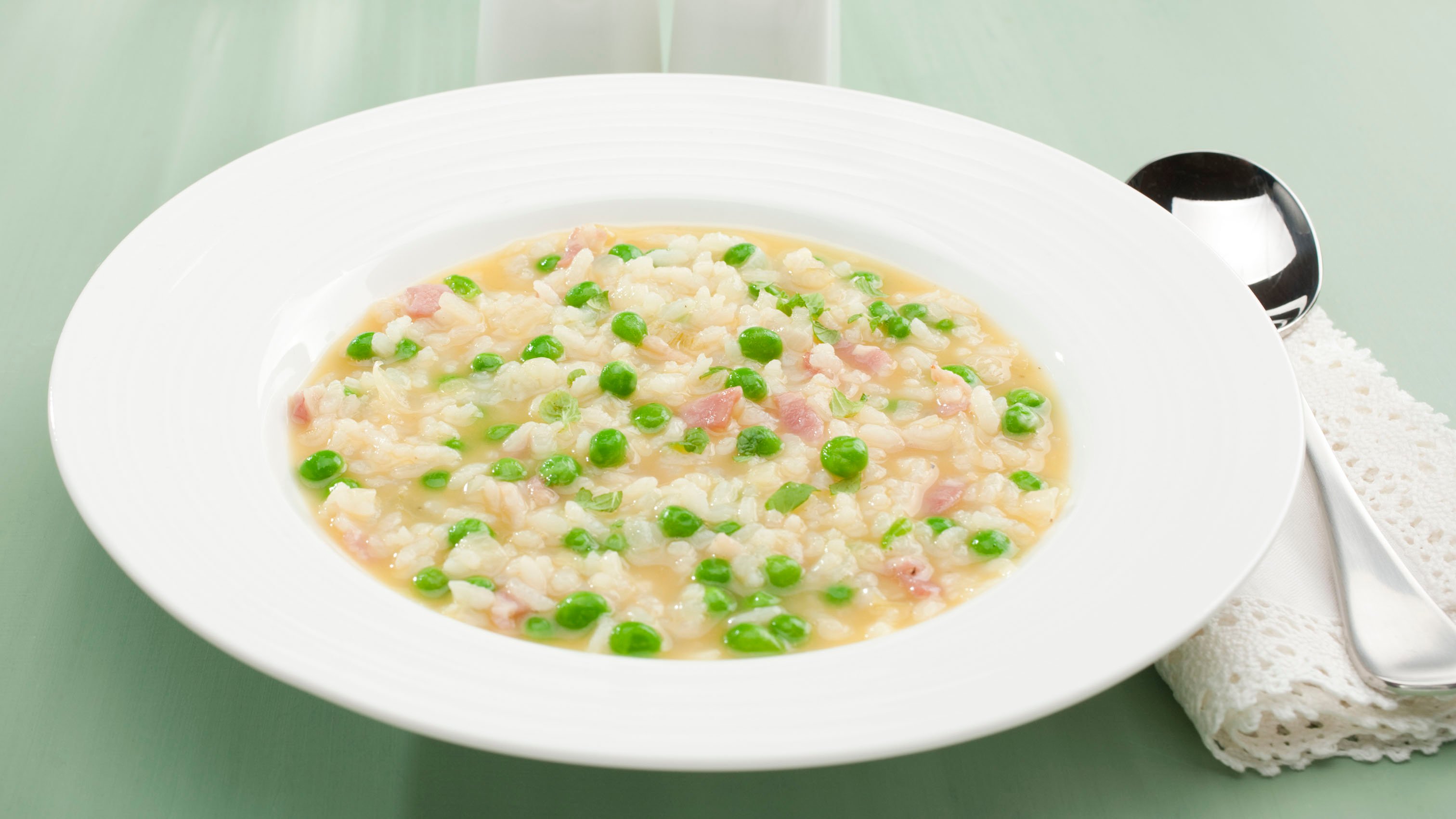 Primavera a Venezia! It's springtime in Venice and young, sweet, little peas are at their peak, so we are making a classic from the Veneto region– rice and peas. We know it sounds humble, just one of the many iterations of the protein completing combo of legumes and rice, and it is. This kind of dish is ubiquitous across the Americas and the Caribbean due to native American beans meeting rice from Asia. Mexican rice and beans, Cuban Morros y Cristianos, Puerto Rican pigeon peas and rice, Cajun red beans and rice the list is endless.
Peas happen to be of Mediterranean origin and ran into rice on their own, but the basic genetics of the dishes are the same. (One wonders if Gregor Mendel ever enjoyed Risi e Bisi as he hailed from nearby Austria and certainly had access to peas. Plus, although associated strongly with Veneto this dish has some broader regional reach.)
This is a quintessentially April dish that is often associated with the feast of San Marco on April 25th, but anytime fresh, tender peas are available is a great time to make it. The one thing that separates this recipe from most of its kin is the cooking technique which is essentially the same as making any risotto. But many argue that this is not risotto per se due to the Venetian convention of making this and other risotto-like dishes much less tight than other regions might. That is to say the end result should be more brothy, leading many to think of it as a thick soup, but from a cooking standpoint this is essentially a loose pea risotto. Venetians relate this brothy texture to waves on the sea, using the term "all'onda". Meaning when ladled out it should spread toward the edges of the plate and if jiggled it should be wavy like "acqua alta" rippling over St Mark's Square. If properly loose, a spoon is the favored utensil.
When it comes to pairing, Soave is a great choice, as is Prosecco especially if you have particularly sweet peas (and we hope you do). Friulano is another excellent choice that will play well with the green, vegetal flavors of peas while cutting through the richness of the dish. Valpolicella is a nice red option that won't bulldoze the delicate peas. Certainly, an herb scented, traditionally hopped lager like Peroni or Moretti would serve beer drinkers well. Or try the modern, hoppy Italian style pils that many a craft brewer has tried their hand at. Especially the Binny's collab with Art History – Bella Strada.
This recipe comes with a special shout out to some of our intrepid fine wine buying team who are in Verona at the time of writing, seeking out the best wine Italy has to offer (yes, they do it all for you, dear Binny's customer). They may well have the opportunity to taste this dish in its native land. We'll be awaiting their return and a full report but, in the meantime, let's all give this Northern Italian classic a try.
Saluti!
Rise e Bisi
INGREDIENTS:
5 cups chicken stock
1 ½ lbs. fresh young peas in their pods
Parmigiano-Reggiano rind
4 tbsp unsalted butter, divided
1 small onion, finely chopped
3 oz. pancetta, diced
1 cup vialone nano, carnaroli or arborio rice
½ cup Soave or other dry white wine
¼ cup freshly grated Parmigiano-Reggiano
Salt, to taste
Freshly ground black pepper, to taste
Garnish: 2 tbsp. chopped flat leaf parsley, more Parmesan


DIRECTIONS:
Bring chicken stock to a simmer over medium low heat while you shell the peas.
Reserve peas, add pods to the simmering stock along with the Parmigiano-Reggiano rind. Simmer for 30 minutes while you prep. Remove pods and rind. Add water to bring back to 5 cups, if needed. Adjust seasoning with salt, keep warm.
In a large sauté pan over medium heat, melt 2 tbsp butter. Add onion and cook until they begin to soften, about 3-5 minutes.
Add pancetta and continue cooking for another 3-5 minutes until pancetta renders its fat.
Add rice and cook stirring until glossy and completely coated in fat.
Turn up the heat a little, add wine. Cook stirring until almost dry.
Add a 1 cup ladleful of hot stock to rice. Cook, stirring, until most of liquid is absorbed.
Add another ladle of stock and the peas. Cook, stirring, until most of the liquid is absorbed again. Add another ladle of stock, stir. The starch from the rice should create a creamy texture and look.
Add another ladle of stock, stir. Taste rice when most of liquid is absorbed. It should not be crunchy but firm yet yielding – al dente. This could require more or less stock. Use good judgement to avoid crunchy undercooked rice and mushy overcooked rice.
Add the remaining stock, remove from heat. Stir in cheese and remaining butter. Season to taste.
Serve immediately, garnished with parsley and cheese.