Main Content Starts Here
Demo Kitchen Recipes: Red Beans and Rice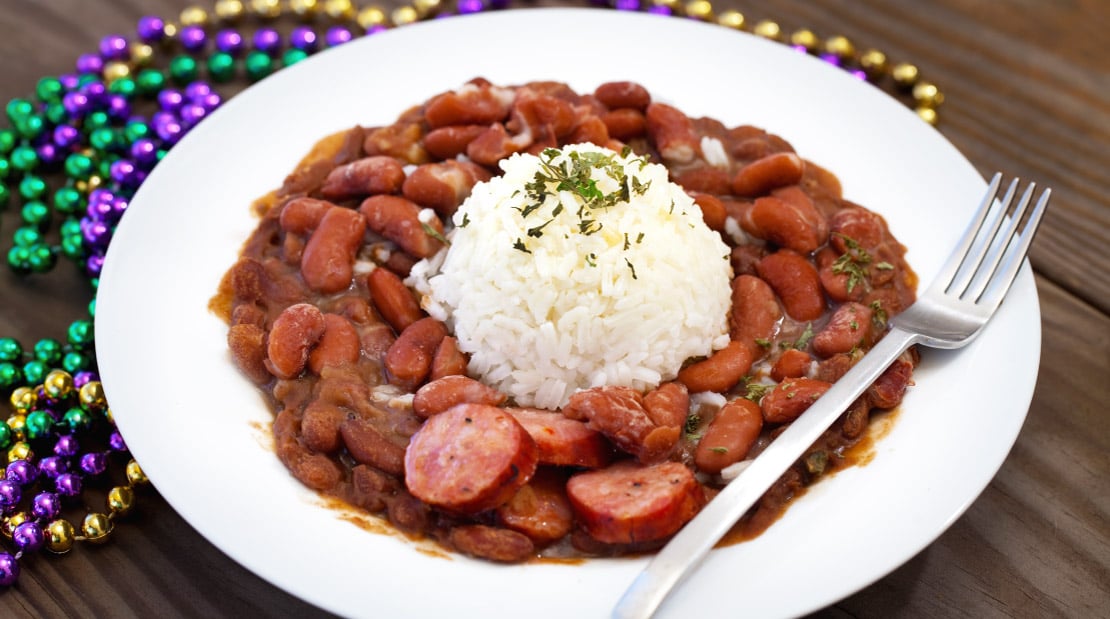 "Hey everybody, let's have some fun
You only live but once
And when you're dead you're done
So, let the good times roll, let the good times roll"
- Louis Jordan and the Tympany Five
Imagine spending the night in the home of a native New Orleanian. You awaken to the faint but crystal-clear sounds of jazz trumpet or the bluesy twang of a Fender guitar accompanied by the rumor of something deeply savory wafting through the air from the kitchen. If you are in the right house on a Monday morning you may still be recovering from a weekend of "letting the good times roll" and a big Sunday supper of ham, candied sweet potatoes, greens, cornbread, etc.
Nevertheless, when you enter the kitchen, you are happy to see leftover slices of ham sizzling in a cast iron skillet, grits bubbling away in a well-used pot and eggs frying in an inch of bacon fat resulting in the fluffiest, most heavenly whites and richest, runny yolks you have ever dreamed of. You take your seat to eat with the family of your most gracious host and suddenly there appears a steaming plate of buttermilk biscuits. Perhaps you are even offered a reviving beverage.
How could waking in New Orleans be better? You decide it can't be until you realize that there are already pots, simmering away on the stovetop, filled with unknown delights to be revealed later in the day. If it is indeed Monday, you can bet that Sunday's ham bone is already well on its way to giving up its smokey, porky goodness to a pot of red beans.
Is this a fantasy? Yes, but it is also a reality for many who have multi-generational roots in this food obsessed city. A city that is home to Creole, Cajun and Southern foodways that amount to what the Demo Kitchen would call America's greatest regional cuisines.
Like cooking across America's South and indeed the U.S. in general, the cuisine of the Crescent City is heavily informed by African American genius and ingenuity in the kitchen. Much of it comes directly from the horrifying blight of slavery that had Black Americans cooking in servitude with expensive ingredients for those who were living high on the hog (and on the back of slave labor), while finding ways to feed their own families with a set of much humbler ingredients. Beans and rice are a perfect example of a hearty, filling and obtainable source of protein, transformed into something magical.
Some form of beans and rice became staples throughout the African and Spanish influenced areas of South America and the Caribbean but when Creole red beans and rice bumped up against the French and French Acadian influences of New Orleans and the Louisiana countryside, it became a hearty meal unto itself.
Certainly, Southern foodways, in general, revolve around pork but red beans and rice, as we know it today, is to some extent defined by Cajun boucherie1, a practice in which a whole hog is broken down and anything edible including blood is used to make everything from boudin to ham, and importantly for our purposes, the offal-centric Andouille sausage. It is these smoked tripe and chitterling sausages2 and other "lowly" cuts like hocks and trotters that supply the deep porky flavors to dishes like red beans and rice. And what a dish it is! So deeply soul satisfying that it is as much a feeling as a flavor and represents everything that is right and good about the results (despite some very ugly beginnings) of the melting pot America is purported to be.
The Demo Kitchen could go on indefinitely about the history and attributes of N.O. cuisine, but let's get down to a few important details. First, while red beans and rice is a Monday tradition3, it is also a perfect dish for letting the good times roll, particularly on Mardi Gras (Tuesday, 03/01 this year). Second, use Camelia brand red beans if you can get 'em and if you happen to have a ham bone (hopefully with some meat still attached) use it. Otherwise, be sure to get those ham hocks. Next a good, fragrant long-grain white rice is essential. Look for something grown in the Mississippi Delta, or for the Demo Kitchens beloved Carolina Gold. You can butter the rice or cook it with the trinity of onion, celery and green pepper but well-made plain white rice is great. Lastly, this is a very rich dish. Pickled pork is sometimes used and that can give the dish a vinegary lift, but in its absence feel free to add a little vinegar at the end of cooking to brighten things up a bit4.
As for pairings, fruity reds with light tannins like Chinon, Beaujolais Cru or Cotes-du-Rhone are great. Abita beer is a staple in the Big Easy so grab some of that too. While they may not be optimal pairings, NOLA classics like the Ramos Gin Fizz (actually, surprisingly delightful with red beans), Vieux Carré and Sazerac should be available in abundance before and after you dine.
Come on, Bin-landia! Cook up some red beans and rice and let the good times roll!

Red Beans & Rice
INGREDIENTS:
1 lb. dried red beans, rinsed and picked over
3 tbsp. lard, bacon fat or canola oil
1 lb. Andouille or other smoked pork sausage, sliced in half lengthwise then sliced ½-inch thick
2 large smoked ham hocks
1 ½ cups yellow onion, finely diced
¾ cup celery, finely diced
¾ cup green bell pepper, chopped
6 garlic cloves, minced
½ tsp. salt
½ tsp. black pepper, freshly ground
⅛ teaspoon cayenne pepper
10 cups chicken stock (unsalted or low sodium)
3 bay leaves
1 tsp. dried thyme
½ tsp. rubbed sage
¼ cup chopped fresh parsley
hot sauce
cider vinegar
1 bunch fresh green onions, chopped
Cooked white long-grain rice, for serving
DIRECTIONS:
Add beans and enough water to cover by 2 inches to a large bowl, soak for 8 hours or overnight. Drain.
Add fat/oil to a large Dutch oven or heavy pot, over medium heat. Brown ham hocks and sausage until sausage starts to crisp, about 4 minutes.
Add onions, celery and green pepper and sauté until tender, about 5 minutes. Add garlic, salt, black pepper and cayenne, cook another minute.
Add soaked beans, chicken stock, bay, thyme and sage. Stir well and bring to a boil. Reduce heat to medium low and simmer, uncovered, stirring occasionally, until beans are tender. About 2 hours.
When beans are tender, remove ham hocks and bay leaves. Use the back of a large spoon to mash some of the beans (about a ¼) against the side of the pot. Add parsley and cook another 20 minutes, stirring occasionally, until thick and creamy. (If the beans seem too thick add a little water.)
Meanwhile, when hocks have cooled slightly remove any meat, cut into bite sized pieces and return to pot.
Taste and adjust seasoning with salt and pepper, and hot sauce and vinegar if desired.
Footnotes:
A practice both African and Spanish Americans would also be well versed in.
If you're not down with offal, never fear, most Andouille you will find labeled as such around here will just be a smoked pork sausage. A good all pork kielbasa is a fine substitute. Even if you find old school Andouille it won't be nearly as "aromatic" as French Andouillette.
Traditionally a good dish to get simmering and leave unattended while doing your Monday chores particularly, it is said, laundry.
This is a very useful trick to keep in mind generally for sauces and long braised dishes. Many struggle with the final seasoning of such dishes, so keep in mind that along with salt and pepper, acid from citrus or vinegar can be exactly what is needed to bring everything into focus and brighten up the dense flavors of slow cooked foods.