Main Content Starts Here
Demo Kitchen Recipes: Quick Spring Asparagus and Beef Stir Fry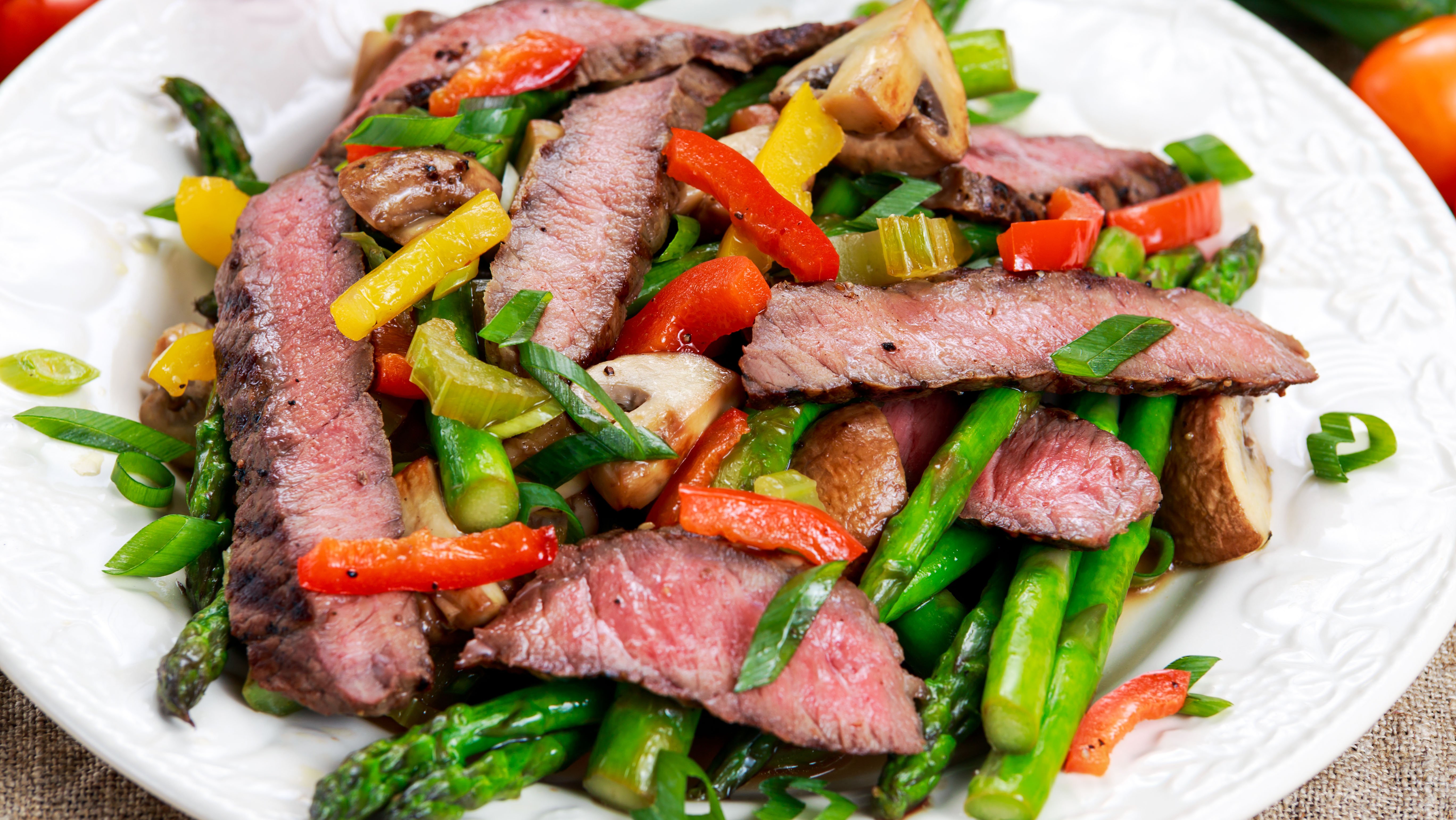 Reading this week's Confessions of a Mixologist reworking of the Big Bamboo cocktail got the Demo Kitchen to thinking about the foods that are associated with tiki culture. Tiki, in general, is an appropriated daydream of grass shacks, bamboo, totems, exotic flowers, exotic fruits, and exotic drinks brought together to form a fanciful amalgamation of idyllic island culture. It is an escape from the daily grind that goes well beyond standard bar culture. It is a day trip to a land that never existed and never will, except within the confines of the tiki bar.
Just as the cocktails and traditional tiki décor are a mishmash of multiple cultures from as far afield as China, Polynesia, and the Caribbean, as seen through a uniquely American lens, the associated cuisine is a form of classic fusion. The root of it all is traditional Cantonese cooking that came to America with Chinese immigrants in the 1800s. Cantonese flavors and cooking techniques immediately met with local tastes and ingredients, transforming both. Many Chinese immigrants started restaurants, and traditional Cantonese food started its journey, morphing into the Chinese American canon of dishes that are still beloved today.
Think of your favorite takeout dish and chances are it actually came into being in America not China. By the time the original tiki movement came around Chinese American cuisine was already deeply entrenched in American culture from San Francisco to Chicago to New York and countless small American towns in-between. Dishes like egg rolls, beef and broccoli, chop suey, fortune cookies, and so on fall into this category. The paper takeout box, so associated with Chinese restaurants was even invented in Chicago all the way back in 1894. Throw in some Hawaiian/Polynesian influences and you get the pupu platter, an iconic assortment of appetizers heavy with Asian Pacific influence but also removed from their roots.
It is this sweeter, stickier, stir fried, deep fried and tropicalized cuisine that tiki adopted and rolled into its fantasy world. The Demo Kitchen is in no way disparaging these dishes as inauthentic or any such thing. We love that traditional regional Chinese and Polynesian restaurants focused on bringing the real deal to American palates are easy to find now, but we also realize cuisine is alive and constantly changing due to cross-cultural influences and changing social mores. Chinese American food cannot be dismissed, it is a cuisine unto itself with its own style and traditions.
That brings us to today's super simple recipe. While it uses some Chinese techniques and flavors, it is only tangentially a Chinese dish. We have been making this for decades because it is so fast, easy, and meaty, in a very American way, but also showcases fresh spring asparagus. Serve it with plenty of steamed white rice (this dish is so quickly made that you should start your rice first, by the time it's done you will be finished making the stir fry and ready to eat) and a Bigger Bamboo cocktail and you will have found the route to tiki in your own home. Or try it with a fruity IPA like, Goose Island Tropical Beer Hug, for a real beer lover's treat. Fruity, raspberry scented Loire Valley cabernet franc from Chinon, Saumur or Bourgueil match and enhance the herbaceous asparagus and bell pepper notes while providing a welcome spark of acidity. Give the wine a light chill, it's hot on this imaginary island. Whatever accompaniment you choose, all paths inevitably lead to the magical land of tiki.
HipaHipa, hipsters!
Serves 6
Quick Spring Asparagus and Beef Stir Fry
INGREDIENTS:
6 tbsp. soy sauce
3 tbsp. beef stock
3 cloves garlic, minced
3 green onions, thinly sliced on a bias
1 tbsp. grated fresh ginger
2 tsp. Chinese-style chili garlic sauce
2-3 tbsp. canola oil
1½ lbs. flank steak, sliced into 2" long and ¼" wide strips
¾ lb. asparagus, trimmed and sliced on a bias into bite sized pieces
½ lb. red bell pepper, cut into bite sized ¼" wide strips
1 tbsp. Corn starch stirred into a slurry with 3 tbsp. cold water
INSTRUCTIONS:
In a small bowl, whisk together the first 6 ingredients to make the sauce.
In a large wok or skillet over high heat bring canola oil to shimmering hot but not quite smoking. If your wok is not big enough, you may want to split everything in half and work in two batches.
Add beef and stir fry for 2-3 minutes until browned but not cooked through.
Add asparagus and red pepper, continue to stir fry, tossing and stirring for another 2-3 minutes until the vegetables are crisp-tender.
Add the sauce and cornstarch slurry, bring to a boil stirring until the sauce thickens. Immediately transfer to a serving dish.
Serve with plenty of steamed white rice.