Main Content Starts Here
Demo Kitchen Recipes: Prime Rib with Horseradish Cream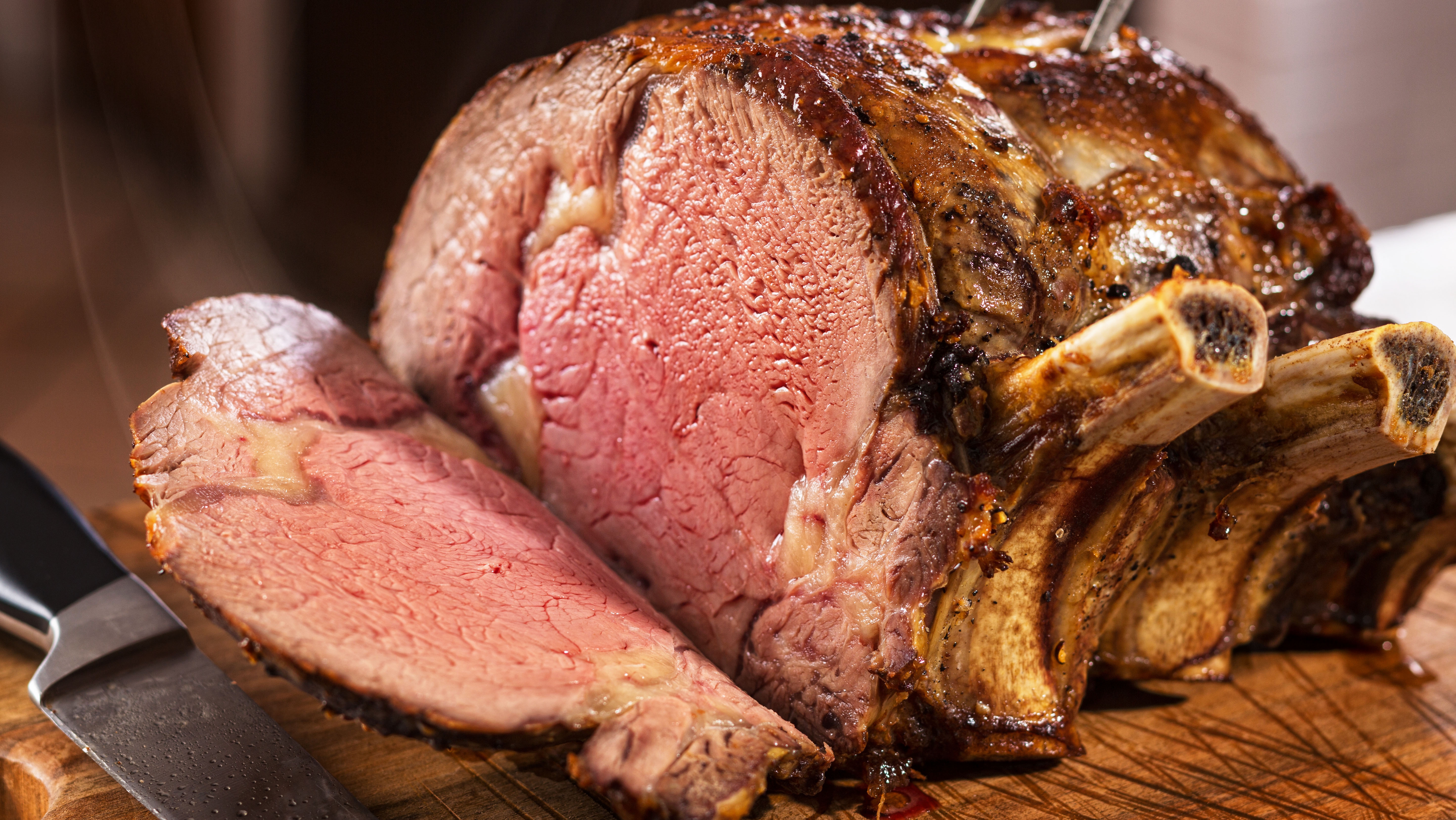 Prime rib is a fantastic choice for special occasions and holiday meals. Not only because it is a very impressive hunk of meat to watch being carved off the bone and sliced into generous, herb scented slabs, but because it is exceedingly easy to prepare. There is so little active time in the kitchen that elaborate sides are a definite possibility. On the other hand, why not just take the win and enjoy the extra time with friends and family.
Not to mention that prime rib is delicious and incredibly indulgent. Plus, it affords hardcore carnivores the opportunity to eat a big beef rib with their hands, in a formal setting - fine China, polished silver, crystal stemware, linen napkins and a beef rib. What could be better? There is just something slightly subversive about such a hedonistic gustatory pleasure in a formal setting that makes it extra pleasing. Of course, if you are playing host and are wary of an unwanted beef rib scandal, simply don't serve the ribs. We don't want to upset the delicate sensibilities of the most refined diners at the table. Do we? Instead, reserve them for a well-earned midnight snack or the next day's lunch.
If that weren't enough, the main attraction of exceedingly tender, deeply flavorful, pink and juicy beef is the stuff holiday memories are made of. Move over sugar plums, it is time for visions of the fanciful, if lumbering, dance of the prime ribs to lull you to sleep or, more likely, drive you to distraction with desire.
Serve with roasted or mashed potatoes or better yet, decadent potatoes gratin dauphinois. Roasted root vegetables, carrots and peas or roasted brussels sprouts are fine additions, as is Yorkshire pudding if you are feeling exceptionally traditional. Choose whatever sides appeal but definitely whip up horseradish cream. It is quite simply perfect with rare prime rib.
This is holiday fare, so it is inherently special. The accompanying beverage should be equal to the challenge. This is the time to pull out a fine red Burgundy from the Côte du Nuits, classified Bordeaux or a fancy Napa cab. Traditional pale ales, porters and Belgian dubbels are great choices for beer lovers.
Happy Holidays!
Serves 10


Prime Rib
INGREDIENTS:
10 lb. bone-in prime rib roast
kosher salt
¼ cup olive oil for searing
¼ cup Dijon mustard
1 tbsp. olive oil
4 garlic cloves, minced
1 tbsp. fresh thyme, chopped
1 tbsp. fresh rosemary, chopped
black pepper, coarsely ground
DIRECTIONS:
The day before roasting - pat prime rib dry with paper towels and season very generously with kosher salt. Refrigerate uncovered overnight.
The next day, remove the roast from the refrigerator and let rest at room temp for a couple of hours.
Preheat oven to 275°F. Add ¼ cup olive oil to a large skillet over high heat. Sear roast on all sides until deeply browned. Remove from skillet.
Whisk together mustard, 1 tbsp. oil, garlic, thyme and rosemary. Spread evenly over the roast then season generously with black pepper.
Place the roast, bone side down, in a roasting pan and place in oven.
Roast for about 3-3½ hours, rotating the pan occasionally to ensure even browning.
Remove roast from oven when an instant-read thermometer inserted in the center of the roast reads 115°- 120°F (for rare/medium rare). Transfer the roast to a carving board, tent loosely with foil and let rest for 20 minutes.
Carve the roast off the bones with a long, sharp knife, cutting right along the bones to separate them from eye of the roast.
Carve the roast into 10 thick slices. Cut between rib bones to create individual ribs. Transfer the ribs and slices to a warm platter. Serve with horseradish cream.
Horseradish Cream
INGREDIENTS:
1½ cups crème fraîche, well chilled
⅓ cup grated fresh or store-bought prepared horseradish
1½ tbsps. lemon juice, freshly squeezed
3 tbsp. minced chives
kosher salt, to taste
freshly ground black pepper, to taste
DIRECTIONS:
Add crème fraîche to the chilled bowl of a stand mixer. Whip using the whisk attachment until light and fluffy and increased in volume but just short of the formation of soft peaks. Whisk in remaining ingredients, transfer to a small bowl, cover and refrigerate for at least 2 hours or overnight.