Main Content Starts Here
Demo Kitchen Recipes: Potato Latkes with Homemade Applesauce and Sour Cream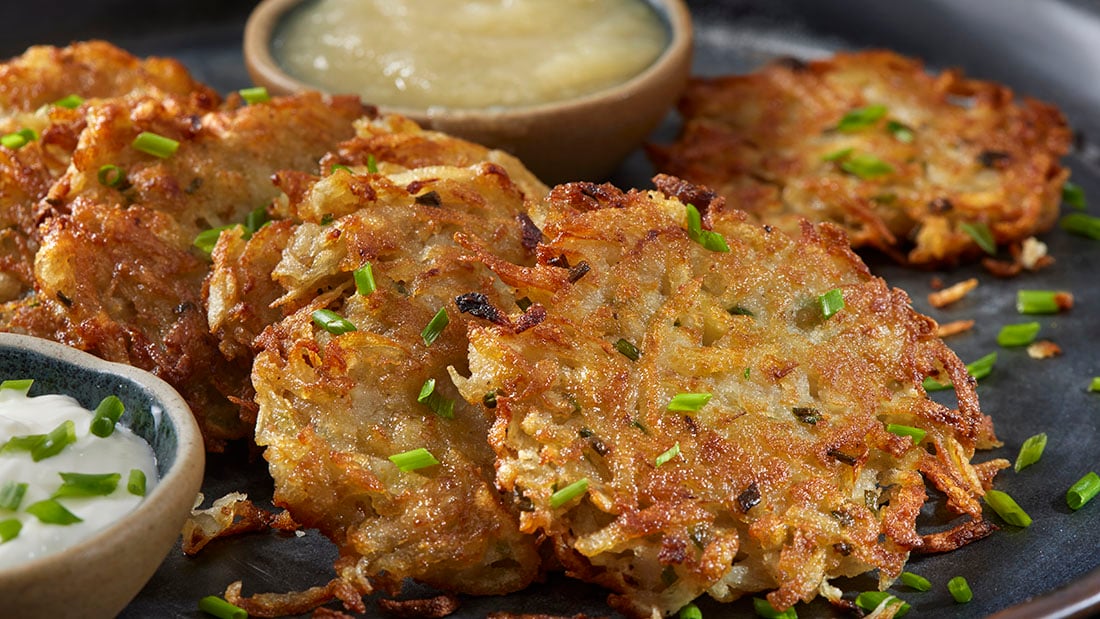 The Festival of Lights is upon us! Time for lighting the menorah, gifts and song, dreidel and gelt, and of course, latkes. If you don't already have a favorite recipe or a family member who makes the world's greatest latkes, the Demo Kitchen might be a little worried for you. These crispy little potato pancakes are such a delicious Hanukkah tradition that no one should be deprived of their pleasures, so we felt obligated to supply a very classic version, just in case.
To add a little value to this proposition we decided to include recipes for homemade versions of the traditional accompaniments, applesauce and sour cream, to really elevate your latke experience. Both are surprisingly easy to pull off and exceptionally tasty.
We also highly recommend having some additional delights available for garnishing these savory brown beauties. In particular, silky smoked salmon and fresh, firm salmon roe are a must for the Demo Kitchen. There is nothing like the savory pop of unctuous richness roe provides combined with hot, crunchy, oniony latkes and contrasted with cool sour cream. Fresh herbs like dill or chives are also nice for a final flourish. You can also feel free to sub in sweet potatoes or go half and half, if you like, for something a little different. Oh, and don't skip the final step of sprinkling with a little salt as soon as the latkes come out of the oil, it's essential.
Kosher Champagne from Laurent Perrier or Barons de Rothschild make for the ultimate complement.
Latkes
INGREDIENTS:
1 lb. Russet potatoes, scrubbed
1 large onion, peeled
2 large eggs, lightly beaten
½ cup all-purpose flour
2 tsp. coarse kosher salt
1 tsp. baking powder
½ tsp. black pepper, freshly ground
oil for frying
DIRECTIONS
Using a box grater, grate the potatoes coarsely and transfer to a cold-water bath.
Grate onion finely on the box grater and transfer to a towel or cheese cloth lined colander set over a large bowl. Add grated potatoes then gather the corners of the towel and squeeze the potatoes and onions dry over the colander. Get them as dry as possible.
Discard liquid from the bowl, retaining any starchy paste that has collected at the bottom. (This starch will add to the creamy texture of the interior of the latke. You may not get much after the water bath, but the bath prevents premature browning (oxidation of the potatoes). It's a trade off, but if you want more potato starch just work quickly forgoing the bath.)
Add the potato/onion mixture to the bowl along with the eggs, flour, salt, baking powder and pepper, and mix until the flour is absorbed.
In a heavy-bottomed pan over medium-high, heat about 1/8 -1/4" oil. Once the oil is hot, add heaping tablespoons of batter to the hot oil. Use a spatula to flatten and shape the batter into round pancakes. Flip the latkes when the edges are brown and crispy, about 5 minutes. Cook another 5 minutes until the second side is deeply browned. Transfer the latkes to a paper towel-lined plate to drain and sprinkle with salt while still warm. Repeat with the remaining batter.
Applesauce
INGREDIENTS:
6 large Golden Delicious apples, peeled, cored, and cut into eighths
½ cup fresh apple cider
2 tbsp. sugar (more to taste)
1 tsp. ground cinnamon
2 tsp. lemon juice, freshly squeezed
¼ tsp. salt
DIRECTIONS:
Add all ingredients to a medium saucepan and bring to a boil over high heat.
Reduce heat to low; cover and simmer until apples are very tender, about 20 minutes.
Mash with a potato masher for a rustic texture or run through a food mill or processor for a fine texture.
May be made several days in advance and stored in refrigerator.
Sour Cream
INGREDIENTS:
2 cups heavy whipping cream
¼ cup cultured buttermilk
2 tsp. lemon juice, freshly squeezed
DIRECTIONS:
Pour all ingredients into a clean mason jar, tightly screw on lid, and shake vigorously to combine.
Keep at room temperature for a day or two until the mixture thickens to desired consistency.
May be made up to a week in advance and stored in the refrigerator.