Main Content Starts Here
Demo Kitchen Recipes: Peri Peri Chicken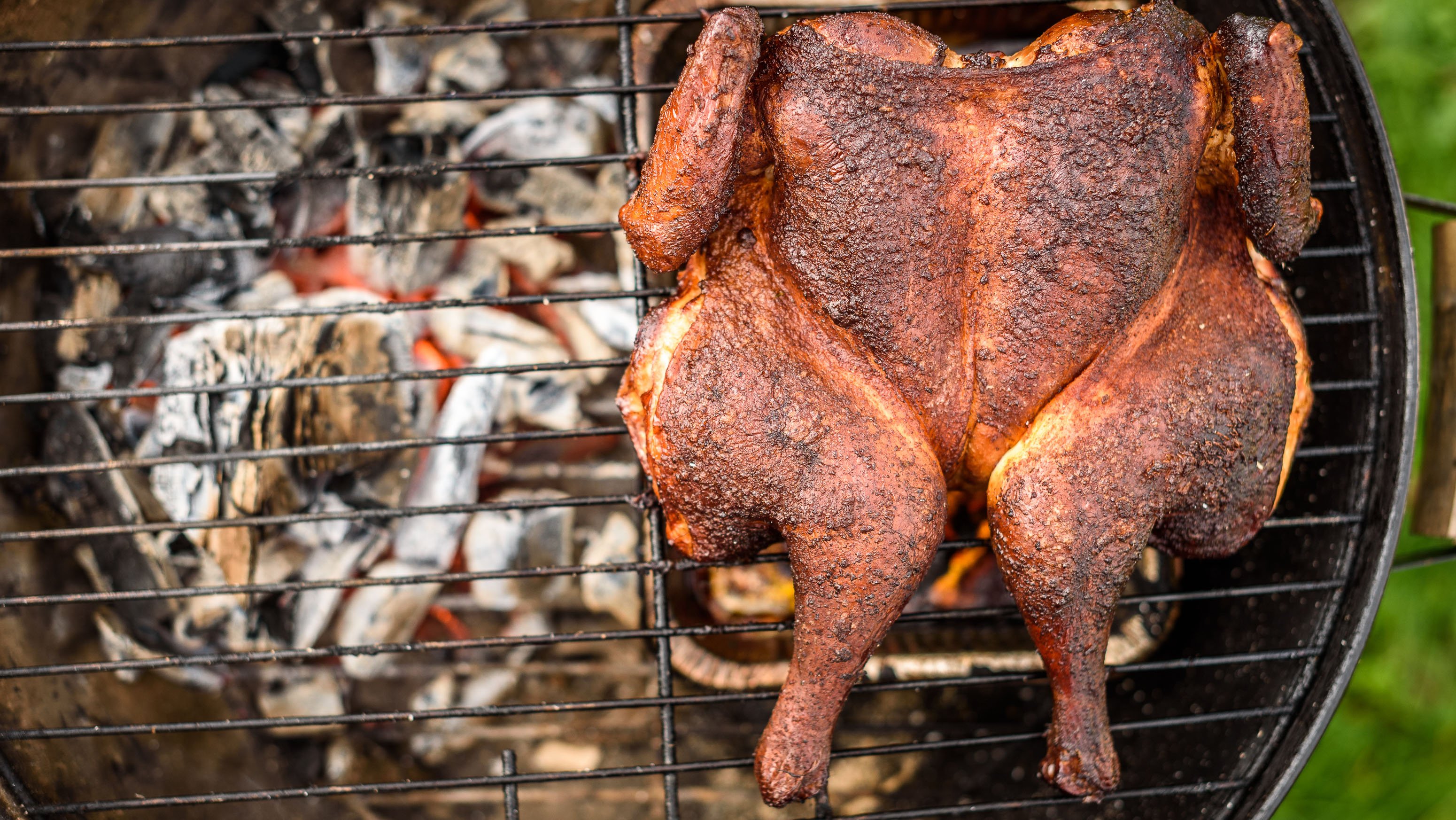 Father's Day is this weekend. What's for dinner? If you don't know, don't worry, Binny's Demo Kitchen has you covered. We have recipes for steaks, chops, burgers, BBQ and all manner of grilled seafood perfectly paired for Dad's delight. But today we are going to add a juicy, tangy, spicy and smokey chicken dish to your summer grilling roster that Dad is going to love.
It's known as peri peri or piri piri chicken, an increasingly popular dish coming out of Portuguese influenced Mozambique where fiery little African bird's eye chilis, known as pili pili are grown.
The influence of Portuguese cuisine can be seen around the world, from the Americas to Africa to India to the Philippines and Macau and some similar patterns occasionally emerge. Namely, bright acidity, often from vinegar, and local spice that can tend toward very hot as you find in Goa's Vindaloo. Peri peri chicken fits right into that pattern relying on a tangy, acidic and spicy sauce that permeates the juicy meat with thrilling flavors while hardwood charcoal adds a dimension of smoke and char.
You may encounter a little trouble finding African bird's eye chilis, but the Thai variety is very similar and readily available at good Asian markets or try another red, hot chili of your choosing such as ripe serrano peppers.
If you have never spatchcocked a chicken before, it's easy. Just remove the backbone by cutting along either side with kitchen shears, turn over and press down firmly on the breastbone to flatten the chicken then tuck the wings. It is really quite simple but if you are having trouble visualizing it, you can surely find a quick tutorial online.
Dad is going to love peri peri for its BBQ chicken meets jerk and hot wing profile and so will you. All it takes is a quick spin in the blender for the sauce and a hot grill. It's just that easy to make a perfect summer dish for Dad.
Speaking of perfect, we have some perfect pairings to make Dad's Day extra special. First, get the party started with our resident mixologist's Father's Day cocktail. It is a cross street on the boulevard of Negroni influenced cocktails where Illinois intersects with France to delicious effect. Trust us, this is a corner you will want to loiter on.
As for the chicken itself, Stranger Things could be considered but why roll the icosahedron when none would be more refreshing than Off Color's Beer for Fantasy? It's a fantastic beast of a wheat beer, easily found on the shelves of your local Binny's, featuring the fruity flavors of dragon fruit and blood orange. Four out of five highly charismatic Warlocks agree – this is a perfect pairing.
When it comes to wine, this dish's fruity fire and elevated acidity call for a fresh, fruity, low tannin red with plenty of acidic cut. Something that refreshes and cleanses the palate when served with a light chill. This week's perfect pairing is Chateau Thivin Brouilly Reverdon 2020, a Cru Beaujolais of distinction from a storied producer. Thivin's wines grown on the slopes of Côte de Brouilly are legendary for their age worthy, structured and complex style (check out the Barrel to Bottle crews reaction to the 2020 Côte de Brouilly) but what we need here is the earlier drinking softer style of the Reverdon. It is loaded with bright fruit flavors and super zippy acidity (an increasingly clear hallmark of the 2020 vintage) that plays against peri peri's own acidity so well, making the wine's fruit really pop. What an exciting combo!
Let's get grilling all you offspring of Binny's nation. Dad is waiting, Father's Day cocktail in hand.
Cheers!
Serves 8


Peri Peri Chicken
Ingredients:
2 - 3-3½ lb. chickens, spatchcocked

⅔ cup olive oil

⅓ cup lemon juice, freshly squeezed

2 tbsp. Sherry vinegar

8 fresh African or Thai red bird's eye chilis, stemmed

8 cloves garlic, peeled

1 large shallot, peeled

1 - 2" piece of fresh ginger, peeled

zest of 1 large lemon

1½ tbsp. sweet paprika

1 ½ tbsp. smoked paprika

1 tbsp. dried oregano

1 tbsp. kosher salt

2 tsp. natural cane sugar

½ tsp. black pepper, freshly ground

½ tsp. white pepper

lemon wedges for serving
Directions:
Add all ingredients except chicken and lemon wedges to a food processor or blender. Purée until smooth. Reserve a little for basting.

In a nonreactive casserole, pour marinade over the chickens and coat evenly all over. Cover and marinate refrigerated for at least 4 hours, or preferably overnight.

When ready to grill remove chickens from marinade. Build a medium hot hardwood charcoal fire or preheat gas grill. When ready, split charcoal evenly and push to opposite sides of the grill and put a drip pan in the middle or turn off one side of gas grill. Brush grill with a little oil.

Grill chicken covered over direct heat, turning and basting often with the reserved marinade, until skin is crispy and a bit charred. If skin starts to char too quickly, place over drip pan or the side of gas grill that is off and finish cooking with indirect heat. It should take about 40 minutes total. An instant read thermometer should read 165°F, at the thickest part of the thigh when done.

Allow to rest for 5 minutes before cutting into quarters and serving with lemon slices.