Main Content Starts Here
Demo Kitchen Recipes: Pan Seared Sea Scallops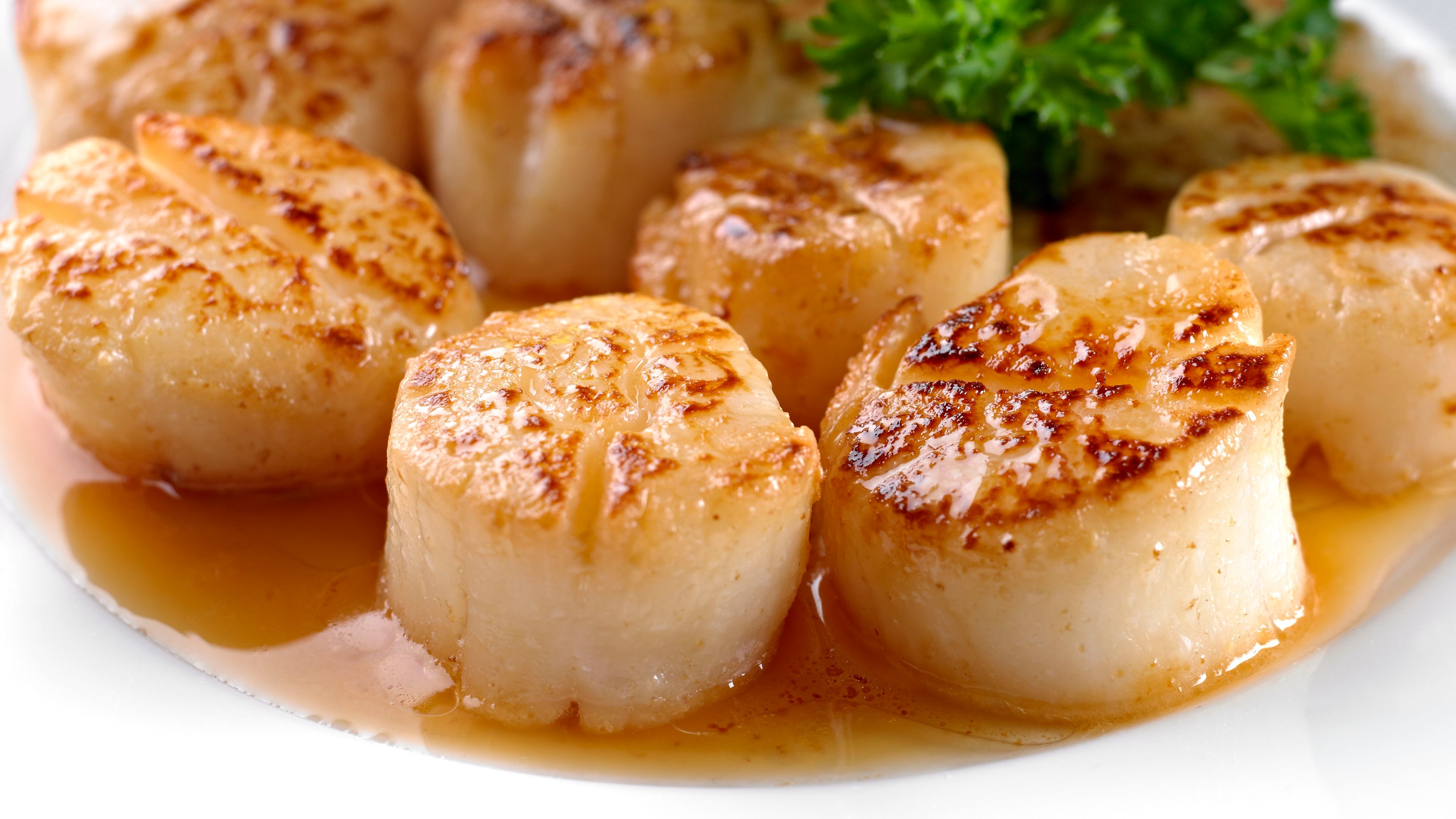 Botticelli's Renaissance masterpiece, The Birth of Venus, depicts the goddess, guided by a gentle west wind, floating ashore on a scallop shell. She is fully formed and naked, like some kind of seafaring Lady Godiva and although her long, flowing hair strategically covers some of her parts, it is clear that she has not been adrift long enough to lose anything vital. She has no wooden leg, no eye patch, no hook for a hand. No, Venus is the very picture of the 15th century Florentine ideal.
As much as the Demo Kitchen could gaze all day at this famous beauty, nine times out of ten we want our scallop shells to deliver the expected... scallops. To our eyes they are just as ravishingly tempting as Venus herself. And when their sweet, creamy flesh is put in stark contrast to tart apples, savory sage and a decadent Champagne butter sauce our eyes stop roving altogether, transfixed by culinary beauty.
We can trace the birth of this dish back to the Demo Kitchen's own birthday many, (many, many, many) Strawberry Moons ago. Despite the rumors, the Demo Kitchen absolutely did not guzzle Champagne until we ended the evening by donning our own birthday suit and strapping scallop shells to our feet like a couple of calcified ice skates. We also did not proceed to skate around screaming "I am the goddess Venus!" hopelessly marring some very nice hardwood floors. These things never, ever happened. One verifiable fact did emerge from the haze of that night's events: This dish is a keeper.
Anyway, this recipe is quite tasty and easy to execute and lest you be worried about the abundance of malic and citric acid, the butter rounds things out nicely. The real trick, however, is to serve a crisply acidic and youthful Brut Champagne. After all, Champagne, like Venus, is born atop seashells. The region's subsoils are primarily comprised of chalk and limestone; ancient seabed made of calcium rich mollusk shells.
Apparently, The Goddess of Love really knows how to make a garden grow1 and a romance blossom. Venus seems to have set in motion a never-ending romance between scallops and Champagne by intertwining their destinies into a cycle of birth, wine2, dinner and death3. But it isn't until the fresh acidity of a fine fizz hooks up with sweet scallops covered in tangy, herbal, buttery and apple studded Champagne sauce that the love affair is truly consummated in a perfect pairing. It also happens to be fantastic with Geuze and Hard Cider.
Now that we have made a marvelous match between scallops and Champagne, it would behoove you to note that this recipe serves two. Maybe Venus is free.
Buon appetito!
Pan Seared Sea Scallops with Apples and Champagne Butter Sauce
Serves 2
INGREDIENTS:
½ cup apple cider
½ cup Champagne Brut
2 tbsp. clarified butter
12 oz. dry packed sea scallops, side muscles removed
Salt and freshly ground pepper
3 tbsp. unsalted butter
1 small Granny Smith apple or other tart apple, unpeeled and cut into matchsticks
1 small sage leaf per scallop
1 tbsp. lemon juice, freshly squeezed
DIRECTIONS:
In a small saucepan, bring Champagne and cider to a boil, reduce to about 3 tbsp.
Meanwhile, in a large skillet, melt clarified butter over high heat. Pat scallops dry, season with salt and pepper. Sear until deep golden brown, about 2 minutes per side. Transfer to a warmed plate and cover loosely with foil.
Add unsalted butter to the same skillet and melt over high heat. Add the reduced champagne mixture, apple, sage and lemon juice. Sauté for about 2-3 minutes until the apple is crisp/tender and the sauce thickens slightly. Season with salt and pepper.
Spoon over the scallops and serve.
Footnotes:
Also the Goddess of Gardens. Does she use silver bells? No, she's all about cockleshells.
The grapes vain attempt at immortality.
Perhaps leading to more chalky soils in which future fruit will be cultivated. Probably in northern Finland at that point.