Main Content Starts Here
Demo Kitchen Recipes: Pan Seared Halibut with Hazelnut-Citrus Brown Butter and Israeli Couscous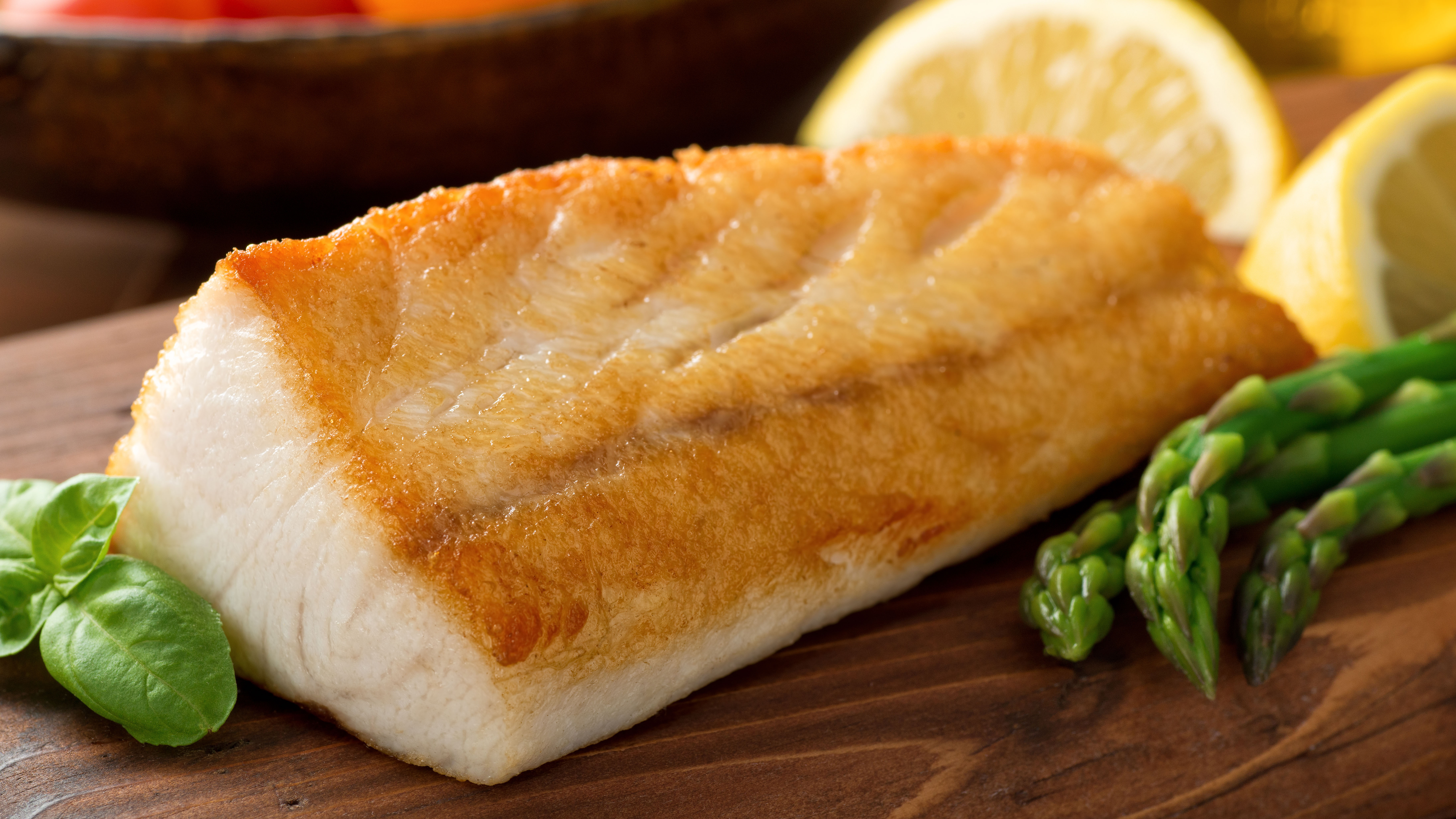 It's the start of Pacific halibut season. Why not take advantage and whip up a sophisticated and mouthwatering halibut dish to fête your mother or significant other? This recipe is perfectly delicious but also quick and simple to make, so there is no need to spend all day in the kitchen, allowing time to be better spent with loved ones.
If you are an organized cook and have your mise en place, you will be in and out of the kitchen in no time. Putting your couscous on to boil first then moving straight into the halibut should have you cooking everything simultaneously with every component coming together at the same time. It's easier than it looks, and the flavors are wonderful together.
A few things that may be of interest:
Couscous proper is an ancient starchy side of North African origin made of semolina and water mixed together then rolled into tiny granular bits of irregular pasta. It absorbs and conveys flavor incredibly well, so it is often steamed over the same stew it is intended to accompany. The finished texture is light and fluffy. On the other hand, Israeli couscous is really a bit of a misnomer and is a very recent addition to the pasta arsenal. It was created in Israel during the 1950s as a rice substitute called Ptitim and is vastly larger than couscous, although it is still quite small. Think perfectly round pearl shaped orzo that is boiled like other pastas. It's not really couscous at all.
It's morel season and they really elevate the dish but feel free to substitute other wild mushrooms or even button mushrooms.
Use good Vermouth. We like to cook with Noilly Prat for its slightly oxidative and herbal aromatic complexity.
Splurge on real deal parmesan and grate it yourself. Please.
Halibut is a wonderful, lean, firm, and meaty white fish. Watch it closely and don't overcook, as it can become dry, but when done properly it is moist and delicious. Pacific halibut are huge flat fish, like overgrown sole or flounder and the largest examples can tip the scale at over 400 pounds. They are essentially all "right eyed" but one in twenty thousand have bodies that flatten in the other direction making them "left eyed". Cool, eh?!
Brown butter is known as beurre noisette in French, literally hazelnut butter, for the distinctly nutty aroma that emerges when butter is browned. We have obviously doubled down on that by slowly butter toasting actual hazelnuts. Take care not to go too far, burning the butter.
Tarragon and citrus provide a wonderful lift to the butter and help to make this dish incredibly friendly to beverage pairings.
Open something special. Bright but nutty Champagnes like Bollinger NV Brut or even Bollinger La Grande Année are perfect. White Burgundy from Meursault is a particularly excellent choice as is Corton-Charlemagne. In every case, citrusy fruit coupled with underlying nuttiness really seals the deal with these pairings.
If Mom likes beer nothing is better than a Witbier like Allagash White or Wittekerke. These light refreshing beers feature notes of orange and spice that are perfect for this dish.
Israeli Couscous with Morel Mushrooms and Asparagus
INGREDIENTS:
2 cups Israeli couscous
3 tbsp. unsalted butter
¾ lb. morel mushrooms, whole if small or cut into bite-size pieces
½ lb. asparagus, tough end trimmed, cut into bite-size pieces
1 shallot, finely chopped
2 garlic cloves, finely chopped
½ cup chicken or vegetable stock
¼ cup Parmigiano Reggiano
2 tbsp. chopped flat leaf parsley
kosher salt, to taste
Freshly ground black pepper, to taste
Directions:
Bring a medium pot of heavily salted water to a boil. Add couscous, stir, and return to a boil. Cook about 6-8 minutes until mostly done but still firm in the center. Strain.
Meanwhile melt butter in a large sauté pan over medium high heat. Add mushrooms, sauté for 2 minutes. Add asparagus, shallots, and garlic. Sauté another minute. Season with a little salt and pepper.
Add vermouth, bring to a boil for a minute then add stock. Return to a boil, cover, and cook for 2 minutes.
Add par-cooked couscous, return to boil, and cook uncovered, stirring frequently until liquid is mostly absorbed another 2-3 minutes. Stir in cheese and parsley. Season to taste with salt and pepper.
Serve with halibut.
Pan Seared Halibut with Hazelnut-Citrus Brown Butter
INGREDIENTS:
4 six oz. halibut fillets
kosher salt
freshly ground black pepper
Wondra flour
3 tbsp. canola oil
1 stick unsalted butter, cut into pieces
⅓ cup blanched skinless hazelnuts, roughly chopped
1 small shallot, thinly sliced
freshly squeezed juice and zest from 1 orange
Freshly squeezed juice and zest from 1 lemon
2 tsp. chopped fresh tarragon, plus sprigs for garnish
DIRECTIONS:
Remove halibut from the refrigerator, let it warm at room temp for 15-20 minutes. Pat dry with paper towels. Season generously with salt and pepper then dredge in Wondra.
In a large cast iron skillet over medium high heat bring oil to a shimmering, nearly smoking hot. Sear halibut, without moving for 3-4 minutes until golden brown. Flip and sear the other side. Fish should flake and turn opaque when done. If the fish is seared but still not done pop it in a 350° oven until an internal temperature of 135-140°F is reached.
While fish is cooking, melt butter in a medium skillet over medium heat. When butter is just melted add hazelnuts and shallots. Cook, stirring until both the butter and the nuts become golden brown and toasty, about 5 minutes.
Remove from heat, whisk in orange and lemon juice, 1 tsp. of each zest and tarragon. Season to taste with salt and pepper.
Serve halibut over Israeli couscous. Drizzle sauce over fish and around the plate. Garnish with extra zest and tarragon sprigs.