Main Content Starts Here
Demo Kitchen Recipes: Oven Roasted Turkey & Turkey Brine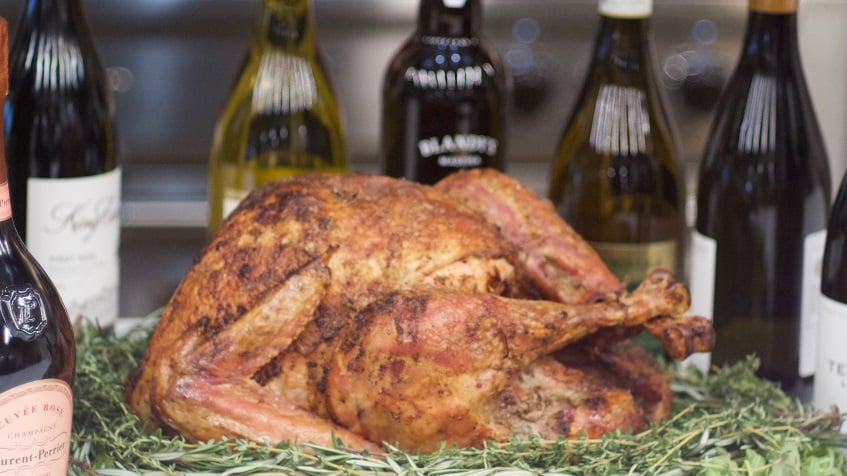 Did you know Binny's Highland Park features a restaurant level demonstration kitchen? We have a lot of fun teaching you how to pair wine, beer and spirits with handcrafted dishes - especially when it comes to holidays. Give Chef Scott's Oven Roasted Turkey and Turkey brine recipes a chance this holiday season. Your guests will be begging for this recipe by the end of the meal.
Oven Roasted Turkey
INGREDIENTS:
1- 12lb Turkey

1lb Butter, room temperature

1/2 Bunch Fresh Sage, chopped

1 Bunch Fresh Thyme, chopped

1/2 Bunch Fresh Rosemary, chopped

8 Cloves of Garlic, minced

Salt and Black Pepper to taste

2 Cups Apple Juice/Cider

2 Large Onions, rough chopped
DIRECTIONS:
Pat your turkey dry with paper towel and let sit at room temp for 45 minutes to 1 hour.

In a mixing bowl, combine the soft butter, herbs, and a generous amount of salt and pepper. Work the butter with your hands until the herbs are evenly distributed.

Rub the turkey with the herb butter, getting all sides and under the skin. Lightly season with more salt and pepper.

Place the onions and apple cider in the bottom of a roasting pan and place the turkey on top.

Roast the turkey in a 450-degree oven for 30 minutes to brown it. Drop the oven temp to 350, tent the breast with foil and roast for another 2.5-3 hours or until the internal temperature at the thickest part of the thigh hits 155 degrees. Let rest for 20-30 minutes before carving.
What's a turkey without a good brine? Chef Scott's turkey brine recipe is a one-of-a-kind salt solution. It forces the turkey to retain more moisture and become well seasoned and creates synergy amongst the other dishes - both sweet and salty. It truly helps to make the turkey the centerpiece.
Turkey Brine
INGREDIENTS:
7 qts Water

1/2 bottle Dry Riesling

1 1/2 c Kosher Salt

6 Bay Leaves

2 Tbsp Coriander Seed, whole

2 Tbsp Black Peppercorns, whole

1 Tbsp Cloves, whole

1 Tbsp Allspice, whole

1 Tbsp Fennel Seeds, whole

1 1/2 tsp Mustard Seeds, whole

2 Onions, sliced

6 Garlic Cloves, smashed

1 bunch Fresh Thyme
DIRECTIONS:
In a large pot, combine all ingredients except for 5 quarts of water. Bring to a boil then let cool.

Combine the salt and spice mixture with the rest of the water and pour over your turkey, either in a brine bag or large cooler.

Let turkey brine for 24 hours, weighing it down if necessary.