Main Content Starts Here
Demo Kitchen Recipes: Mushroom Duxelle Stuffed Saddle of Lamb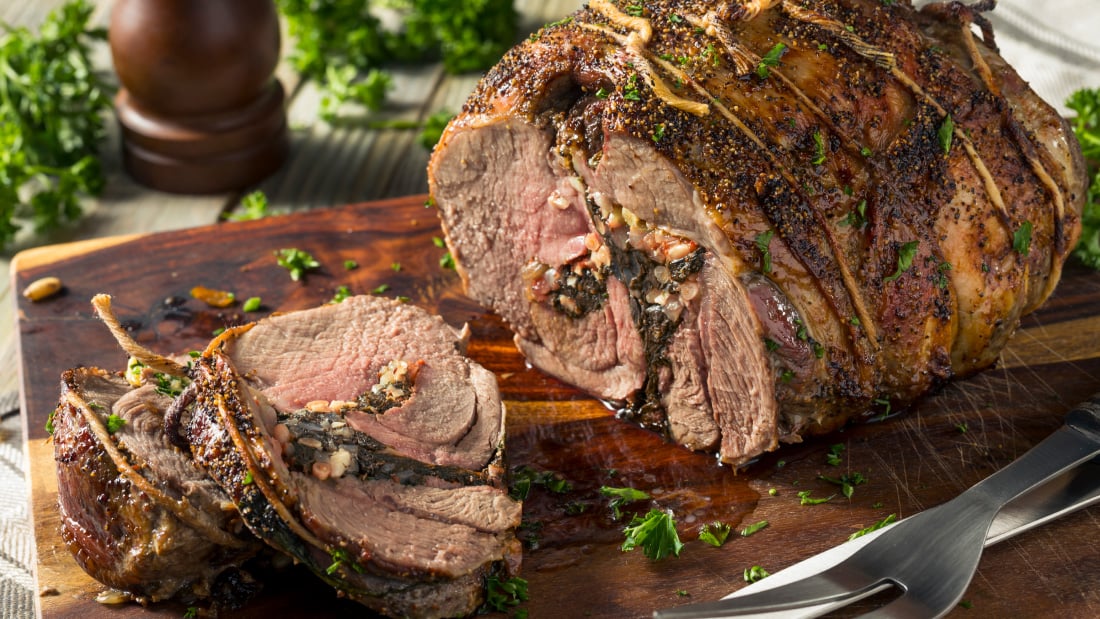 The Demo Kitchen, you may have noticed, is relatively obsessed with working seasonally. However, every once in a while, we have to strike while the irons hot and bring you a forward-looking recipe. Such is the case today.
Seeing that the new 2019 vintage of Penfolds' sophisticated cab/shiraz blend, Bin 389, had just arrived, brought us quickly back in our memory to a dinner we once enjoyed at Penfolds Magill Estate restaurant, overlooking the twinkling lights of downtown Adelaide.
Every course was magnificent, including the creamy nuggets of spicy fried lamb brains, served communally to the table, that had some of our dining companions a bit put off. One person was popping them in his mouth like candy, having missed the waiter's description, while others refused to even taste them. When the enthusiastic eater found out what he was downing, he took a brief pause to consider, shrugged his shoulders and dove back in. They were that good, but that is neither here nor there. What is important today is how wonderfully lamb pairs with Bin 389.
The main course at that dinner featured fine Australian lamb and the affinity with Penfolds' famous reds was undeniable. So, we have come up with a recipe that we might normally reserve for fall, realizing just how close that is. We recommend Aussie lamb or good domestic lamb from Pennsylvania or Colorado for this semi fancy but easy to make dish. If you aren't familiar with saddle, a good butcher can help. This is a very popular cut in Britain and Australia but is less well known in the States. The main benefit being its highly stuffable nature. The sauce is a riff on a classic Cumberland sauce and suits the wine nicely.
Buy your Bin 389 now at a great Binny's price and put it down, just for two or three months, then make this dish for a perfect pairing. In fact, buy a few bottles, this baby drinks wonderfully now but is a serious ager too. You'll be happy you did, in ten years or so.
Serves 6
Duxelle
INGREDIENTS:
16 oz. cremini mushrooms
4 tablespoons unsalted butter
2 shallots
2 cloves garlic
2 tbsp. chopped flat leaf parsley
1 tbsp. chopped fresh thyme
1 tbsp. chopped fresh rosemary
kosher salt, to taste
Freshly ground black pepper, to taste
¼ cup Ruby Port
DIRECTIONS:
Finely chop the mushrooms, shallot and garlic in a food processor.
Place chopped mixture in a square of double thick cheesecloth.
Over a sink, twist cloth around the mushrooms to wring out as much liquid as possible.
Melt butter in a large skillet over medium-high heat.
Add the mushrooms mixture and a pinch of salt and pepper.
Cook until the mushrooms release their liquid. Add the parsley, thyme and rosemary. Continue cooking, stirring frequently until mushrooms dry and begin to brown.
Add Port and cook until evaporated, stirring often. Taste and adjust seasoning to taste with salt and pepper.
Cool to room temperature.
Lamb
INGREDIENTS:
1 boneless saddle of Australian lamb, 2.25 lbs.
kosher salt, to taste
black pepper, to taste
Duxelle
½ medium onion, coarsely chopped
1 carrot, coarsely chopped
1 rib of celery, coarsely chopped
1 sprig of rosemary
DIRECTIONS:
Preheat oven to 400°F.
Season saddle of lamb liberally with salt and pepper on both sides. Lay flat on a cutting board, fat side down. Distribute the stuffing evenly in a long sausage shape down the center of the saddle. Fold one side over the filling, then roll into the form of a long cylinder. Tie rolled lamb in several spots along the length with butcher's twine.
Place lamb in roasting pan with the seam of the roll down. Add onion, carrot, celery and rosemary to the pan.
Roast about 1 hour, until an instant read thermometer reads 135 for medium rare. Remove from oven and Transfer to a cutting board, let rest while preparing the sauce.
Discard vegetables and rosemary. Skim fat from pan juices. Reserve juices.
Sauce
INGREDIENTS:
1 cup Ruby Port
pan juices
2 cups lamb or beef stock
¼ cup red currant jelly
1 oz. lemon juice, freshly squeezed
Zest of a lemon
1 tbsp. Dijon mustard
kosher salt, to taste
freshly ground black pepper to taste
DIRECTIONS:
Place empty roasting pan over medium-high on stove top. Add Port and reduce by half scraping up any brown bits from the bottom of the pan.
Add pan juices, stock, jelly, lemon juice, zest and mustard. Reduce by half or until the sauce thickens enough to coat the back of a spoon.
Add in any accumulated juices from the resting meat and season to taste with salt and pepper.
Strain through a fine mesh sieve. Optional
SERVE:
Slice rested meat into medallions and serve with sauce.