Main Content Starts Here
Demo Kitchen Recipes: Korean Kimchi Stew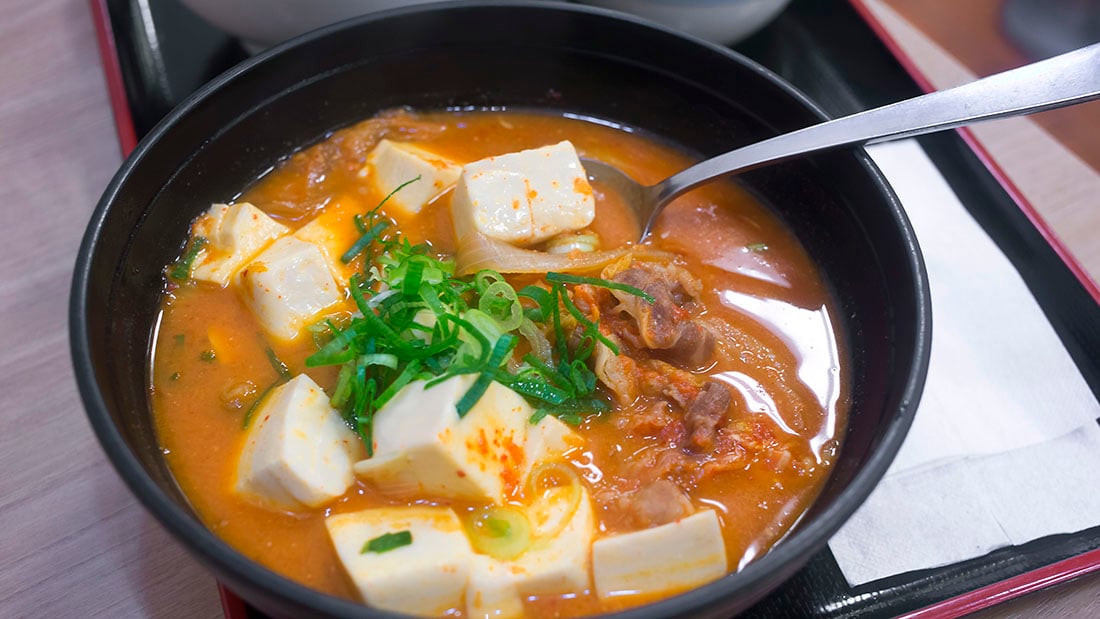 Every episode of Barrel to Bottle: The Binny's Podcast is full of irreverent banter, humor, tension, all manner of food and drink esoterica, cultural minutiae, deeply held beliefs about fruit and sugar, and of course the best professional advice and info about everything beer, wine, and spirit related. The B-to-B gang is highly opinionated and seemingly capable of arguing just about anything. Every once in a while, they even agree on a point or two. Lest you think this all so much white noise, the gang's opinions are hard won and based on decades and decades of collective experience tasting, assessing, selling, and even making alcoholic beverages.
Many listeners have come to trust those well considered opinions despite, or in some cases because of, all the jocular debating that goes on. But sometimes this ship of fools puts aside childish things and brings their full attention to bear on the opinions of a truly authoritative voice. Such is the case anytime Binny's Wine Director, Barbara Hermann, brings her singular point of view to the podcast.
In case it has somehow escaped your notice, Barbara is the very heart and soul of Binny's wine program and has spent decades quietly shaping the way Chicagoans, and now Illinoisans in general, drink and relate to wine. Her contributions to Binny's and the broader wine culture are difficult to overstate, so when she talks wine, everyone within earshot would do well to listen.
This was precisely the case when Barbara joined the podcast several months ago to share her unusual take on pairing red wine with foods from South and East Asia. Barbara is a dyed-in-the-wool red wine lover (although we doubt she has ever turned down a glass of fine Champagne) who laments the fact that fruity white wine is the easy default selection for the false umbrella of "Asian Cuisine", despite how radically cooking and culture can vary within a given country, let alone across such a large swath of the planet.
Barbara proceeded to blow the crews collective mind by successfully pairing Pad Thai with Zinfandel, dumplings with Pinot Noir, and Chana Masala with Bordeaux but what intrigued the Demo Kitchen most of all was her choice of Gigondas with the spicy and pungent fermented flavors of Korean kimchi. It seemed a bold choice, destined to amplify both the inherent and none too subtle flavors of kimchi and the spicy, tannic, earthy, and herbal aspects of the Rhone red. It turns out that these were exactly the gustatory fireworks Barbara was looking for and the pairing, by all accounts, did not disappoint. This is by no means a subtle combo but an explosive one, like the meeting of matter and antimatter. So exciting!
The Demo Kitchen, being card carrying members of the Barbara Hermann Fan Club (collectively known as the Hermanniacs), immediately started to plot a post devoted to kimchi fried rice, but fate intervened, and it was put on the back burner. In the interim the traditional Korean season for making kimchi has come and gone and any kimchi made in the fall is now moving toward intensely sour maturity. It is also the dead of winter in both Illinois and Korea, the perfect time to make the hearty, warming kimchi stew known as kimchi jjigae.
You can, of course, make your own kimchi. It is really relatively easy, like making a very spicy, intense sour kraut but for this recipe that step should have happened months ago. Even though kimchi can be eaten at virtually any stage in the fermentation process from fresh to extremely pungent and sour, this recipe requires the intensity of a mature kimchi.
We'll wrap up with just a couple of notes on our recipe for this deeply soulful but relatively quick braise. Although many recipes call for plain water or at the other extreme of umami, anchovy stock, we suggest a short cut to flavor and a velvety textured broth. The first step is to save the starchy water from the second rinse of your white rice (yes, you should rinse your rice and yes bowls of aromatic steamed rice are a must with kimchi stew, we will leave any banchan to you). Combined with chicken base and fish sauce the starchy water will create a silky and deeply savory broth.
Second, attend well to seasoning. The flavors here are intense and salty elements abound so taste frequently and add carefully, particularly when it comes to the kimchi brine. At the same time, well-aged kimchi can become incredibly sour, so we have added a little sugar, but you may find it unnecessary or insufficient depending on the maturity of the kimchi you use so, again, let taste be your guide.
Beyond that, it's easy. Just pair with Gigondas, Soju or a crisp Pils. Fruity New Zealand Sauvignon Blanc is also nice. Sorry Barbara.


Korean Kimchi Stew (Kimchi JJigae)
INGREDIENTS:
2 tsp. toasted sesame oil, divided
½ pound pork belly, cut into bite size pieces
1 pound (well-aged) kimchi, cut into bite size pieces
1 medium onion, sliced
½ cup sliced shiitake mushrooms
2 cloves garlic, minced
2 tbsp. gochujang (Korean chili paste)
2 tbsp. fish sauce
1 tsp. sugar
3 cups rice water (starchy water from rinsing rice) or plain water
1 tbsp. chicken base
¼ cup kimchi brine, to taste
8 oz. firm tofu, sliced into bite size pieces
3 green onions, sliced on a bias
DIRECTIONS:
Add one tsp. sesame oil to a clay pot or Dutch oven over medium heat. Add pork belly and cook, stirring for a few minutes until fat just begins to render.
Add kimchi and cook, stirring until cabbage begins to soften, about 5 minutes.
Add onion, mushrooms, garlic, gochujang, fish sauce and sugar. Stir well.
Combine water and chicken base, add to pot, and stir well. Increase heat to high, bring to a boil then immediately reduce heat to a simmer
Taste for seasoning, particularly salt, then judiciously add up to ¼ cup kimchi brine.
Cover and simmer for about 10 minutes.
Add remaining sesame oil then place tofu on top of stew.
Cover and simmer 10 to 12 minutes.
Remove from the heat, garnish with green onion, and serve piping hot directly from the pot.