Main Content Starts Here
Demo Kitchen Recipes: Jibarito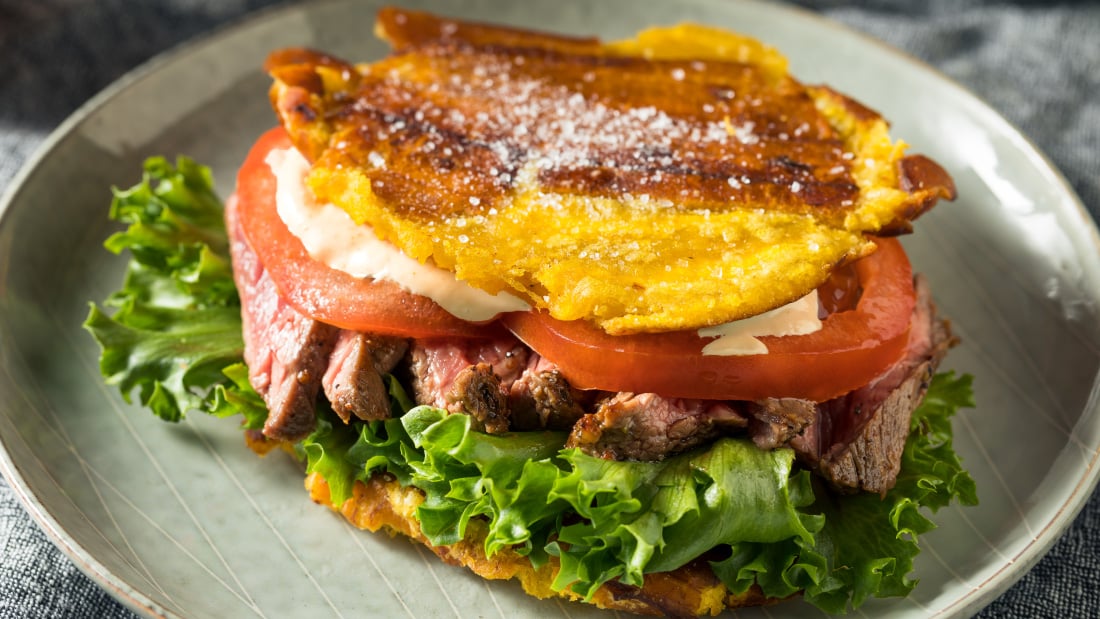 Here's something a little different for your Fourth of July, a tasty Puerto Rican style sandwich that came into being right here in Chicago, the jibarito. Did it have precursors in Puerto Rico? Almost certainly, but it took the original Borinquen restaurant on North California in Humboldt Park to fully realize and name1 this breadless sandwich.
The Demo Kitchen was hipped to this now famous sandwich in its infancy, back when it was among Chicago's most obscure culinary specialties. In the interim the jibarito's popularity has exploded and it seems like everybody and their brother are now making them. So, let's get in on the fun and make the Demo Kitchen's take on Binny's meets Borinquen2, specifically designed for grilling season.
The thing that really sets the jibarito apart from other sandwiches is the use of double fried and smashed green3 plantains in place of bread (you know, those big starchy "cooking bananas" that likely mystify the unfamiliar among you.) They are pretty simple to make, as they are just oversized plantain chips known as tostones. Just like french fries they are double fried to achieve a crispy exterior and tender interior. The plantains are given an initialfry just to cook them through, after which they are smashed flat then fried again to make them crunchy.
If you would like to stick just to the grill, you can try grilling the tostones. Just brush the plantain quarters with a little oil and give them a few minutes on a medium hot grill to cook them through (soft when pierced with a knife). Flatten them, brush with more oil and then return to the grill and cook until golden brown and crunchy. Season with salt.
The fillings are really pretty standard as sandwiches go. The original is just steak4 with lettuce, tomato, mayo and American cheese5. We add a final grace note of garlic butter slathered on the plantain "bread", yum. The jibarito is straight forward, all American6 and tasty as all get out! What more could you ask for on a sunny Fourth of July?
Try your jibarito with Puerto Rico's favorite cocktail, the piña colada. Our resident mixologist has a fantastic recipe to keep you cool while you're grilling, and it tastes great with a jibarito.
A perfect beer pairing can be achieved with New Belgium Voodoo Ranger Juice Force, as featured in this week's Beer Buzz. This super fruity and potent hazy IIPA is loaded with sweet tropical and citrus flavors derived from a crazy array of new wave hops, making it irresistible with this meaty, citrus inflected sandwich. You'll feel like you're dining beachside in in Puerto Rico.
When it comes to wine, the deep, beefy, garlicky flavors of marinated flank steak demand a bold red and we have the perfect pairing in what many feel is America's signature wine, Zinfandel. Cline Zinfandel Ancient Vines is a formidable zin at an affordable price, displaying all the brambly fruit and spicy nuance you would expect from 100 year old head pruned vines. It's an American classic tailor made for the Fourth of July and a juicy, meaty jibarito. Not to mention that it is priced right for a crowd. What a steal!
Jibarito
Makes 4 sandwiches
Ingredients:
½ of a medium onion
1 Cubanelle or Anaheim pepper stemmed, seeded chopped
⅓ cup chopped red bell pepper
⅓ cup roughly chopped cilantro
6 cloves garlic, peeled
3 oz. lime juice, freshly squeezed
2 oz. orange juice, freshly squeezed
1 tsp. ground cumin
1 tsp. ground coriander
½ tsp. turmeric
½ tsp. dried oregano
kosher salt, to taste
black pepper to taste
½ cup olive oil
1 ½ lbs. flank steak
2 tbsp. butter
2 tbsp. minced garlic
2 large green plantains
canola oil for frying
mayonnaise
8 slices of American cheese
8 slices of ripe red tomato
Shredded head lettuce
Directions:
Add the first 13 ingredients to a food processor or blender. Blend until smooth. With the motor running slowly drizzle in the oil.
Put steak in a glass baking dish or large Ziplock bag. Pour marinade over steak. Marinate refrigerated for at least 2 hours or overnight.
When ready to grill, build a hot hardwood charcoal fire or preheat gas grill. Remove steak from marinade, removing excess. Grill over high heat for about 5 minutes per side for medium rare. Remove and let rest for 5-10 minutes.
Meanwhile make tostones. Heat about an inch of oil in a large skillet to 350°F.
Cut the ends off plantains. Cut the peel along a seam lengthwise then peel starting at the cut. Cut plantains in half crosswise and then again lengthwise so there are eight equal pieces.
Fry plantains for about 4 minutes until cooked through, remove to paper towels.
Place a plantain piece on a cutting board covered with waxed paper. Fold paper over the plantain and smash flat with another cutting board or heavy skillet. Flatten all eight pieces.
Return plantains to hot oil and fry until crisp, about another 4 minutes. Remove to paper towels, season with salt.
Make garlic butter by melting 2 tbsp. butter, then stirring in 2 tbsp. minced garlic. Garlic is meant to be raw.
Thinly slice flank steak on a bias, against the grain.
Spread 4 tostones generously with mayonnaise. Layer on sliced steak. Top each with 2 slices of cheese, two slices of tomato and shredded lettuce. Top each sandwich with remaining tostones and spoon a little garlic butter over the top.
Serve immediately.
Footnotes:
Jibarito translates to something akin to little Puerto Rican hillbilly.
Traditional name for Puerto Rico.
Starting with starchy green plantains is important. Plantains are used at every stage from green to ripe to the very overripe maduro stage. They move from starchy, firm and savory to rich and somewhat sweet. Each stage will yield different results in both flavor and texture and are appropriate for different techniques and dishes.
For this version we are using beefy flank steak. Other standards include pork, chicken, shrimp or veg.
Admittedly out of character for the cheese obsessed Demo Kitchen but sometimes you just have to go with American cheese for its amazing meltability. It is the 4th after all.
Puerto Rico is not a state...yet, but a U.S. territory. Who knows what the future holds, it's controversial. Flag makers surely have their fingers crossed though, hoping for heavy demand for 51-star flags.