Main Content Starts Here
Demo Kitchen Recipes: Icebox Cake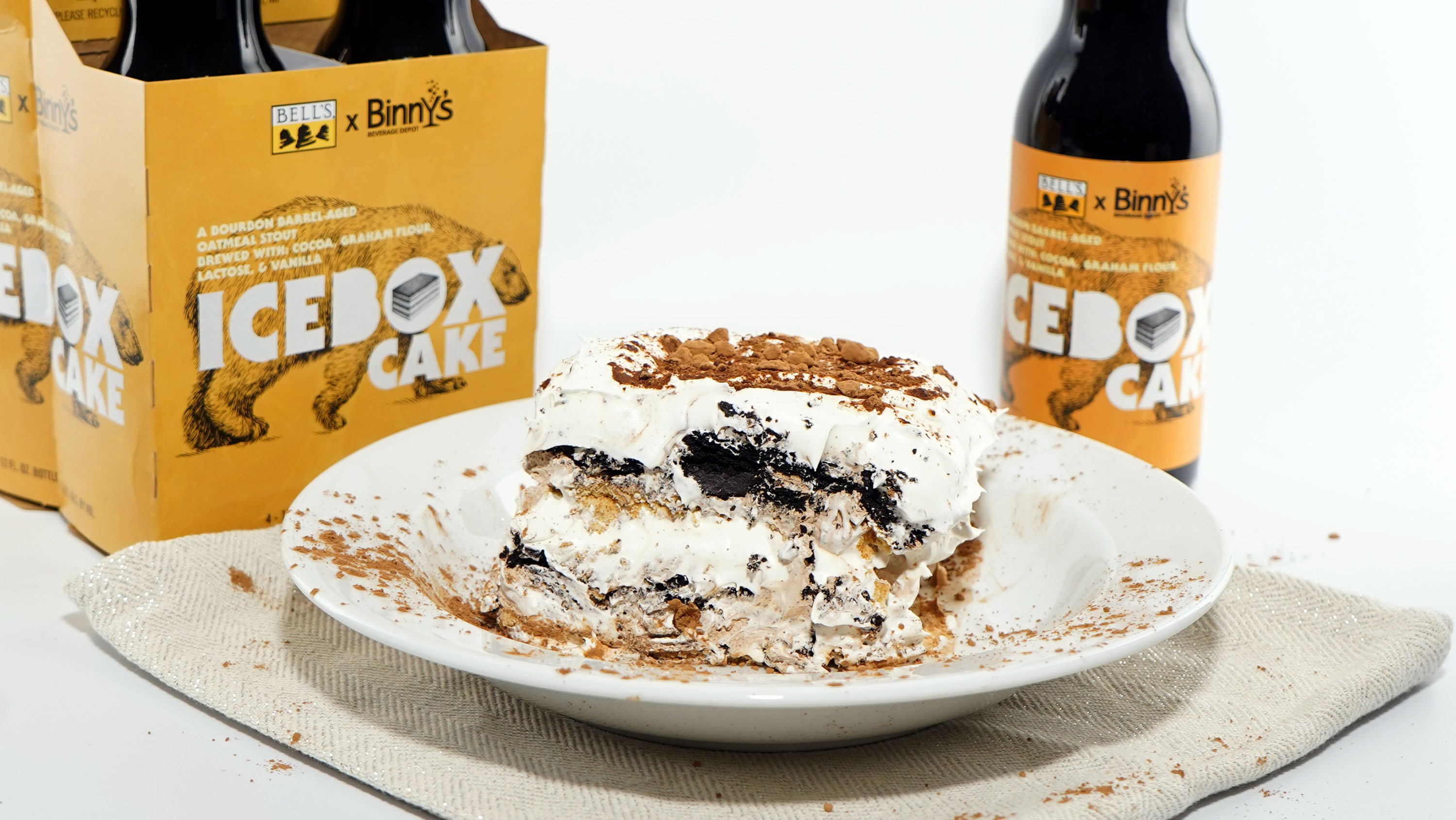 Does icebox cake ring any Bell(')s? Does anyone even remember what an actual icebox was? Does anyone remember laughter? Remember - walking in the sand? Remember - walking hand in hand? If you are a native Chicagoan of a certain age, it's likely you do remember icebox cake. Or maybe you still have a hand in keeping a family tradition of making them alive. You might even get those non sequitur, or at least very tangential, references to old songs.
You may also know that iceboxes did not run on electricity, they had no compressor or any sort of mechanical cooling mechanism. They required actual ice to keep things cold and the natural freezing of rivers and lakes was an essential part of preserving food or chilling your beer in an icebox. In the old days, they used to harvest ice from rivers during the frigid Chicago winters and store large blocks in massive ice houses for use in the warmer months. The iceman would deliver crystal clear blocks of natural ice to owners of iceboxes across Chicagoland and many of those happy recipients made icebox cake with fresh whipped cream and Nabisco Chocolate Wafers (introduced in 1924).
Around the turn of the twentieth century Nabisco was a proud Chicago based company with offices in the Loop's first skyscraper, the Home Insurance Building, which was all of 12 stories at the time (only ten originally). And, of course, Nabisco was the source of many, many jobs at their southwest side bakery. So, it isn't difficult to explain why the simple recipe for building a "cake" from Nabisco's Famous Chocolate Wafers and whipped cream is so ingrained in Chicago's home baking culture. The Demo Kitchen has certainly enjoyed more than their fair share over the years.
So, we weren't too surprised when icebox cake came in as the overwhelming winner when we polled beer lovers about what flavor profile our latest barrel aged stout collaboration should have. We put our faith, barrels and the request for an icebox cake stout in the sure hands of the brewers at Michigan's OG craft brewer Bell's. Likewise, it should be no surprise that they absolutely crushed that mission in a way that only such practiced old hands at brewing can do.
So, just in case your grandma wasn't an icebox cake enthusiast and you have never had the pleasure of tasting this simple delight here is a recipe to try. It is so easy that it doesn't even require any baking. Admittedly, this take veers a bit from the classic Nabisco recipe, but all changes are in service of creating a more memorable pairing with a snifter of Bell's Icebox Cake Stout. Hurry up, get that Bell's, cuz icebox cake will always be easy to make but Icebox Cake Barrel Aged Stout won't be easy to get for long and you don't want to miss this pairing.
Cheers! And Bon appetite.


Icebox Cake
INGREDIENTS:
1 qt. heavy whipping cream, divided
2 tsp. vanilla extract, divided
1/3 cup cocoa powder
¼ cup powdered sugar
Pinch of salt
24 Graham crackers
1 pkg. (9 oz.) Chocolate Wafers
DIRECTIONS:
Add 2 cups of cream and 1 tsp. of vanilla to the chilled bowl of a stand mixer. Using the whisk attachment, whip on high until stiff peaks form. Transfer to another bowl.

Return the bowl uncleaned to the mixer. Add the remaining cream and vanilla, cocoa powder, powdered sugar and salt. Whisk on high until stiff peaks form.
In the bottom of a deep 9"x13" pan place 8 graham crackers in a single layer. Top with a third of the chocolate whipped cream.
Layer a third of the chocolate wafers over the chocolate whipped cream then top with a third of the vanilla whipped cream.
Repeat two more times, ending with a layer of chocolate wafers and a final topping of vanilla whipped cream.
Refrigerate overnight to allow the "cake" to soften. Cut into squares and serve.