Main Content Starts Here
Demo Kitchen Recipes: Herbed Salmon En Papillote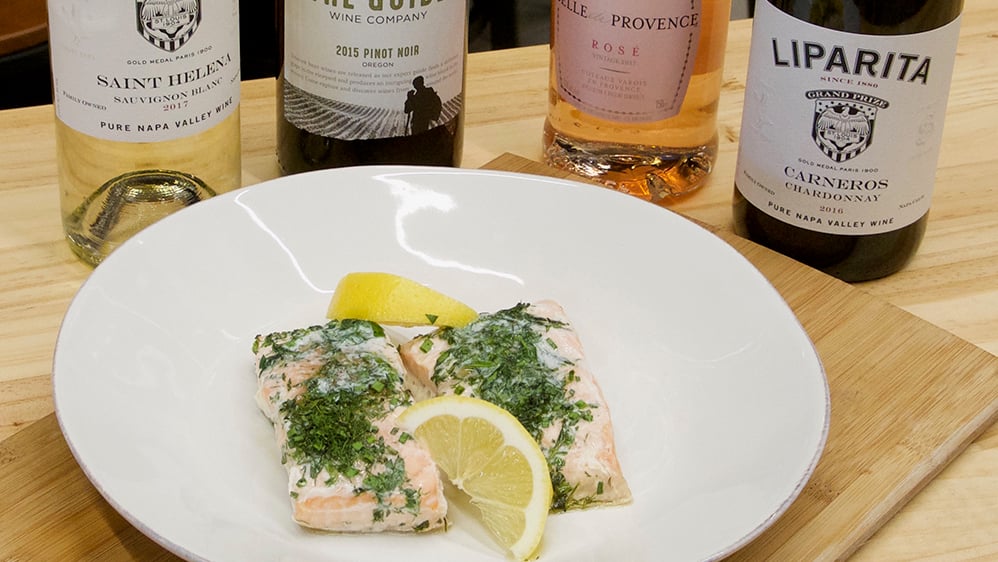 This flavorful, low fat recipe is all about method. The technique known as en papillote is often used with seasoned, delicate proteins (such as chicken breasts and seafood) whose flavors mingle and intensify as they cook in their own steam. It's easy to execute, fancy and flashy, and lends a sense of drama when unwrapping the entree! Enjoy this dish with a savory Sauvignon Blanc.
Serving Size: 2 People Prep Time: 10 minutes to prep, 10 minutes to cook, 20 minutes total
Herbed Salmon En Papillote
INGREDIENTS:
Parchment Paper, as needed

2 6oz Salmon Filets, skin on

2 tsp Fresh Dill Leaves

1 tsp Chives, chopped

1 tsp Tarragon, chopped

Kosher Salt to taste

2 Tbsp Unsalted Butter

3 Cloves of Garlic, minced
DIRECTIONS:
Preheat your oven to 400°F and set a rack in the middle of the oven.

Cut your parchment paper into two heart shape pieces large enough to fit a salmon filet on one half of the heart.

Place a filet on the right side of each parchment heart and season well with herbs and salt to taste. Place 1 Tbsp of butter on the top of each filet.

Fold the left side of the heart over the top of the filet and fold the edges of parchment together to make a seal.

Place the sealed pouches on a sheet pan and bake in the oven for 10 minutes.

Cut open the parchment and serve with lemon wedges.