Main Content Starts Here
Demo Kitchen Recipes: Grilled Tequila-Lime Trout with Watermelon Salsa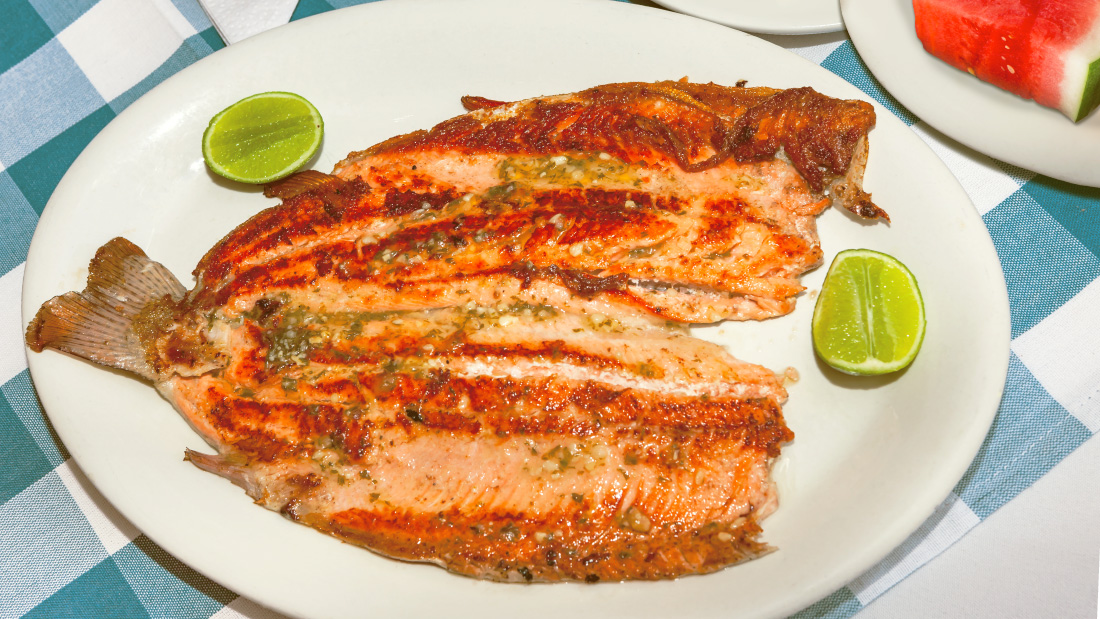 Binny's resident mixologist laid the groundwork for the Demo Kitchen this week with a deep dive into a cool pool of watermelon cocktails. A passing reference to trout and watermelon obsessed author, Richard Brautigan, got us to thinking about what they might be feasting on in his strange version of reality. Given that most things in Brautigan's fanciful post-apocalyptic world from 1968s In Watermelon Sugar are indeed crafted in watermelon sugar, certainly trout and watermelon have shared a plate. A plate made with watermelon sugar, of course. But just in case, here is the dish we imagine is in regular rotation down at the trout hatchery.
This is a fast and easy dish for the summer grilling season featuring a quick cocktail-like marinade for the trout that then cooks over a very hot grill for just a few minutes before it is topped with a cool, refreshing watermelon salsa. Sounds pretty good, eh?
We might speculate that the tigers of In Watermelon Sugar may have been happy to chow down on such a magical combination, thus refraining from eating people. Oh, cruel hindsight! We might also speculate that those whiskey making rebels over at the Forgotten Works may have had access to some mature agave and could supply the Tequila for this recipe.
In any case, all these things and more are readily accessible in the real world. Just grab some scaled, gutted and headless rainbow trout1 from your favorite fishmonger and get to work. Spare a little Clark & Sheffield Blanco Tequila for the marinade and you'll be done before the first batch of Watermelon Margaritas is gone and everybody will be happy, especially you.
The only tricky thing here may be the flipping of the fish, but it can be done with a large spatula or two. If you are having trouble, just put the lid on and bring the heat down by restricting air flow and let this thin fish finish cooking entirely on the skin side, it won't take long. A bit of char on the skin is welcome but try not to burn it too badly. If you happen to have fish grilling baskets, you already know how handy they are for turning fish on the grill. Definitely a tool worth having if you grill a lot of fish.
While it is not mandatory, this dish is greatly enhanced by al fresco dining, and certainly in that context any one of the aforementioned watermelon cocktails would be a welcome accompaniment. If beer is what you are after try the crisp, dry German-style Pils from Trumer. It's brewed in accordance with deeply rooted European traditions in Berkley, CA, not far from Brautigan's old stompin' grounds in San Francisco and Bolinas.
When it comes to wine, this dish is begging for a fruity but crisp white with enough tang to meet the lime juice head on while playing off the grassy, herbaceous flavors of Blanco Tequila, cilantro and mint. Mulderbosch sauvignon blanc from South Africa's Western Cape does all of that and really dials into the perfect pairing realm with its subtle capsicum notes and melony fruit. It's almost as if this wine was crafted with this very dish in mind.
Glasses, plates and flatware made with watermelon sugar; strictly optional. Watermelon Sugar by Harry Styles; strictly forbidden.
Get cooking!
Grilled Tequila-Lime Trout
INGREDIENTS:
½ cup lime juice, freshly squeezed

¼ cup orange juice, freshly squeezed

½ tsp. ground cumin

½ tsp. ground coriander

½ tsp. ground turmeric

1 serrano pepper, minced

2 cloves garlic, minced

1 tsp. kosher salt

1/2 tsp. black pepper

4 skin-on trout, head removed and butterflied (about 1 lb. each)
DIRECTIONS:
In a glass baking dish large enough for the trout, whisk together the first 10 ingredients. Add trout, coating all over with marinade. Cover and refrigerate for two hours.

When you are ready to grill, build a hot hardwood charcoal fire or preheat gas grill to high. Brush grill with a little oil.

Grill trout, skin-side down, until lightly charred and crisp, 2-3 minutes. Turn over and continue cooking until just cooked through, 3-4 minutes.

Remove from the grill top with watermelon salsa.

Garnish with cilantro sprigs and lime wedges. Serve
Watermelon Salsa
INGREDIENTS:
1 cup ¼" dice of seedless watermelon,

1/3 cup ¼" dice of peeled English cucumber

1 scallion, sliced on a bias

1 serrano pepper, ribs and seeds removed, diced small

2 tbsp. chopped fresh cilantro

1 tbsp. chopped fresh mint

zest of one lime

1 tbsp. lime juice, freshly squeezed

Salt to taste
DIRECTIONS:
In a medium bowl toss together all ingredients.

Spoon over grilled trout.
Footnotes:
The only trout species to wear its rainbow pride, wherever it goes.