Main Content Starts Here
Demo Kitchen Recipes: Grilled Margarita Chicken with Black Bean and Corn Salsa and Avocado Crema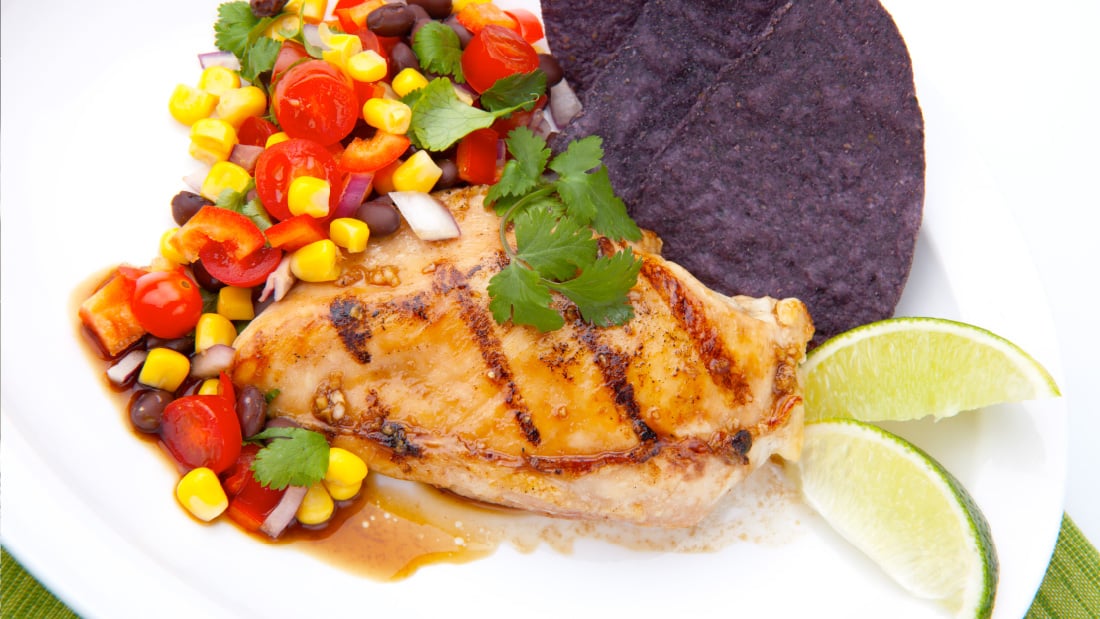 The long and leisurely days of summer are winding down, but we are still in full grilling mode here at the Demo Kitchen. That means we are still drinking refreshing white wines, crisp lagers and mixing up Tequila based cocktails to beat the heat.
In fact, All Things Agave, Binny's two-day celebration of Tequila and Mezcal is right around the corner on August 24 and 25, 2022 from 6-8 pm at Binny's Lincoln Park. We are calling it a tasting extravaganza and that is exactly what it is.
The first night features 25 tables, loaded down with fine Tequila, followed on the 25th by the 20 tables of our most exciting picks from the Midwest's biggest, most meticulously curated selection of fine Mezcal. From blanco to extra añejo, weber blue to tobalá, crisp vegetal and citrusy to rich and oaky, clean to smokey, artesanal to ancestral, we pack it all into this thrilling two-day event. Join us for one or join us for both. Tickets are $10 a day or $15 if you bundle both sessions.
There will, of course, be food at both sessions but the Demo Kitchen didn't want to miss all the fun, so here is a smokey grilled chicken recipe with all the flavors of a spicy margarita, served with a delicious seasonal salsa of fresh sweet corn and black beans. We top it all off with a cooling avocado crema that provides a wonderful balance to the subtle jalapeño heat.
You will want to serve this with a margarita, paloma or even a Tequila sunrise made with the excellent and reasonably priced Teremana Reposado for a fantastic hand in glove pairing. For wine, a well-priced, citrus driven and herb accented sauvignon blanc like the 2021 High Valley from Lake County, California will make for a perfect pairing, while Dovetail Vienna Style Lager is the way to go when it comes to a refreshing lager with enough malt backbone and herbal noble hop character to stand up to bold flavors.
Don't miss your chance to find new favorites at All Things Agave, whether for cooking, mixing or sipping and don't let summer slip away without trying this fresh, flavor packed dish.
Salud!
Serves 6
Grilled Margarita Chicken
INGREDIENTS:
1 cup lime juice, freshly squeezed
½ cup orange juice, freshly squeezed
2 cloves garlic, minced
1 seeded jalapeño, finely chopped
2 tsp. orange zest
2 tsp. lime zest
2 tsp. ancho chili powder
2 tsp. ground cumin
1½ tsp. kosher salt
¾ tsp. ground black pepper
6 six to eight oz. boneless, skinless chicken breast halves
Garnish: whole cilantro leaves and lime wedges
DIRECTIONS:
In a bowl with a fitted lid whisk together the first 12 ingredients. Add chicken, coat evenly. Cover and refrigerate overnight.
Prepare a hardwood charcoal fire for direct medium high heat or preheat gas grill to medium high. Clean grill and brush with a little oil.
Grill chicken on one side, rotating 90 degrees halfway through to create crosshatch grill marks. Turn and do the same on the other side until cooked through, about 10 minutes total.
Transfer to cutting board, let rest 5 minutes.
Slice or serve whole over salsa. Top with crema and garnish with cilantro leaves and lime wedges.
Black Bean and Corn Salsa
INGREDIENTS:
2 ears corn, shucked and grilled or left raw
1 can (15 oz.) black beans, rinsed and drained
1 cup chopped plum tomatoes
¼ cup thinly sliced green onion
¼ cup chopped cilantro
1 small jalapeño, seeded and finely chopped
3 tbsp. fresh lime juice
1 tbsp. canola oil
1 ½ tsp. ground cumin
kosher salt, to taste
freshly ground black pepper, to taste
DIRECTIONS:
Cut corn kernels from cobs by standing them upright in a bowl and cutting down along the cob with a sharp knife.
Add the black beans, tomatoes, green onion, cilantro, jalapeno, lime juice oil and cumin. Fold together with a rubber spatula.
Season to taste with salt and pepper. Serve with chicken.
Avocado Crema
INGREDIENTS:
1 ripe avocado, pitted and scooped from the shell
½ cup Mexican style crema or sour cream
2 tbsp. chopped cilantro
2 tbsp. lime juice, freshly squeezed
1 clove garlic
1 tsp. lime zest
Salt, to taste
DIRECTIONS:
Add all ingredients to the bowl a food processor fitted with a metal blade.
Puree until smooth, adjust seasoning with salt if needed.
Serve over chicken.