Main Content Starts Here
Demo Kitchen Recipes: Fish and Chips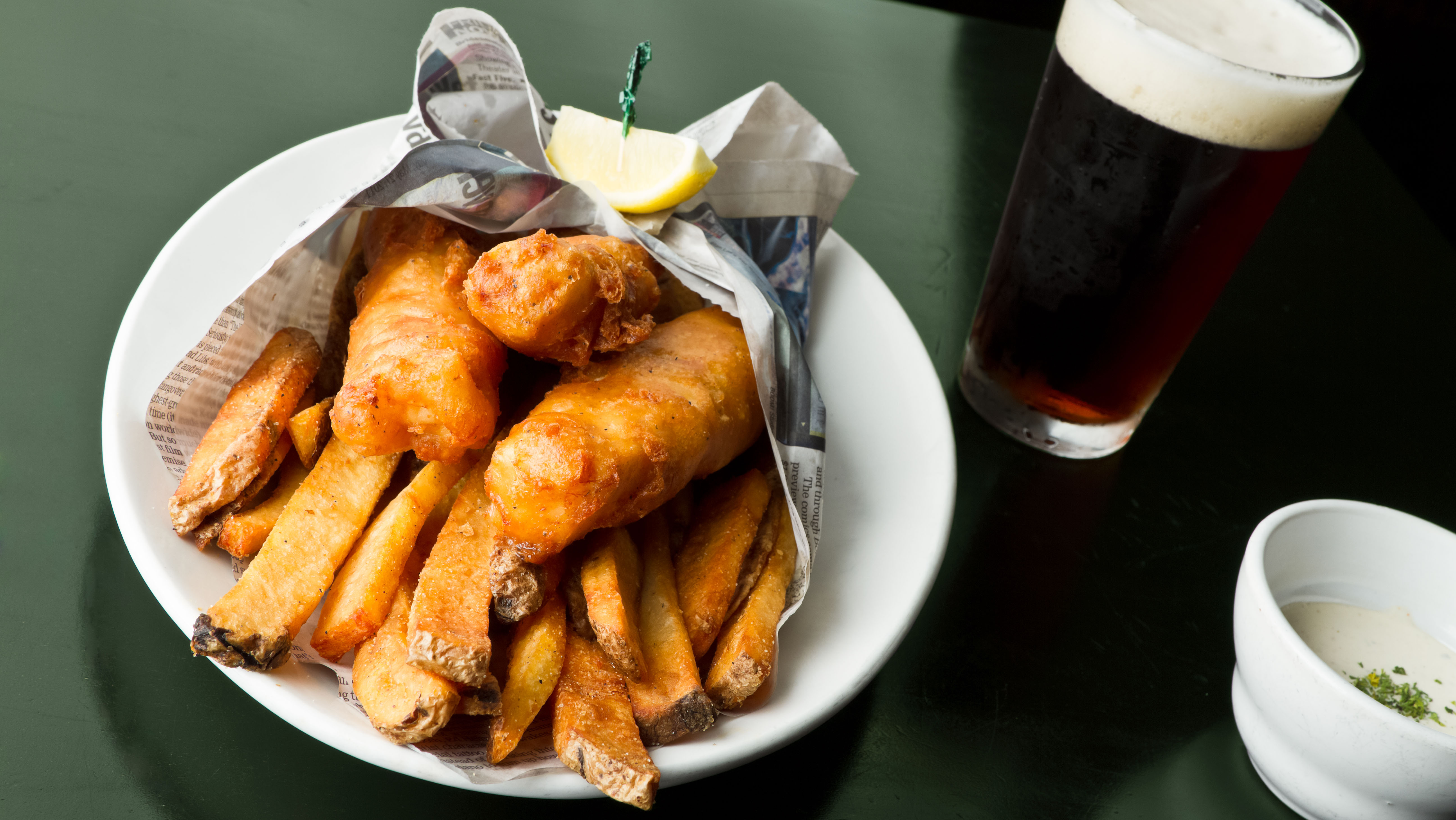 Americans love a good fish fry as much as anyone (we're looking at you Wisconsin) but there is nowhere on the planet where fish and chips are more revered than in Ireland and the U.K. Interestingly, it was Western Sephardic Jews who first brought the Friday fish fry tradition to Britain. Battered and fried fish made for a common Friday meal in the Jewish community with extra being reserved and served cold on the Sabbath. The chip or french fry, another import, was soon paired with fish, presumably because they are both fried, and likely because they are delicious together.
By the second half of the 19th century, fish and chips was definitely a thing in the U.K. and Ireland. In fact, the first known commercial operation to combine fish and chips in London was opened in 1860 by a Jewish immigrant named Joseph Malin. Although this duo is strongly associated with the U.K., including Northern Ireland, Irish Catholics took to the combo like fish to water, inserting it into their own Friday traditions and by the 1880s Ireland had followed England's lead making fish and chips hugely popular on the Emerald Isle as well. It is now impossible to find an Irish pub in the U.S. that doesn't feature fish and chips on Friday.
One can, of course, eat fish and chips year round on any day of the week but the strong association of the fish fry with Friday still exists, especially during Lent. Given that we are about to celebrate St. Patrick's Day, in the midst of Lent, we are offering up a recipe for delicious beer battered, golden fried, North Atlantic cod and crisp, chunky, chips anointed with plenty of malt vinegar and salt as an alternative to corned beef and cabbage. However, the timing couldn't be more perfect this year to allow for a hearty meal of corned beef and cabbage on Thursday (St. Patrick's Day) followed by crunchy, flaky cod on Friday.
One caveat and a note: If you don't often deep fry at home, be extra careful not to overfill your frying vessel with oil (remember the potatoes and fish will displace oil and raise the level significantly) and do not let it get too hot or you may end up with your own highly dangerous "Suspect Device" (as Ulster's great Stiff Little Fingers might say). As for the way we have chosen to lay out this recipe: We have streamlined the process by weaving back and forth between chips and fish so you can efficiently turn these out in no time and serve them both piping hot. Just realize that you will be moving back and forth between the two.
Few drinks make for a better foil to battered and fried cod and salty chips than Champagne. A pint of Dry Irish Stout is tasty too, or you can combine pleasures with a Black Velvet cocktail. These three are especially great if you start things off with a half dozen oysters. We are using an Irish Red in the batter to lend a malty, caramelized richness to the dish, so that would be another excellent beer to serve. Crisp dry white wines, like Sauvignon Blanc, Grüner Veltliner and Dry Reisling are also marvelous. In any case you have a treat in store if you take a little time to fry your own.
Cheers!

Fish & Chips
INGREDIENTS:
Chips:
4 large Russet potatoes
Canola oil for frying
Salt
Fish:
1¼ cups all-purpose flour
¼ cup cornstarch
1½ tsp. baking powder
1½ tsp. salt
1 bottle of Irish Red such as Smithwick's, cold
flour for dredging
2 lb. fresh cod, cut into 8 pieces
kosher salt
black pepper, freshly ground
lemon wedges, malt vinegar and salt for serving
DIRECTIONS:
Scrub but do not peel potatoes. Cut into ½" batons. Rinse well in cold water. Place in a large bowl and cover with cold water.
Heat oil in a deep fryer or a Dutch oven to 300°F.
Thoroughly drain and rinse potatoes. Spread them on a paper towel lined baking sheet and blot them with paper towels until dry. Fry the potatoes in batches to avoid overcrowding. Fry for 4-5 minutes until softened but not browned. Remove them from the oil to a sheet pan and let them cool.
Increase oil temperature to 360°F.
While potatoes are cooling and oil is heating, combine flour, corn starch, baking powder and salt in a large bowl. Whisk in cold beer until a smooth batter comes together. Put some extra flour on a plate for dredging.
Blot the cod with paper towels to dry. Season lightly with salt and pepper. Dredge all sides of the fish in the flour then dip into the batter to thoroughly coat. Allow a little batter to drip off and transfer directly to hot oil. Do this carefully, holding one end of the fish with tongs or your fingers (if experienced). Lower the fish vertically into the oil, then in a smooth motion away from your body lay the fillet down gently in the oil.
Fry the fish for 6-8 minutes or until golden and crunchy. Transfer to a wire rack over a sheet pan. Keep warm in 200°F oven if necessary.
Bring oil up to 375°F. Add the blanched potatoes, fry 3-4 minutes until golden brown and crisp. Remove to a baking sheet and sprinkle with salt Immediately.
Serve fish and chips, with lemon wedges, malt vinegar and salt.