Main Content Starts Here
Demo Kitchen Recipes: Cuban Sandwich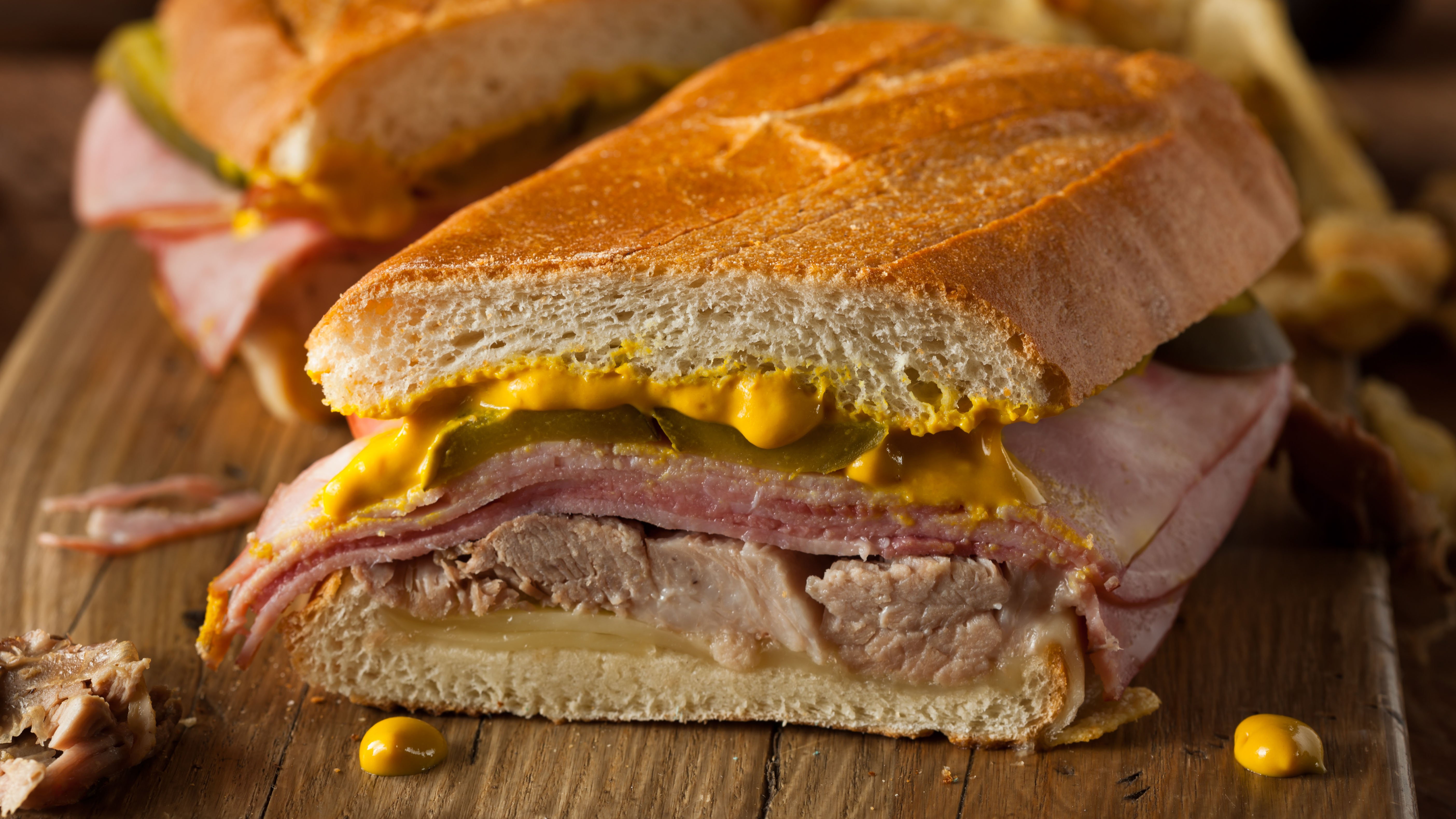 The Demo Kitchen likes to keep a close eye on what Binny's resident mixologist is up to for many reasons. Not the least of which is our love of a well-made cocktail. We also like to look for a little inspiration in what they are mixing up to inform our own choices when it comes to subject matter. Well, Confessions of a Mixologist hit us with two amazingly refreshing frozen cocktails in a row with roots in Cuba; a minty frozen mojito and the classic El Floridita frozen daiquiri. We tried them both and we would just like to say, "Wow!" So, how could we resist mining that vein ourselves?
A few of our favorite Cuban recipes, including ropa vieja and lechon asado sprang to mind, but it's summer and we wanted to put the grill to good use while not spending too much time inside in the kitchen. In the end we landed on the Cuban sandwich, an all-time favorite of the Demo Kitchen and Cuban Americans everywhere.
We have adapted our recipe, as we did for the jibarito, to center around the grill. Rather than the slow cooking shoulder cut of pork we have opted to give a small pork loin roast the mojo treatment and a quick turn on the grill so we could get right to sandwich making. We then provide some options for completing this crusty sandwich all-star in a few ways including an all-grill option for your summer cooking pleasure.
Oh, by the way, in case you aren't hip to the Cuban sandwich, it is a sort of cross between one of those amazing butter, ham, Gruyère and baguette sandwiches that are so ubiquitous in Paris and the classic Cuban sandwich of roasted pork on grilled Cuban bread known as pan con lechon. In fact, the Cubano sandwich is often referred to as a Cuban Mixto (mix) as a nod to this marriage of ingredients. It is served warm and crispy after being pressed in a sandwich plancha and gets a vinegary spark from yellow mustard and dill pickles.
As with all great food, you must start with great ingredients. The biggest hurdle is the bread. Although, Cuban bread is very similar to a French baguette, it is appreciably different in that the dough includes lard. This small variance produces an exceptionally thin crackly crust and a crumb that has a savory note absent in the sweet, creamy and wheaty interior of a baguette. Unfortunately, good Cuban bread is hard to come by in the Midwest, so you either have to make your own or use the best French bread you can find.
Be sure to get a good but young French or Swiss Gruyère (you want it to melt, so five months of aging is perfect) or a quality Emmental. A good thinly sliced deli ham will do nicely, and juicy flavorful pork is up to you.
Speaking of which, the mojo marinade is extremely simple, so you just need to nail the temp on the pork for juicy results. The orange and lime in the marinade are meant to simulate the sharp flavor of Seville oranges so you can use those instead, if you can find them.
As with many foods that come from the people, rather than chefs, there is much debate about the Cubano's origins, what ingredients are appropriate and who makes the best. It may have originated in Cuba as a hearty working class lunch for cigar factory and sugar mill workers or it may have arisen in its current hotspot, the Cuban neighborhood of Ybor City in Tampa. What is clear is that it has been a Tampa staple for over a century.
The Tampa style includes salami, an artifact of Italian immigrants living and working side by side with Cubans, while the rival version from Miami does not. Down in Key West, the much-maligned lettuce, tomato and mayo additions are de rigueur. Feel free to go that route. The Demo Kitchen doesn't necessarily look askance at mayo, however, we don't endorse the veg on this warm melty delight.
When it comes to pairings, as mentioned at the outset, a nice Cuban cocktail would be more than welcome to gussy up this casual meal. Even a Cuba Libre would work wonders here.
We have a couple of excellent options for beer pairings. Ybor City was founded as a cigar factory town back in the 1880s and was soon annexed by Tampa proper, as the good folks at Cigar City Brewing well know. So, what better choice could there be for a perfect beer pairing with the hometown sandwich than Cigar City Jai Alai IPA. Jai Alai's super citrusy hop cut dovetails with the citrusy pork marinade and plays nicely off of salty ham. Or you could try Cigar City Maduro Brown Ale to reinforce the rich Maillard induced flavors of deeply browned grilled pork.
Think of fresh bright styles of both white and red wine to pair with your Cubano. A crisp, dry German riesling is always a great choice with pork and ham. Or complement the nutty cheese while contrasting salty ham with a vibrant chardonnay (White Burg). Red choices should be fresh, crisp and perhaps lightly chilled. Classic ham and pork pairings include Beaujolais or a fruity but bright pinot noir.
Cap it all off with a leisurely smoke from Binny's well stocked humidors. You can't get a Cuban cigar (yet), but you will find stellar sticks, kept under perfect conditions, from the rest of the cigar producing world. Smoke 'em if you got 'em! Or should we say - go get 'em so you can smoke 'em to end a beautiful day of grilling on a high note.
Makes 6 Sandwiches
Cuban Sandwich
INGREDIENTS:
Mojo Pork Loin -
1/4 cup extra virgin olive oil
1/4 cup orange juice, freshly squeezed
2 tbsp. lime juice, freshly squeezed
4 garlic cloves
4 mint leaves
2 tbsp. chopped fresh cilantro
1 tsp. orange zest
1 tsp. lime zest
1 tsp. ground cumin
1 tsp. dried oregano
Kosher salt, to taste
Freshly ground black pepper, to taste
2½ lb. pork loin
DIRECTIONS:
Add all ingredients except pork to a food processor or blender. Process until garlic and herbs are finely chopped.
Place pork loin in a large zip top bag, pour in marinade. Refrigerate at least two hours or overnight. Let sit at room temp for an hour before cooking.
Build a hot hardwood charcoal fire on one side of the grill or preheat one side of a gas grill.
When the fire is ready place pork on grill directly over fire. Grill on all sides until well browned.
Transfer to the other side of the grill for indirect cooking. Cover grill, bring temperature to 325°F. Cook until an internal temperature of 140°F is reached. Remove from grill and let rest.
Thinly slice for
Sandwiches -
INGREDIENTS:
6 eight-inch pieces of Cuban bread or baguette, sliced in half horizontally
18 oz. Gruyère or Emmentaler cheese, thinly sliced
Sliced pork loin
18 oz. very thinly sliced smoked ham
12 oz. Very thinly sliced Genoa salami (optional)
thinly sliced dill pickles
yellow mustard
Butter
DIRECTIONS:
Lay out the bottom halves of bread on a flat work surface.
Layer on half of cheese, evenly dividing between the six pieces of bread.
Layer on pork, then ham, then salami if using.
Top with sliced pickle, then the remaining cheese.
Spread yellow mustard evenly and generously on the interior of each top piece of bread, then place on top of sandwiches. Press together gently.
Spread an even layer of butter on the top and bottom crust of each sandwich.
Heat a sandwich press or large cast iron skillet over medium. Add sandwiches a couple at a time and press. If using a skillet, another heavy skillet makes a good weight otherwise firmly close sandwich press. If still working with a hot grill, sandwiches can be double wrapped in heavy foil and placed over a moderate fire with a foil wrapped brick or heavy skillet placed on top to press.
When bread is lightly browned and crunchy flip sandwiches (not necessary if using a sandwich press) and brown until cheese has melted and sandwiches are heated through.
Slice each sandwich in half on an angle. Serve.