Main Content Starts Here
Demo Kitchen Recipes: Colorado Green Chili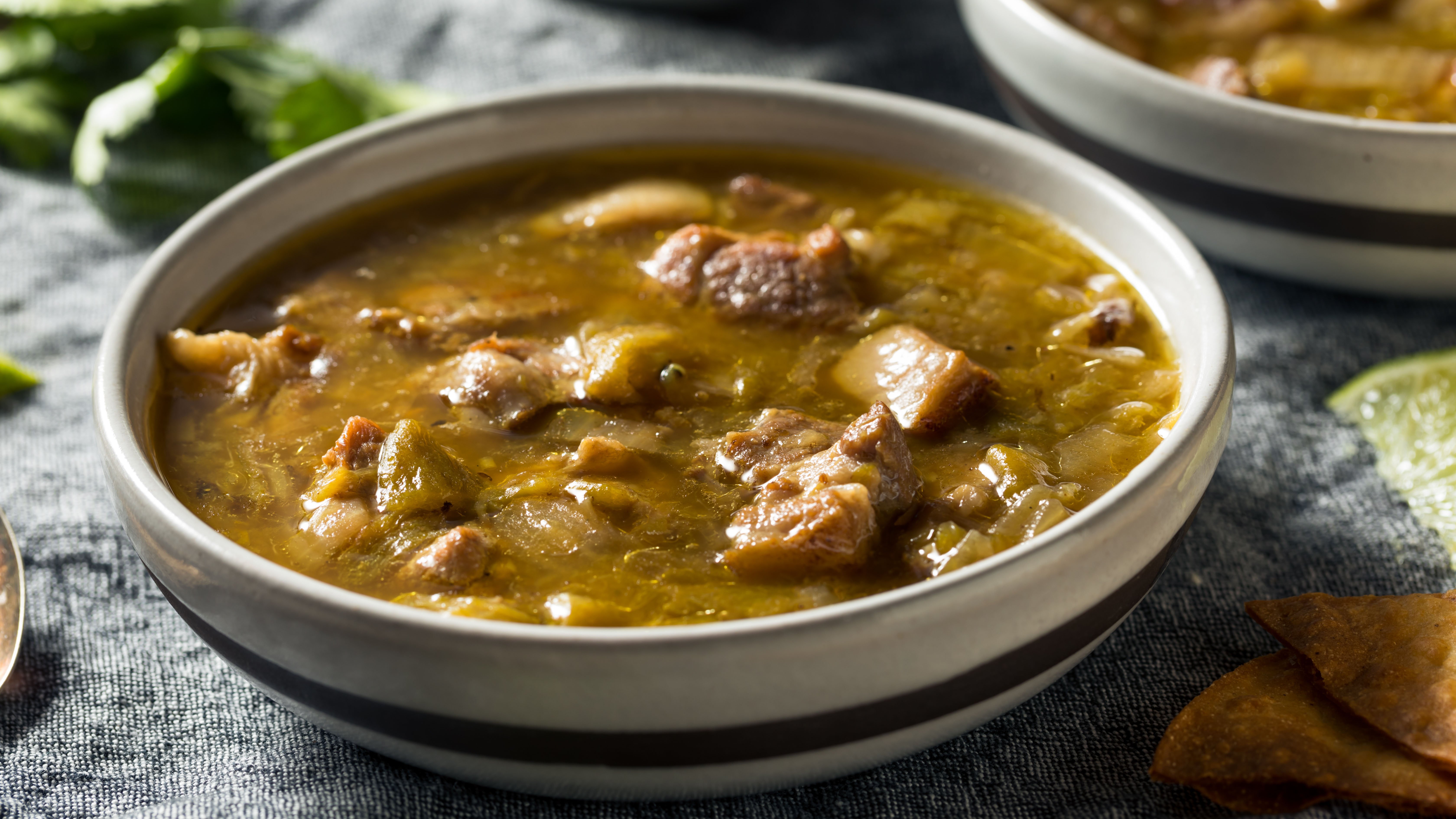 Occasionally the Demo Kitchen gets a special request, and we are generally happy to oblige. When we were asked for a good recipe for Colorado style green chili our ears perked up immediately. We just happen to have a little experience in this area having explored, firsthand, the food traditions of both Colorado and New Mexico. Yes, there is a difference between New Mexico green chile, which is often vegetarian and commonly used as a sauce for other dishes, and the heartier Colorado green chili. The Colorado version is often full of braised pork and even potatoes, if you are so inclined, although there is considerable crossover.
One can eat a bowl of either style but dishes like huevos rancheros, enchiladas, smothered burritos and of course green chile cheeseburgers abound in New Mexico while the Colorado style is, most commonly, spooned straight to the mouth from a steaming bowl, garnished with cheese, sour cream, etc.
To delve a little deeper into the Demo Kitchens bona fides on the subject, we are lucky enough to have a network of friends from both states and are familiar with their approaches to the dish. Just to make certain and refresh our memory, we put out a general call for recipes and input on the subject.
One answer was not a recipe at all, just a beautifully written meditation on the philosophy of green chili that could have been entitled Zen and the Art of Green Chili Cookery. We consider the concepts contained therein, of eschewing proper recipes, engaging with the chile in the moment and the never-ending quest for chili perfection (which, as it turns out, is a moving target) to be guiding principles in this arena.
Another friend responded with a loose, somewhat tongue-in-cheek, outline for a Colorado green chili that included instructions that I highly recommend, like; one beer for the chili, two for the chef. On the other hand, we were already intimately familiar with the New Mexico faction's pure vegetarian expression of green chile, and the techniques employed, but were reminded of how perilously hot their version is. Halfway through a bowl one starts to question the sanity of both the chef and the eater. In the end, we took all the advice we were given into account, then filtered it through the Demo Kitchen's own green chile beliefs and out popped this recipe.
The chile in question here is the famed Hatch green chile from New Mexico's Hatch Valley. They range from quite mild to blazing hot so be sure to select accordingly. It is the chile of choice for both styles, although Pueblo green chiles from southern Colorado are also a good option. Fresh green chiles are in peak season right now, and in the Southwest, big propane-fired roasters are a common sight. Thankfully, you can now get fresh Hatch chiles in many local grocery stores, but you will likely need to roast them yourself, which is easy enough. It is the same technique used for roasting any pepper – blacken the skin over a direct flame, steam in a bag, peel and seed. You know the drill. All hot or all mild is fine depending on the intended result, but a blend is often a good idea.
You can pick and choose from the list of accompaniments below or go for all of them, it's up to you. Add some guac if you like. One thing we picked up at the lunch counter at Duran's Pharmacy in Albuquerque, while wolfing down some terrific huevos rancheros many, many years ago, is to butter warm, fresh, hand rolled flour tortillas. They actually ask you if you want them butter as they are being pulled steaming hot from the plancha. Since the Demo Kitchen believes that butter is one of humanities greatest achievement it shouldn't be a shock that we definitely recommend it.
A few points of clarification. Many dishes go by the name chili – Chili con Carne, Cincinnati Chili, the mainstream Chili with ground meat and beans, etc. etc. This is a different beast entirely. In New Mexico, green chili's partner in crime is, of course, red chili. Red is also made with Hatch chiles but instead of the fresh, green, underripe version it is made with fully ripened and dried chiles that are, unsurprisingly, red. Red chile was once the dominant year-round staple since they could be strung together and hung in what are known as ristras, that are both beautifully decorative and utilitarian. In the modern age dried chiles are still essential, but the ability to freeze freshly roasted green chiles has made them accessible year-round. Roasted and cleaned chiles freeze exceptionally well, so stock up now.
So, in New Mexico the implied question when it comes to chile is always - red or green? If you can't decide, ordering "Christmas" will result in a dish with both red and green for the best of both worlds. When it comes to chile colorado a real point of confusion arises. The recipe we are presenting is for Colorado Green Chili Stew with Pork, however Chile Colorado is a Mexican dish of braised pork or beef in a red chile sauce. In that case colorado is not a place but a reference to the red color of the dish. Confused? We hope not.
When it comes to pairing beer and wine, a little fruity sweetness is essential. The hotter your chili, the more those attributes can be ratcheted up. Avoid tannic reds and bone-dry beverages. We like malty ales like Colorado's own Fat Tire from New Belgium Brewing or 90 Shilling from Odell, a couple of standouts from venerable Colorado veterans. You can also go old school with Coors Banquet Beer. For wine, we highly recommend the delightfully fruity Gruet Sparkling Demi-Sec from high elevation vineyards in New Mexico but if you are cranking the heat up to 11 you may want to try a sweeter, lower alcohol wine like Vietti Moscato d'Asti. Even if you think you don't like sweeter wines, you will thank us once you try this magical combo.
Jim, this one is for you. We hope you like it.


Colorado Green Chili
INGREDIENTS:
½ lb. bacon, cut into lardons (¼" sticks)
3 lbs. pork shoulder, cut into 1" cubes
AP flour
1 large white onion, diced
4 cloves garlic, minced
1 beer (the same one you are drinking)
8 cups roasted, seeded, peeled and diced green chiles
2 cups diced fresh tomatoes
10 cups chicken or pork stock
2 tsp. cumin
2 tsp. dried Mexican oregano or marjoram
salt to taste
freshly ground black pepper, to taste
Accompaniments:
flour tortillas
Mexican-style crema
Cotija cheese
diced white onion
fresh cilantro
lime wedges
INGREDIENTS:
Add bacon to a large Dutch oven and place over medium heat. Cook, stirring occasionally, until the bacon has rendered its fat and cooked through. Remove bacon and reserve leaving rendered fat in the Dutch oven.
While the bacon is cooking, pat pork dry with paper towels and season liberally with salt and pepper. Toss with flour to coat, reserve excess flour.
Increase heat to medium-high. Add pork in batches, do not crowd, brown on all sides. Remove each batch to a plate and reserve when browned.
Turn heat down to medium, add onion, and sauté until transparent. Add garlic and cook, stirring, for about a minute. Stir in enough flour, left over from coating the pork, to absorb any remaining fat in the pan, cook briefly.
Add beer to deglaze pan, scraping up any brown bits that have stuck to the bottom. Bring to a boil, then add chiles, tomatoes, stock, cumin and oregano.
Bring back to a boil then reduce to a simmer. Return bacon and browned pork, with any accumulated juices to the Dutch oven.
Simmer with the lid on but slightly cracked for about 90 minutes or until the pork is very tender.
If the chili reduces too much add more stock to thin. If it is too thin for your liking, remove the lid and let reduce to desired consistency.
Season to taste with salt and pepper.
Serve steaming bowls with warm tortillas and all the fixins.