Main Content Starts Here
Demo Kitchen Recipes: Coffee, Chocolate and Hazelnut Nougat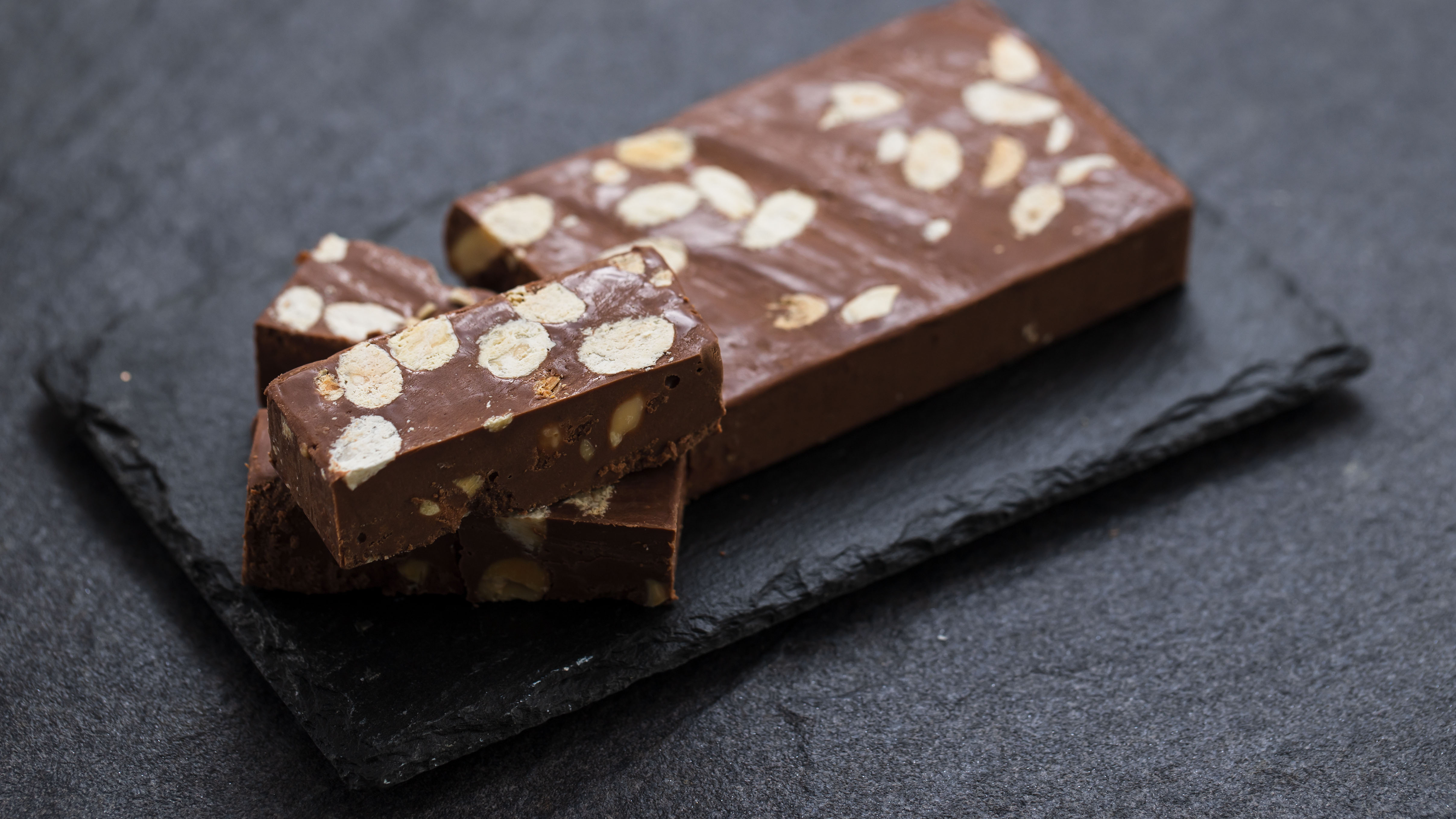 It seems that every week a new beer or a variation of an old beer, loaded up with adjuncts, appears on Binny's shelves. Many of these pastry beers, as the name indicates, are made to taste like beloved confections. So, it has come to pass that the Demo Kitchen finds itself developing recipes to serve as archetypes, or flavor templates, as well as companions for these modern beers. But we are intent on only working with the cream of the crop. In recent months we have written recipes for cinnamon rolls, pecan kringle, seven layer bars, German chocolate cake and whoopie pies, all inspired in a circular fashion by beers that were modeled on those very profiles.
Enter the latest variant of the legendary Founder's KBS, a Bourbon Barrel Aged Imperial Stout flavored with coffee and chocolate. Founder's has already played around with additions to the classic, so what's the new twist? Hazelnut. You may be thinking that it sounds like a play on a cup of sweet hazelnut coffee, and you would be correct, so how did we get to today's recipe for coffee, chocolate and hazelnut nougat? By considering the ongoing love affair that Europe has with the combination of chocolate and hazelnut, known as gianduja in Italy, that has spread around the world in the form of Nutella. We then reverse engineered a tasty treat to represent those flavors.
There are so many ways that gianduja is used that we could have gone with a cake or perhaps a tart but when we heard that National Nougat Day (03/26) was swiftly approaching, the answer was clear, it would be nougat. Now if the only thing that springs to mind at the mention of nougat is the whipped airy filling found in American candy bars, like Three Musketeers or Milkyway, you are on the right track, but it may be surprising to find that nougat is an ancient confection that is taken very seriously in other parts of the world.
In fact, just like wine, cheese, cured meats and countless other historic European foodstuffs, nougat has famous name protected versions in Spain, Italy and France to name a few. Ingredients, methods of production and geographical regions are specified just like they are for, say, Bordeaux, Parmigiano Reggiano or Ibérico Ham. There are soft and hard versions and some that use the name but bear little resemblance to the whipped egg white, honey and nut version that found its way around the Mediterranean from ancient Persia hundreds of years ago. In fact, Germany loves chocolate and hazelnut nougat, but that version has more in common with fudge than anything else.
What we wanted was a classic soft nougat full of nuts modeled after Lombardy's famed Torrone or the Rhone Valley's Nougat de Montélimar (Montélimar is a town dedicated to the production of AOC nougat located right between the major appellations of the Northern and Southern Rhone wine growing regions). So, we set out to do just that.
Although some traditional nougats are slowly cooked and stirred all day long, we have really streamlined things into an easily manageable recipe. You will need a stand mixer and a candy thermometer, but the techniques are those of simple candy making. Just be careful when working with the syrup, it is very, very hot and be sure to hit the temperatures or the texture will not be correct.
The resulting nougat will be chewy, chocolatey and full of crunchy roasted hazelnuts making it a perfect little bite alongside Hazelnut KBS. Our resident mixologist has jumped on the bandwagon, playing with the same flavor palette, to create a cocktail they are calling NutElla Fitzgerald. Wine drinkers will find that a fine Twenty-Year-Old Tawny Port and this nougat's nutty flavor make for a delightful duo as well.
The Milky Way bar is an American classic but it's time to delve into nougat like never before. You will be glad you took the time to make an exceptional accompaniment for an exceptional beer.
Cheers!

Coffee, Chocolate and Hazelnut Nougat
INGREDIENTS:
For the pan -
Canola oil
3 tbsp. Powdered sugar
4 tbsp. Cornstarch
Nougat -
4 oz. semisweet chocolate
2 tbsp. espresso powder
4 cups hazelnuts
2 cups granulated sugar
½ cup water
2 ¼ cups honey
4 egg whites, room temperature
¼ tsp. salt
½ cup powdered sugar
1 cup Nutella
1 tsp vanilla extract
INSTRUCTIONS:
Preheat oven to 400°F.
Sift together powdered sugar and cornstarch. Lightly oil a 9"x13" pan. Dust the bottom and sides with half of powdered sugar and corn starch mixture, set aside.
Melt chocolate, stir in espresso powder. Set aside.
Roast hazelnuts on a sheet pan 8-10 minutes, stirring occasionally. Place warm nuts in a clean kitchen towel, bring corners of towel together to create a sack. Rub nuts in the towel to remove most of the skins. Keep warm.
Add granulated sugar and water to a medium saucepan and boil over medium until it reaches 260°F on a candy thermometer.
Add honey to sugar continue boiling until it reaches 280°F.
Meanwhile, in a stand mixer, whisk the egg whites and salt until stiff peaks form.
With the stand mixer at medium speed, very carefully (this stuff is very hot, use extreme care) add the hot syrup slowly to the egg whites. Whip at high speed for 8 minutes.
Remove bowl from mixer and working quickly, fold in powdered sugar, melted chocolate, Nutella, vanilla, and nuts until well incorporated.
With the help of an oiled rubber spatula transfer quickly to prepared pan. Work quickly, it will become increasingly difficult to work with as it cools.
Smooth the top with oiled spatula. Sprinkle with remaining powdered sugar and starch mixture. Lay a piece of wax paper over the top and smooth further with a rolling pin. Remove wax paper.
Cool 8 hours or overnight.
Cut around the edges of the nougat to release from pan and turn out onto a cutting board. Slice into rectangles or squares as desired.