Main Content Starts Here
Demo Kitchen Recipes: Cioppino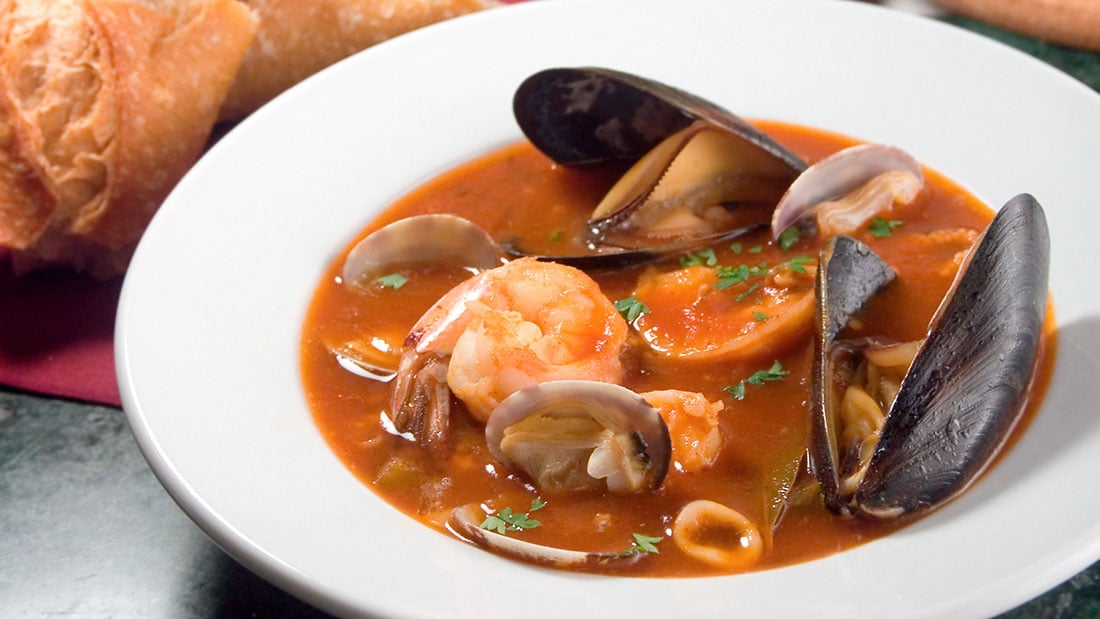 Whether you spend Christmas Eve indulging in the Italian American tradition of The Feast of the Seven Fishes or you are just looking for a seemingly extravagant dish to wow guests, cioppino is for you. Both the feast and cioppino have Italian roots but are distinctly American. The feast, in some form, likely arrived in New York with Southern Italian immigrants in the 1800s, evolving into the custom we know today. Meanwhile, across the country in San Francisco, Italian immigrants from Liguria were busy modifying the fish stews of their homeland to incorporate the glorious seafood the Pacific Ocean provided, birthing cioppino.
Although they arose separately, it makes perfect sense to bring them together on Christmas Eve, making cioppino the focal point of your feast or the feast itself. We know it looks like cioppino has a lot of ingredients, and it does, but this is an easily assembled and quick cooking dish that will impress for its bounty of fresh seafood alone and really blow minds with its depth of flavor. Just don't tell anyone that you didn't have to work all day to get such spectacular results.
Just as the originators did, you can choose your seafood according to your likes and availability. Any cioppino recipe should be read as a suggestion. In San Francisco, halved Dungeness crabs would almost certainly be included. We highly recommend that you go for it if you have access to live crabs, but king or snow crab legs work well, and certainly our easy route of using high-quality canned crab is delicious and expedient. Likewise, feel free to add scallops, lobster, an array of firm fleshed fin fishes, or eliminate the mussels if you don't like them, it's all up to you. We can assure you, however, that you will be very pleased if you follow our recipe to the letter.
Good crusty bread is absolutely essential with cioppino, so you can get your scarpetta on. If you have mastered sour dough in recent years, now is the time to give those hard-earned skills a workout. This is a San Francisco dish, after all. Otherwise, a crusty French baguette or some crunchy garlic bread will do the trick.
As for pairings, a Ligurian or Tuscan Vermentino would not only be delicious but would honor the Italian origins of the dish. On the other hand, San Franscisco's proximity to great wine producing regions argues strongly for a crisp California Sauvignon Blanc. One final thought on wine – It seems likely that Italian Americans drank the local reds with this dish back in the day, so why not try a Zinfandel/Zin based field blend. If you go this route look for something with moderate alcohol and fresh fruity flavors rather than a big bruiser. The perfect beer choices are San Francisco's own Anchor Steam Beer or Anchor Liberty Ale. Although generally an aperitivo, a tall cool glass of iced Sambuca and water would be nice too.
Serves 6 generously.


Cioppino
INGREDIENTS
4 tbsp. olive oil
1 large yellow onion, chopped
½ large fennel bulb, white part only, thinly sliced
2 large shallots, chopped
6 cloves garlic, chopped
2 tsp. kosher salt
½ tsp. crushed red pepper flakes, or more to taste
3 tbsp. tomato paste
1½ cups dry white wine (preferably the same wine your drinking)
1 can whole San Marzano tomatoes, 28-ounces
4 cups bottled clam juice
1 tbsp. fresh oregano or 1 tsp. dried
2 tsp. fresh thyme or ½ tsp. dried
1 bay leaf
1 lb. Manila clams in the shell, scrubbed
1 lb. mussels in the shell, scrubbed and debearded
1 lb. 16/20 shrimp, peeled and deveined
1 lb. halibut, skin removed, cut into 1½" chunks
1 lb. can lump or backfin crabmeat
¼ cup chopped flatleaf parsley
DIRECTIONS:
Heat olive oil in a large Dutch oven over medium heat.
Add onion, fennel and shallot, sweat for about 5 minutes, or until onions are soft and translucent.
Add the garlic, salt and red pepper, cook briefly. Add tomato paste and cook, stirring, for a few minutes.
Deglaze pot with wine, stirring and scrapping. Cook to reduce wine by half.
Add the tomatoes and juice, crushing the tomatoes in your hands as you add them. Add clam juice, oregano, thyme and bay, stir to combine. Bring to a simmer and cook for 30 minutes.
Add the clams and mussels, cover. Cook for about 5 minutes until shells start to open, then add the shrimp, halibut and crab, simmer gently for 5 minutes, or until the seafood is just cooked through.
Discard bay leaf and any clams or mussels that didn't open. Adjust seasoning to taste with salt and red pepper flakes.
Serve garnished with chopped parsley and crusty bread.