Main Content Starts Here
Demo Kitchen Recipes: Christmas Goose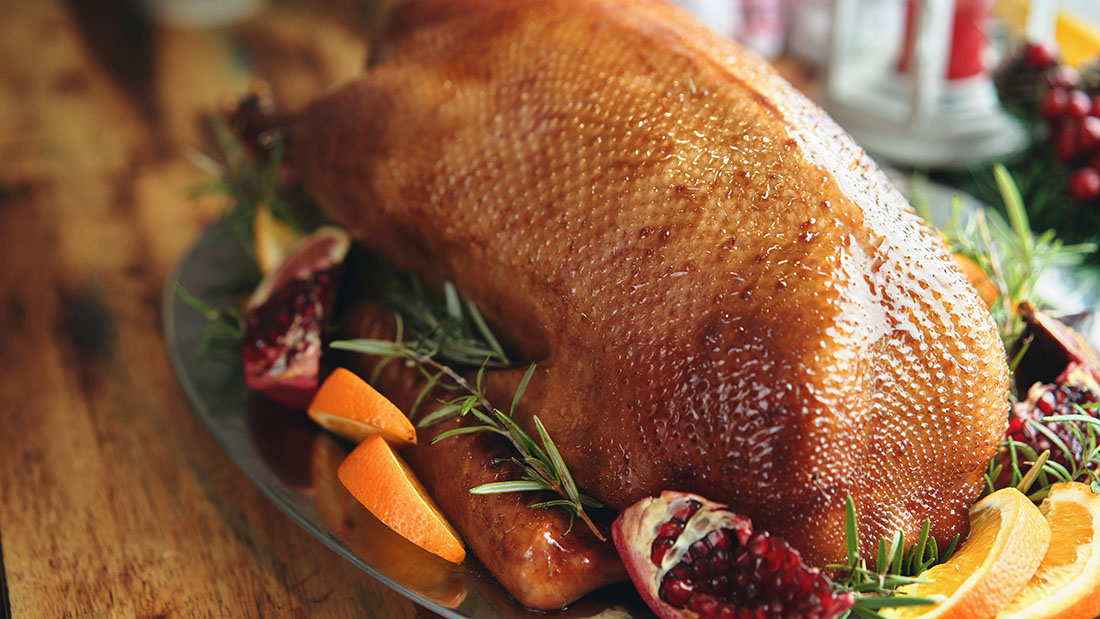 A crispy skinned roast goose is a long-standing Christmas tradition that has, sadly, gone by the wayside in the U.S. It's a real pity since the succulent dark fleshed goose meat, coupled with the crunch of deeply browned skin remain as delicious as they have always been. Add a decadent Port sauce, amazingly savory goose fat roasted potatoes and a fruity, sweet, tart and spicy compote and you have a truly memorable meal.
We know there are still goose fans out there and many more who are goose curious. To the curious we say, the hurdles are small; just find yourself a plump goose, follow this easy recipe and you will soon be a member of the club. You will be left with no regrets, just the haunting memory of a great meal and a longing for the next time you can make time to roast a goose. That's it! The Demo Kitchen is staying uncharacteristically terse this week, leaving plenty of time for you to prep.
Be sure to grab a rich, full flavored California Pinot Noir or an Italian Barbaresco or Barolo for perfect red pairings. For white, a full-bodied Pinot Gris or Gewürztraminer from Alsace are both stunning choices. A Flemish Red like Rodenbach would be an ideal beer pairing.
Cheers and Happy Holidays, from Binny's and the Demo Kitchen!
Serves 8.
Christmas Goose with Port Wine Sauce
INGREDIENTS:
1 10-12 pound goose
Kosher salt
freshly ground black pepper
1 lemon, halved
½ cup celery leaves
10 sage leaves
3 sprigs thyme
1 large carrot, roughly chopped
1 large onion, roughly chopped
1 celery stalk, roughly chopped
1 cup red wine
½ cup Ruby Port or Malmsey Madeira
1½ tablespoons cornstarch
DIRECTIONS:
Starting the day before serving. Remove wingtips, keep refrigerated with neck, heart and gizzard until time to make stock. Rinse and dry the goose, remove any excess fat, then rub it inside and out with salt and refrigerate uncovered overnight.

When ready to cook the goose, season cavity with pepper, rub skin all over with lemon, then insert lemon halves, celery leaves, sage and thyme into cavity. Tie drumsticks together with kitchen twine. With a skewer or tip of a small sharp knife, prick skin all around lower breast and thighs. Do not pierce flesh.
Place goose breast up on a rack in a roasting pan. Add water to cover bottom of pan 1" deep, along with any fat trimmings. Place pan on stovetop, bring water to a boil. Cover tightly with a lid or foil. Reduce heat to medium-low, and steam for one hour. Check water occasionally, add more if necessary.
Preheat oven to 325°F. Remove goose from pan, cool for 20 minutes. Meanwhile, strain pan juices and fat. Separate and reserve fat for potatoes and liquid for sauce.
Return rack to pan, and cover with a double sheet of foil. Return goose to foil covered rack, breast-side down. Add carrot, onion, and celery to pan, and pour red wine over goose. Cover tightly, and place in oven. Braise, 1 hour.

Uncover goose and turn it breast side up. Increase oven setting to 450°F. Baste goose with pan juices. Roast uncovered, about 1/2 hour, until skin is a deep golden-brown and crispy and juices run clear.
While goose is braising, make stock by combining neck, wingtips, heart, gizzard, and de-fatted pan drippings in a pan with 4-5 cups of water, to cover solids. Simmer for 1-2 hours, adding more water, if needed, to keep goose parts covered. Strain.
When done, transfer goose to a carving board, let rest for 30 minutes. Meanwhile, pour fat and juices from pan through a fine strainer, pushing on vegetables with back of a spoon to extract juices. Separate juice from fat. Strain and add juice back to roasting pan over medium-high heat, along with goose stock. Scrape up any brown bits in the pan. Reserve fat for another use.

In a small bowl, stir together Port or Madeira and cornstarch. Add to pan, stir for a minute, reduce heat and simmer about 5 minutes until sauce thickens to coat the back of a spoon. Season with salt and pepper to taste. Strain into a gravy boat.
Carve goose and arrange meat on a warm serving platter. Decorate with sage if desired. Drizzle with a little gravy and serve. Pass remaining gravy separately.
Goose Fat Roasted Potatoes
INGREDIENTS:
4 pounds Yukon Gold potatoes, scrubbed and cut into wedges
kosher salt

juice of half a lemon
3-4 oz. rendered goose fat
black pepper, freshly ground
1 sprig of fresh rosemary, roughly chopped
DIRECTIONS:
Add potatoes to a large pot and cover with cold water. Add a few tablespoons of salt (water should be perceptibly salty) and lemon juice. Bring to a boil over medium high heat, boil 4-5 minutes. Drain and transfer to a large bowl.
Add goose fat, salt, pepper and rosemary. Toss to coat.
Spread potatoes evenly on a rimmed baking sheet.

Add to 450°F oven when goose is removed. Roast until golden brown and cooked through, about 35 - 40 minutes, turning once halfway through. Serve hot with goose.
Spiced Cranberry and Caramelized Pear Compote
INGREDIENTS:
1 cup fresh cranberries
⅔ cup natural cane sugar
½ cup apple cider vinegar
1 ½ tsp. grated fresh ginger
1 star anise
1 green cardamom pod
½ tsp. ground cinnamon
¼ tsp. freshly grated nutmeg
⅛ tsp. ground cloves
⅛ tsp. freshly ground black pepper
pinch of salt
4 firm, ripe pears (Bosc or Anjou), peeled, cored and cut into ½" dice
2 tbsp. natural cane sugar
pinch of salt
1 tbsp. butter
2 tsp. fresh orange zest
DIRECTIONS:
Add the first 11 ingredients to a medium saucepan. Bring to a boil over medium high. Reduce to low and simmer uncovered for about 35 minutes, stirring frequently, until thickened.
Meanwhile, toss pears with 2 tbsp. of sugar and a pinch of salt, let macerate 5 minutes. Add butter to a large nonstick skillet over medium heat. When melted, add pears and all accumulated liquid. Cook, tossing, for about 7-10 minutes until pears are tender, golden brown and caramelized.
When cranberries are done add caramelized pears and orange zest, cook another 5-10 minutes until thickened. Adjust seasoning with salt, if needed.
Serve at room temperature with roasted goose.