Main Content Starts Here
Demo Kitchen Recipes: Chocolate Dipped Coconut Macaroons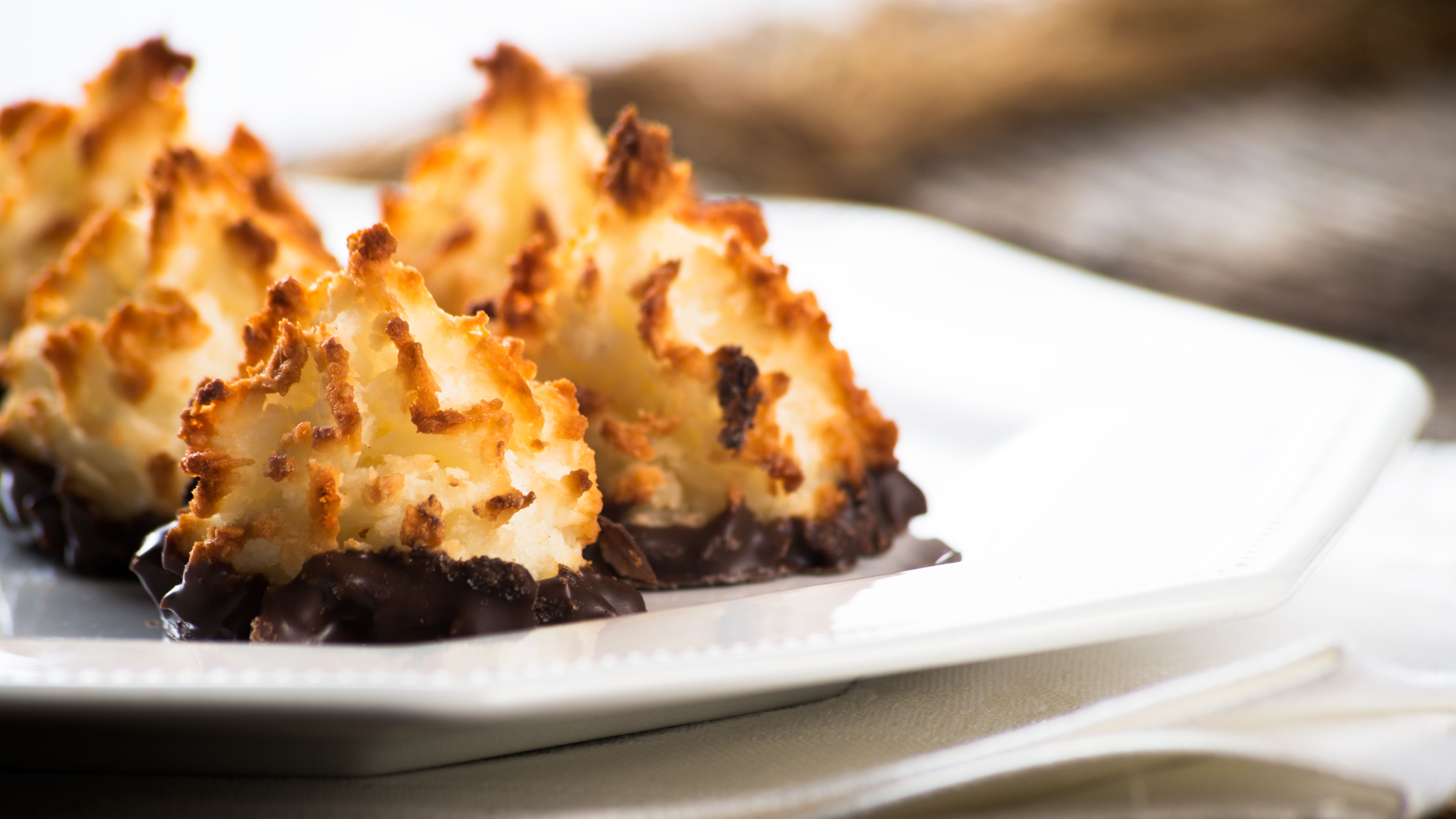 Last week the Demo Kitchen developed a recipe for Coffee, Chocolate and Hazelnut Nougat to go along with Founders bold and beautiful Hazelnut KBS. This classic candy, based on egg whites and sugar, brought to mind many wonderful recipes that have similar starting points like smooth, silken Italian buttercream, feather-light soufflés and of course fluffy, toasty meringue mounded atop cream pies. But the one that really stuck with us was this recipe for chewy, coconutty, chocolate-dipped macaroons. We haven't made them in years but sweet memories of these gooey, almond scented piles of coconut haven't faded in the slightest.
When we emerged from our revery, we realized Passover was right around the corner and in the U.S. these unleavened, flourless cookies, although delicious year-round, are inextricably linked to Passover. Despite some serious reservations about the Demo Kitchen turning into a narrowly focused Demo Bakery, driven by the beer "pastriarchy", we knew we had to share the recipe.
What makes this recipe so good and pretty different from your average macaroon? It's not the ingredients but the technique. They take a little longer, but the time is minimal and absolutely worth it.
If you already have a family recipe it likely calls for making a meringue before you fold in coconut, which results in some pleasant baked meringue crunch. Or perhaps you skip the whipping of egg whites and just combine the ingredients, scoop and bake, or maybe you even add sweetened condensed milk. These techniques yield a denser, chewier result but have you ever slowly cooked the sugar, egg whites and coconut together over a low flame until you have a dense sticky "dough"? This technique is reminiscent of the old school nougat approach requiring long hours of stirring egg whites, sugar and honey together over low heat to get that signature marshmallowy consistency. Well, believe us, there will be no hours of stirring for this recipe and after some liquid has been cooked away and the egg whites have tightened up a bit, you are ready to bake the chewiest, most satisfying macaroons imaginable.
A few notes – we usually use cornstarch for this recipe but if you are trying to stay kosher for Passover, use potato starch. Along those same lines be sure all your ingredients are kosher for Passover. Kosher almond extract is available, but it can be omitted if you prefer, or you can add a teaspoon of kosher vanilla extract instead of or even in addition to the almond. Kosher dark chocolate should also be easy to find. Feel free to gently press a whole almond into the top of the cookies just prior to baking, if you like, for some extra nutty crunch.
Depending on your dietary restriction, both religious (fyi these macaroons are parve) and caloric, the Pink Squirrel cocktail (not kosher) featured in this week's Confessions of a Mixologist post may or may not be the pairing for you, but there is no denying their affinity for one another. Macaroons are also delightful with Bartenura Kosher for Passover Moscato or Brachetto and man, oh Manischewitz they are also good with Concord Grape or Blackberry wine. Again, if you aren't keeping kosher there are a plethora of coconut beers out there these days that will work quite nicely too. Kosher or not, this is the only coconut macaroon recipe you will ever need.
That's it from the Demo Kitchen this week.
Shalom out, my friends!

Chocolate Dipped Coconut Macaroons
INGREDIENTS:
7 oz. flaked coconut, coarsely chopped
6 large egg whites ¾ cup)
1 cup sugar
1 tbsp. potato starch (or cornstarch)
½ tsp. pure almond extract
pinch of kosher salt
whole almonds (optional)
Semi-sweet chocolate
INSTRUCTIONS:
In a medium, heavy bottomed saucepan, stir together sugar, starch and salt. Stir in coconut, egg whites and extract to thoroughly combine and moisten all ingredients.
Place over low heat. Cook for about 8-10 minutes, keeping the heat low and stirring constantly to avoid scorching. The egg whites will become slightly foamy, and the mixture will get creamy as it is stirred and heated. Cook until the mixture loses some moisture, and tightens up into a sticky, moldable consistency that will hold its shape. Remove from heat, let cool to room temperature.
Using a kitchen scoop or a spoon, create balls of the mixture and place them, evenly spaced, on a sheet pan lined with parchment paper. They can be bite sized or as big as a large cookie based on your preference. Press an almond into the top of each macaroon, if using.
Bake at 325°F for about 20 minutes until golden brown. Cool.
Heat some chocolate gently in a double boiler or microwave just until it is mostly melted. Remove from heat and stir. The remaining chocolate will melt, and the temperature will drop at the same time. Cool slightly then dip the bottoms of the macaroons in the melted chocolate and return to sheet pan to set. If you accidentally knock loose an almond, a well-placed drop of chocolate can be used to "glue" it back in place.