Main Content Starts Here
Demo Kitchen Recipes: Chinese New Year Red Snapper in Sichuan Sauce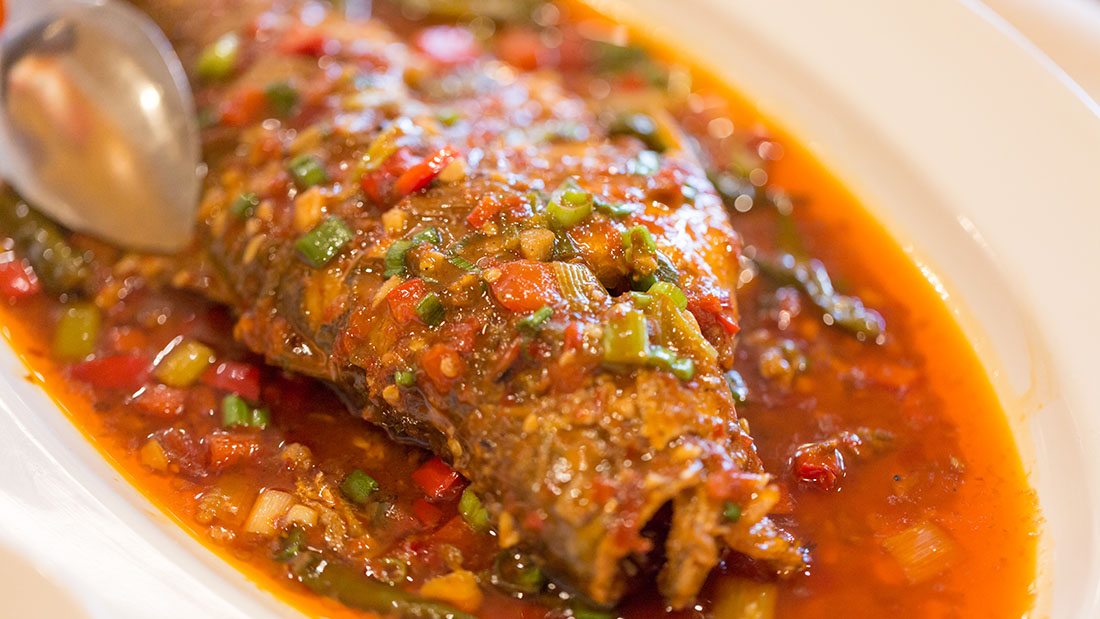 Monday is New Year's Eve, time to party! If that statement has you scratching your head and searching the foggiest corners of your mind for memories of a debauched evening that you swear happened just a few weeks ago, never fear. You aren't stuck in a time loop (although the routine of these pandemic days can make them seem rather indistinguishable from one another) or becoming forgetful. Monday is Lunar New Year's Eve, the starting point for a sixteen-day holiday celebrating the new year, according to the Chinese lunar calendar, and the impending arrival of spring.
It may occur to you that the millions of adherents1 to the lunar calendar have the right idea. Why do the rest of us cram our celebration of the new year into one night? Why do we celebrate the coming of spring by allowing Punxsutawney Phil one brief moment in the sun? We don't even expect poor Phil to recognize whether the sun is out or not, we just want him to infer its presence.
Well, we are right there with you. The Demo Kitchen likes the idea of gathering with friends and family, over a couple of weeks in the dead of winter, to remember the departed, eat special foods, drink (maybe a little too much), give gifts and red envelopes full of cash, and enjoy parades, fireworks, and festivals in anticipation of a prosperous new year.
The festivities begin with the all-important reunion dinner on LNYE. Families gather from near and far to enjoy each other's company and indulge in an array of lucky and symbolic dishes including dumplings, spring rolls, longevity noodles, and, significantly, whole fish. The Demo Kitchen loves this thrillingly spicy recipe for braised red snapper in Sichuan sauce to fill this important slot on the menu. What makes a whole fish dish so indispensable? The answer is full of symbolism and gestures of respect.
Let's start with a little wordplay. Homophones abound when it comes to lucky foods. In the case of fish, the Mandarin word for fish, yu, sounds like the word for surplus, and having a surplus at the end of the year is always the goal. For this reason, two fish are often served. One to be eaten at the reunion dinner on the last night of the old year while the second, the surplus, is symbolically saved to be eaten on New Year's Day. It is also important that the fish is situated on the table with the head facing an elder or special guest. That person must also eat fish before others are served, as a sign of their honored position.
Baijiu, is most often the drink of choice. Frequent toasting is normal, just be sure if you are clinking glasses with an elder or honored guest that you make an effort to touch the lip of your glass beneath the lip of your toasting partner's glass as a sign of deference and respect. You can, of course, drink anything you want. A German Riesling Spätlese is an absolute revelation with this dish. Binny's resident mixologist has kindly provided recipes for an infused Baijiu shooter meant for toasting called The Immortal 8, and an incredibly tasty cocktail known as the Golden Sichuan Tiger (2022 is the year of the tiger according to the Chinese zodiac). Both are highly recommended. Lagers like Tsingtao are also a nice foil for the heat of the dish but drink what you like and most importantly, have fun.
We like to use red snapper (red is THE color of CNY) but you can substitute with something like sea bass or flounder. Or maybe you have been boating on a nearby river recently and an Asian carp has leapt into your tender little face only to land in the boat, that would be great too. Somebody please start eating those things!
This is a spicy dish! You can tone it down by eliminating or using fewer dried chilis. And don't eat the chilis themselves!
Sichuan peppercorns have no relation to either chili peppers or black pepper and aren't spicy hot. They are actually the seed husks of the prickly ash, a member of the citrus family. If you have never tried them, prepare yourself for the bizarre numbing effect that many compare to touching your tongue to a nine-volt battery.
Doubanjiang is readily available at most grocery stores. Black vinegar is easy to find at Asian markets, but you can use balsamic vinegar instead.
Shaoxing is an oxidized Chinese "wine" made from rice and sometimes other grains. Amontillado or Oloroso Sherry have a similar oxidized flavor profile making them excellent substitutes. Avoid anything labeled specifically for cooking whether Shaoxing or Sherry.
Binny's wishes everyone a happy and prosperous Lunar New Year. Ganbei!

Chinese New Year Red Snapper
INGREDIENTS:
2 whole red snappers, gutted and scaled, about 1 lb. each
salt
white pepper
2 tbsp. canola oil, divided
8 dried Sichuan chilis
8 cloves garlic, minced
2" knob of fresh ginger, julienned
2 tsp. whole Sichuan peppercorns
1 red bell pepper, julienned
2 tbsp. Doubanjiang (chili bean paste)
1 tbsp. sugar
1 cup fish or chicken stock
1 tbsp. soy sauce
1 tbsp. Chinese black vinegar (or balsamic vinegar)
1 tablespoon Shaoxing wine or Sherry
4 green onions, sliced on a bias
1 tbsp. cornstarch made into a slurry with 2 tbsp. water
DIRECTIONS:
Rinse fish, pat dry with paper towels. Cut three or four diagonal slits on each side of both fish. Season the cavities, exterior and in the slits lightly with salt and white pepper.
In a large sauté pan over medium high, heat 1 tbsp. oil. Add snapper cook about 2-3 minutes each side, until skin is lightly browned. Remove the fish from the pan and set aside.
To the same pan over high heat, add the remaining oil. Stir fry chilis, garlic, ginger, and Sichuan peppercorns until fragrant, about 30 seconds. Add red pepper, stir fry for a minute. Add chili bean paste and sugar, stir fry for 30 seconds.
Add stock, soy sauce, vinegar, and wine, bring to a boil.
Return fish to pan. Quickly baste fish with sauce.
Reduce heat to a simmer, cover and braise for about 10 minutes until fish is cooked through and flakey.
Remove fish to serving platter with both heads facing the same direction.
Add half of the green onions to the sauce, cook about a minute over high heat. Add cornstarch slurry and cook stirring for a minute until sauce thickens.
Pour sauce over the fish and garnish with remaining green onion. Serve with steamed white rice.
Footnotes:
Although it is often referred to as Chinese New Year and Chinese traditions are perhaps the most common and influential, the Lunar New Year is celebrated across Asia and indeed the whole world in a variety of ways.