Main Content Starts Here
Demo Kitchen Recipes: Carbonnade à la Flamande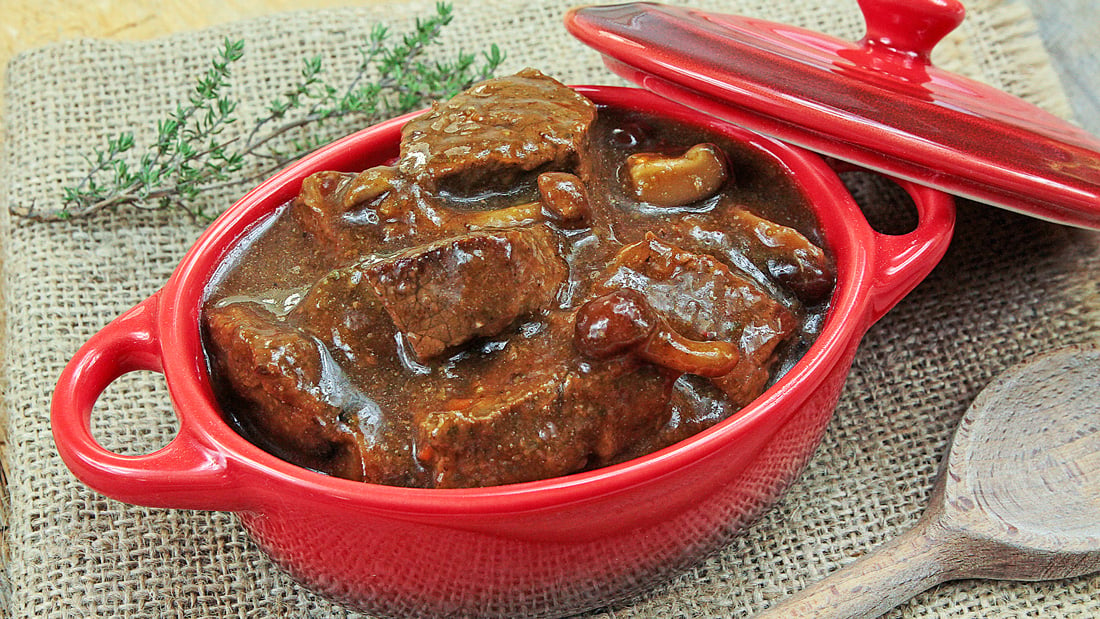 Carbonnade à la Flamande is a Flemish beef stew indigenous to Belgium and the beer centric areas of northeast France. It only makes sense that northern European climes, heretofore unsuitable for the cultivation of wine grapes1, would develop a beer-based stew akin to Beef Bourguignon. It takes a little time, like any braised dish, but the execution is simple and the resulting chunks of meltingly tender beef in a rich, sweet, sour and savory sauce makes carving out a portion of a cold, lazy winter afternoon well worth it.
Often accompanied by Belgium's famously chunky yet crisp frites (french fries), carbonnade is equally at home partnered with mashed potatoes, roasted root vegetables and buttered egg noodles. Choose from any of these or use your imagination, but one accompaniment is an absolute must. You must drink the same beer you have used in the braise.
This is obviously no sacrifice, France's Bières de Garde and Belgium's kaleidoscopic array of brilliant beers are among the world's most interesting and delicious expressions of the art. You can use any moderately hopped, fruity and malt-forward beer you like but why look any further than the wonderful sour red and brown ales of Flanders? This style is not referred to as the Burgundy of the beer world for no reason. Great examples are a beautifully balanced and complex highwire act of sweet red fruit, tangy acidity and even a hint of tannin. These attributes make for a uniquely vinous and food-friendly beer experience that will surprise the uninitiated and delight those in the know. A close second choice would be a Belgian Dubbel from a great Trappist or Abbey brewery like St. Bernardus Prior 8 or Westmalle Dubbel. These are lacking the acidic cut of a Flanders Red but are equally complex, featuring rich luxurious malt character and complex fruity notes accented by a subtle spice.
You will note the addition of both brown sugar and cider vinegar. The dish should strike a subtle but pleasing sweet/sour balance, so depending on the beer you choose and your own palate these are the ingredients, along with salt and pepper, that will help you dial in the flavor you are after. Some recipes include a bit of mustard for bite, crumbled gingerbread (speculoos)2 as a thickener and spice delivery system or the mysterious Sirop de Liège3. These are all fun to play around with, if you are so inclined, but our recipe is already deeply satisfying without them. Carbonnade, like any great regional recipe is open to a bit of interpretation, and recipes vary from cook to cook, but that's what makes cuisine great. Every cook injects a bit of their own soul and that's the real recipe for a truly soulful dish.
Stay warm Bin-landia!
Serves 6 to 8
Carbonnade à la Flamande
INGREDIENTS:
4 Tbsp. unsalted butter
3 lbs. beef chuck, in 1 ½" cubes
8 oz. diced pancetta
3 cups thickly sliced onion
6 garlic cloves, lightly crushed
1 tbsp. tomato paste
½ cup AP flour
3 cups Trappist or Abbey Dubbel such as St. Bernardus Prior 8 or Flemish Red Ale like Rodenbach
1½ cups beef stock
2 tbsp. natural brown sugar
2 bay leaves
2 tsp. fresh thyme leaves
2 tbsp. cider vinegar
kosher salt
freshly ground black pepper
garnish: flat leaf parsley, chopped
DIRECTIONS:
In a large Dutch oven, melt 2 tbsp. of butter over medium high heat. Pat beef dry with paper towels, season with salt and pepper. Working in three batches to avoid overcrowding the pan, cook beef until deeply browned, about 3 minutes per side. Using a slotted spoon, transfer the first batch to a bowl. Repeat twice, using the remaining butter as needed.
Lower the heat to medium low, add pancetta and cook, stirring occasionally, for about 8 minutes until crisp and golden. Transfer pancetta with a slotted spoon to the bowl of browned beef.
Add the onions and garlic cloves to the Dutch oven, season lightly with salt and pepper. Cover and cook over low heat, stirring occasionally, until browned, 10-12 minutes. Add tomato paste, cook two minutes until paste starts to deepen in color.
Sprinkle in the flour and stir until the fat absorbs all the flour and the onions are well-coated.
Add the beer and beef stock, scraping up any brown bits on the bottom of the pan. Return the meats to the Dutch oven along with any accumulated juices. Add the brown sugar, thyme and bay leaves. Season lightly with salt and pepper. Stir, cover and simmer over low heat, until the beef is tender, about 2 hours.
Uncover and transfer the meat to a bowl. Add vinegar to the sauce and simmer over medium heat until slightly thickened. Discard the bay leaves. Return the meat to the sauce, rewarm and season with salt and pepper to taste.
Serve garnished with chopped parsley.
Footnotes:
We shall see what the warming climate has in store. Perhaps we will all be calling Bruges the new Burgundy before long.
Not as strange as it sounds. The famous German dish, Sauerbraten, employs ginger snaps in a similar fashion.
Sirop de Liège is a thick, spreadable jelly-like "syrup" made of heavily reduced whole fruits, particularly apples and pears but may include other fruits such as dates and apricots. The effect is to support and deepen the fruity sweet and sour flavors inherent in carbonnade. If you want to test the effect, the more familiar apple butter is made in a similar way and can make a good substitute.