Main Content Starts Here
Demo Kitchen Recipes: Boston Beer Cheese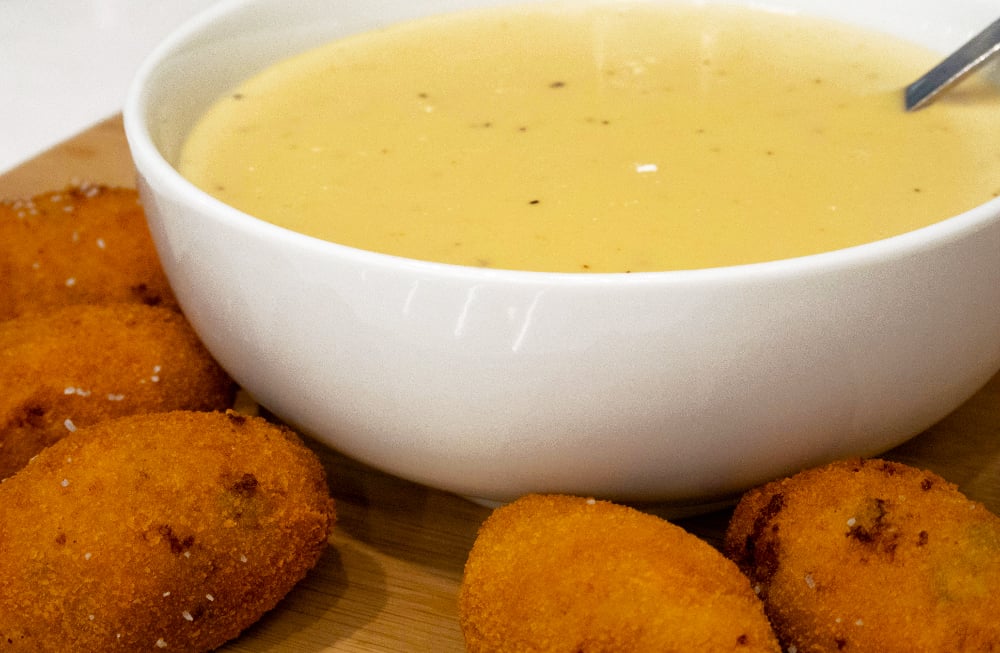 It doesn't get much better than a bowl of ooey-gooey melted cheese - unless of course it's made with beer! Chef Scott's Boston Beer Cheese recipe is full of savory and spicy flavors that will have you drooling for more. Best paired with a cold pint.
Boston Beer Cheese
INGREDIENTS:
2 cups Whole Milk

1 teaspoon Onion Powder

1 teaspoon Garlic Powder

2 whole Bay Leaves

Salt and Black Pepper to taste

2 Tablespoons Unsalted Butter

2 Tablespoons All Purpose Flour

8 ounces White Cheddar, Shredded

8 ounces Smoked Gouda, Shredded

Hot Sauce to taste
DIRECTIONS:
In a medium saucepan over medium heat stir milk, onion powder, garlic powder, bay leaves, salt, and pepper to a simmer.

In a small sauté pan melt the butter and whisk in flour to make a roux. Cook the roux while continuously whisking over medium heat for 1 minute. Remove from heat.

Whisk a small portion of the heated milk into the roux to prevent lumps from forming, then whisk the roux/milk mixture back in to the simmering milk.

Whisk in beer and continue to simmer for another 5 minutes, stirring occasionally.

Remove the sauce from the heat and discard bay leaves. Gradually whisk in cheese, about 4 oz at a time. Make sure each addition melts before adding the next one.

Once all the cheese is added and the sauce is smooth adjust the seasoning to taste with salt, pepper and hot sauce. Serve with tortilla chips, pretzels and other crunchy game day snacks.