Main Content Starts Here
Demo Kitchen Recipes: Big Game Chili Challenge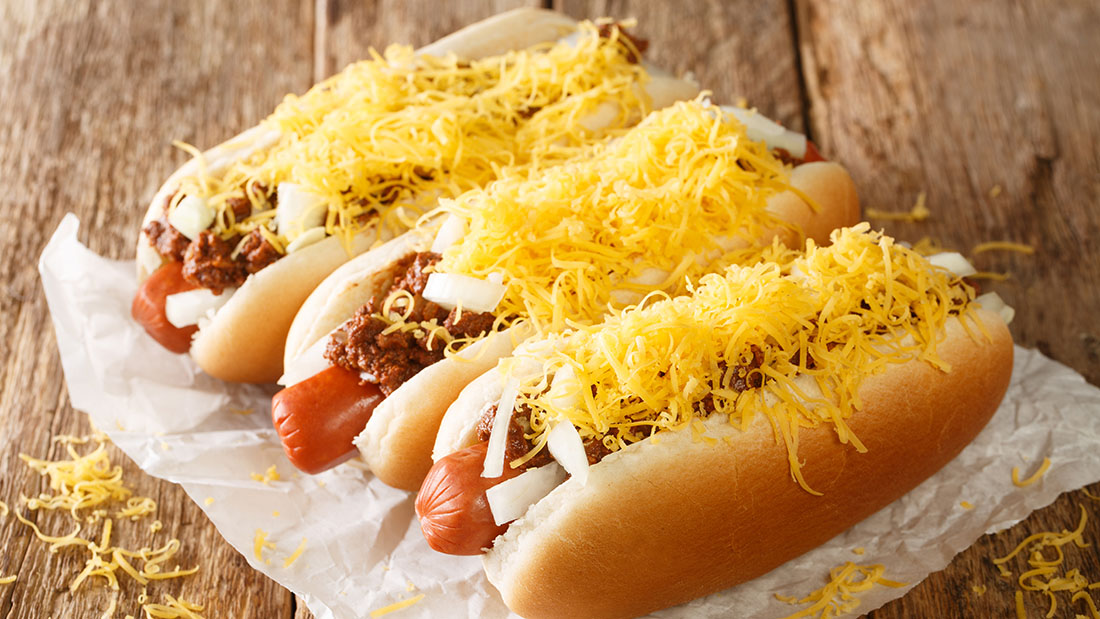 What is the nature of chili? That is one of the greatest philosophical questions of our time. Finer minds than the Demo Kitchen have expended considerable intellectual energy contemplating this culinary conundrum, but answers remain elusive. Its only rival, in the short term, is the burning question of whether Cincinnati will win its first championship in decades or if the peripatetic Rams will become king of the hill.
The chili question is quite convoluted. We can't even decide if it should be spelled chili or chile, or if the double-L spelling favored in Springfield1 should be employed. Certainly, the root of the matter is the classic Tex-Mex chile con carne (no tomatoes, no beans!) that informed chili culture nationwide after being introduced to a much broader audience at Chicago's 1893 Columbian Exposition. Chile con carne, now with the addition of beans and tomato spread like wildfire.
Chicago certainly loves its chili, sustaining at least a couple of legacy chili parlor chains in Lindy's and Bishop's since 1924 and 1925 respectively. Not to mention that a particularly meaty variant is made in homes all over Chicagoland incorporating everything from pork and veal to Italian sausage, in addition to beef, to keep us hearty and hungry Midwesterners warm and sated on a cold winter's night.
Regional variations are virtually endless. We haven't even touched on New Mexico's green and red or South Colorado's green chile and pork stew let alone the actual subject at hand; the vaguely related Greek American meat sauce that is used to top hot dogs all over the country from Atlanta to Cincinnati to Detroit to L.A.
In some places, like Cincy (and famously Detroit), these have been known as Coney Islands or Coney Dogs for over 100 years. Cincinnati tops theirs with what is perhaps the most distinctive and controversial preparation using the chili moniker. Although it does utilize chile powder, the addition of sweet brown spices makes it more akin to sauce for pasticcio than a chili proper. As if to really drive this point home, Cincinnati chili is most often consumed as a sauce ladled over spaghetti. Add a mountain of shredded cheddar2 and you have a three-way. Add beans and raw onion to rachet it up to a four or five way then top with oyster crackers and you have an American food icon.
We highly recommend that all the five-way fixings are made available, but this challenge is focused on dueling dogs to decide chili supremacy, alongside the battle to determine who is football's top dog. So, Cincinnati is in one corner with a recipe inspired by famous restaurants like Skyline, Gold Star and Empress. L.A. is represented by a recipe that takes its cue from Pink's, Hollywood's beloved hot dog stand. Pink's has catered to everyone from yours truly3, the humble Demo Kitchen, to stars like the recently departed Betty White since its start as a hotdog cart in 1939.
At first glance, these fierce competitors have a lot of similarities, but the flavor profiles quickly and radically diverge. If you have a favored team, we are okay if you choose to make just one but the idea is to make and serve them side by side. There are, of course, a number of other variables, particularly the sausage. To even the playing field we recommend that the buns (steamed), cheese (finely shredded mild or medium cheddar), chopped white onion and the dog be the same for both. Pink's hot dogs are of a particularly snappy natural casing variety and Cincy certainly goes all beef, so the easy rec is hometown hero, Vienna Beef natural casing frankfurters. Have some yellow mustard on hand too.
Let's face it we are clearly in beer territory but go ahead and drink your favorite wine (keep it fruity and light in tannins, Garnacha comes to mind) or mix up this week's cocktails from Confessions of a Mixologist. When it comes to beer remain loyal to the cities in question by serving Rhinegeist Truth IPA from Cincinnati and Golden Road Wolf Pup from L.A.
Cheers!
(each recipe is enough for 8 hot dogs)
L.A. Style Chili
INGREDIENTS:
1 lb. 80/20 ground chuck
1 small onion, minced
3 cloves garlic, minced
¼ cup flour
3 tbsp. chili powder
1 tsp. salt
½ tsp. paprika
½ tsp. black pepper
¼ tsp. of cayenne powder
1 tsp. tomato paste
1½ cups of beef stock (homemade unsalted or purchased low sodium)
1½ tsp. sugar
1½ tsp. cider vinegar
DIRECTIONS:
Add ground beef and onion to a large skillet or Dutch oven over medium heat. Cook, breaking meat up into very small crumbles until meat is browned and cooked through and onions are soft. Add garlic, cook another minute or two.
Meanwhile combine flour, chili powder, salt, paprika, black pepper and cayenne. When step 1 is complete add flour mixture, cook stirring until the flour has been absorbed and the resulting roux starts to darken slightly.
Add tomato paste, cook stirring for a couple of minutes.
Add beef stock. Turn heat to high, bring to a boil just long enough for the sauce to thicken. Reduce to a simmer then add sugar and vinegar.
Simmer until flavors come together about 30-45 minutes.

Cincinnati Style Chili
INGREDIENTS:
1 lb. 80/20 ground chuck
2 cups water, or low sodium beef stock
1 small onion, finely chopped
3 cloves garlic, minced
1 cup tomato sauce
1 tbsp. cider vinegar
1 tsp. Worcestershire sauce
2 tbsp. chili powder
1 tsp. sugar
1 tsp. kosher salt
¾ tsp. ground cinnamon
½ tsp. ground cumin
½ tsp. ground allspice
½ tsp. dried Mediterranean oregano
¼ tsp. freshly grated nutmeg
¼ tsp. ground cayenne pepper
⅛ tsp. ground cloves
⅛ tsp. freshly ground black pepper
1 bay leaf
DIRECTIONS:
Add ground beef and water or stock to a large skillet or Dutch oven, over medium high heat. Bring to a boil and immediately reduce heat to a simmer. Stir with a wire whisk to break meat into very small pieces. Simmer 30 minutes.
Use a ladle to skim off some of the floating fat, if desired. Tip: For easier skimming, move Dutch oven off center on the burner so that the bubbles rise on one side of the pot and the grease pools on the far side. Skim with the lip of the ladle just at the surface of the pooled grease, removing just fat, not sauce.
Add all remaining ingredients, stir until well incorporated. Simmer, stirring occasionally, for 2-3 hours. Add water if chili is getting too tight and dry. Remember this is really a sauce.
The Demo Kitchen proclaims Springfield Illinois' unofficial chilli capitol. Although Taylor's Mexican Chili opened south of Springfield in 1904 it was quickly followed by a strong and enduring parlor culture in our state's capitol.
Seriously, both three-way and a Coney require huge mounds of cheddar. If Monet were to paint these ample golden haystacks, he would run out of orange paint in short order.
Yes, we also have plenty of firsthand experience with Cincinnati chili. In case you haven't noticed, the Demo Kitchen is an intrepid and obsessed food tourist. You name it and we've likely eaten it in its native environment.