Main Content Starts Here
Demo Kitchen Recipes: Apple Walnut Bundt Cake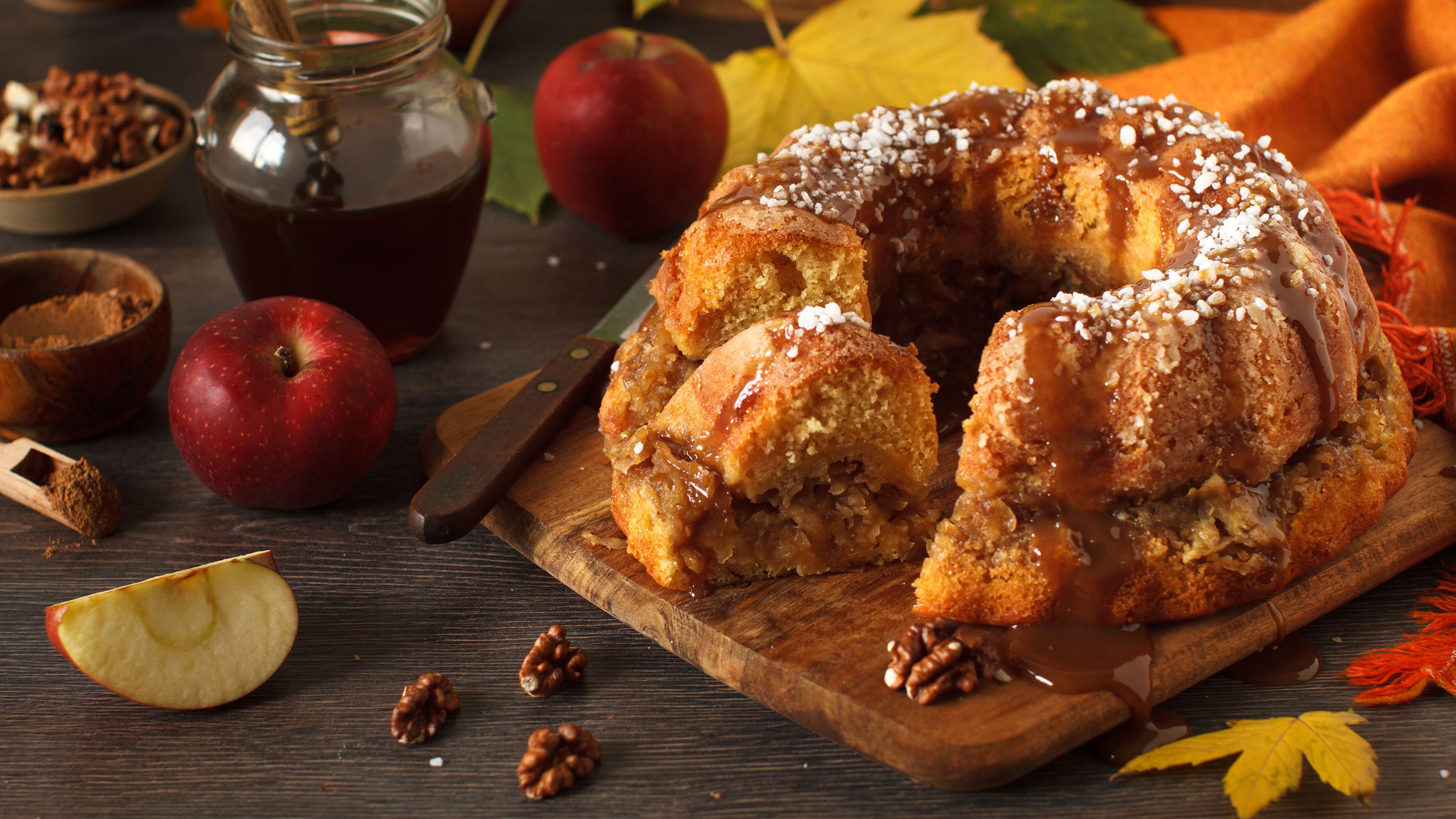 This cake could be the apple of your eye. This cake could find its way into your regular dessert rotation. This cake could be the moist, rich, simple, yet sophisticated answer to what to serve with sweet cider or a coffee stout for that matter. This cake has a sweet and creamy buttermilk glaze that soaks into the crumb to glorious effect while both cake and glaze are still hot. This cake is pleasingly dense, deftly spiced and texturally compelling with its shredded apple, flaked coconut and sweet, meaty walnuts. This cake is accompanied by a cinnamon and cider flavored Chantilly cream that you might just eat with a spoon, on its own. This cake has hard cider as an ingredient, cider also goes into the cream and we recommend that cider goes into you as well.
History Lesson - Part I: Hard cider is a historic beverage in America fueling folks all the way back to the revolution and beyond. Hard cider was beloved by ordinary folks and ordinary folks made up New England's Minutemen and they certainly knocked back some cider. After a low point in production brought about by, among other things, the destruction of cider apple orchards during prohibition, hard cider is now in the midst of a modern renaissance.
History Lesson – Part II: To paraphrase Mike Watt of the seminal, ordinary folks, salt of the earth, punk rock band Minutemen – this cake could be your life.
Serves 12


Apple Walnut Bundt Cake with Buttermilk Glaze and Cinnamon-Cider Whipped Cream
Ingredients:
1 ¾ cups granulated sugar
3 eggs
1 ¼ cups veg oil
¼ cup from one can Seattle Cider Honeycrisp
1 tsp. lemon juice
1 tsp. vanilla extract
2 cups AP flour
1 tsp. baking soda
1 tsp. cinnamon
½ tsp. salt
1 large Granny Smith apple, peeled and grated
3 oz. flaked coconut
4 oz. walnuts, coarsely chopped
Glaze:
6 tbsp. salted butter
1 cup granulated sugar
½ tsp. baking soda
½ cup buttermilk
Cider Whipped Cream:
Remaining Seattle Cider Honeycrisp
1-pint heavy cream
1 tbsp. powdered sugar
1 tsp. ground cinnamon
1 tsp. vanilla extract
Directions:
Cake:
Preheat oven to 325°F.
In the bowl of a stand mixer, beat together sugar and eggs until light.
Mix in oil, beating until fluffy. Add cider, lemon juice and vanilla. Mix until well combined.
Meanwhile stir together flour, baking soda, cinnamon and salt.
Add flour mixture to egg mixture and mix on low until thoroughly combined. Do not overmix.
Using a rubber spatula, fold in grated apple, coconut and walnuts just until evenly distributed.
Prepare a Bundt pan with nonstick spray or grease it with butter.
Add batter to Bundt pan. Place on sheet pan and bake 1 ½ hours or until a wooden skewer inserted in the thickest part comes out clean.
When cake is almost done make the glaze, so both are done and hot at the same time.
Glaze:
Melt butter in a saucepan.
Stir in remaining ingredients, bring to a boil until sugar has melted and the glaze is foamy. Remove from heat.
Glazing:
When cake is done remove from oven. While still hot use a skewer to poke holes deep into the cake about ½" apart all over the top.
Carefully pour hot glaze over cake. It should drain into the holes and soak into the cake.
Let rest and soak for an hour.
Place a large platter over the cake pan and invert releasing cake onto platter.
Whipped Cream:
In a small saucepan bring cider to a boil, reduce to syrup. About 2 oz. Let cool.
In a chilled metal bowl combine cider syrup, cream, powdered sugar, cinnamon and vanilla. Whisk on medium-high with chilled beater until soft peaks form.
Serve:
Slice and serve with a generous dollop of whipped cream.