Main Content Starts Here
Demo Kitchen Recipes: A Trio of Hors d'Oeuvres for New Year's Eve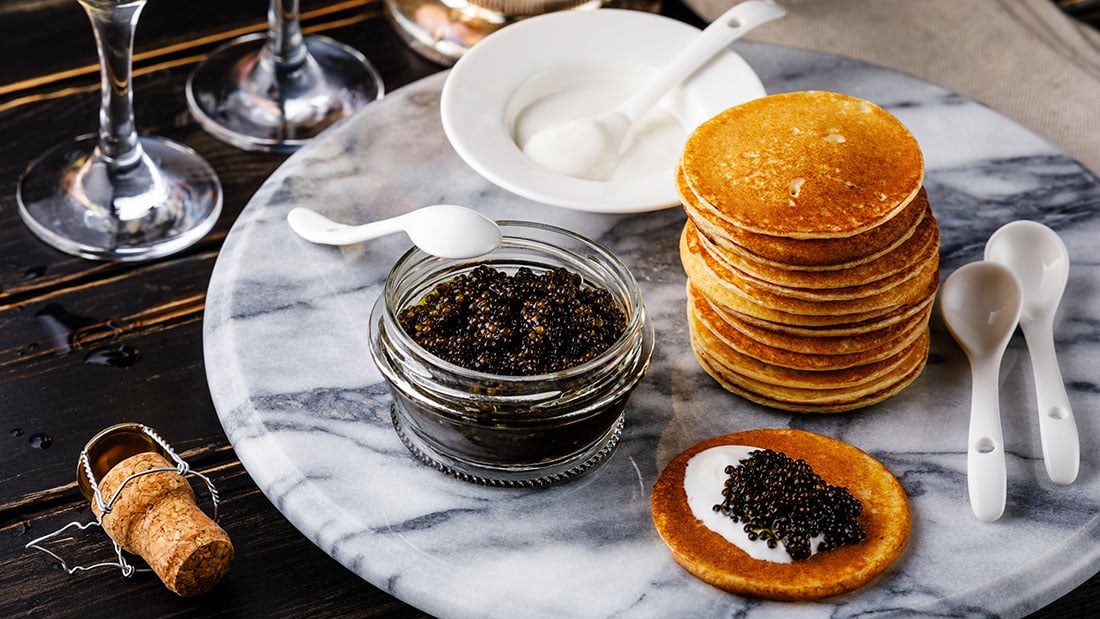 New Year's Eve is usually the perfect time to host an elegant cocktail party. This year it looks like we might all be better off keeping gatherings small and maybe a little less formal. Eating and drinking well will still be a must, however, so here is a little jumpstart for your menu planning.
All three of these little bites are perfect for passing to guests on a silver tray but under the circumstances no one will even bat an eye if you plop them down on the coffee table, haphazardly arranged on a paper plate.
A Champagne-less New Year's Eve is unthinkable (why would that ever cross your mind?), so the Demo Kitchen has focused on a few sparkling wine friendly apps. All are delightfully diminutive seafood nibbles that will have you and your guests happily drinking the old Champers all night long.
Why we restrict one of life's great pleasures to a midnight toast will forever remain a mystery, at least to us. The Demo Kitchen can personally vouch for the benefits of regular, year-round consumption of fizz and its remarkable versatility with food. Case in point, both the crab and the caviar are great with Brut Champagne but if you like a sweeter Champagne, the pairings still hold up. In fact, the coconut shrimp are absolutely brilliant with a Demi-Sec or the sweet, sour, and fruity profile of Binny's Big Bowl of Champagne Punch (another fantastic way to enjoy Champagne throughout the evening).
Best of all, these can all be prepared a day ahead. Get the griddling of blini, frying of shrimp and assembly of the crab toast done in advance, refrigerate, and then simply reheat in the oven when the time comes. Fill out your menu with an array of fine cheeses, charcuterie, and any old favorites you keep in your back pocket, and you have the makings for an excellent NYE bash. Now, let's get this party started and say farewell to 2021, oh, and welcome to 2022, but mostly good riddance to 2021.
Happy New Year!
Be careful out there!


Buckwheat Blini with Caviar and Cr

ème Fraîche
(makes ~24)
INGREDIENTS:
½ cup all-purpose flour

⅓ cup buckwheat flour

¼ tsp. salt

1 cup whole milk

4 tsp. sugar

1 tsp. active dry yeast

3 tablespoons butter, melted

2 large eggs, lightly beaten

4 ½ oz. caviar or salmon roe or trout roe

crème fraîche or sour cream

chives, finely sliced
DIRECTIONS:
Whisk first 3 ingredients in a medium bowl.

Heat milk to 110°F. Stir in sugar, yeast and ¼ cup of flour mixture. Let stand 10 minutes until bubbling.

Pour milk mixture and melted butter into flour mixture, whisk until smooth.

Cover let stand in warm spot, 2 hours. Batter should rise, doubling in size.

Whisk batter to deflate, then whisk in eggs.

Heat skillet over medium. Brush with butter.

Using ~1 tbsp. batter for each blini, cook until bubbles form and pop and bottom is browned, ~1 ½ minutes. Turn, cook for 1 minute.

Top warm blini with crème fraîche, caviar, chives.

Coconut Shrimp with a Duo of Dipping Sauces
(makes ~24)
INGREDIENTS:
1 lb. Shrimp, 21/25 peeled and deveined (ideally 24). Tails can be left on or removed.

1 large egg, lightly beaten

¾ cup pineapple juice

1¼ cups AP flour

¼ tsp. salt

14 oz. shredded coconut

Vegetable oil for frying
DIRECTIONS:
Heat enough oil for deep frying (at least 2") to 375°F

.

In a large bowl, combine egg and pineapple juice. Combine flour and salt then gradually whisk flour mixture into wet ingredients until smooth.

Add shrimp to batter and toss until shrimp are evenly coated.

Place coconut in a large shallow pan. Add battered shrimp and coat each shrimp evenly with coconut.

Fry in batches until golden brown, about 3-4 minutes. Serve hot with dipping sauces.

Horseradish Plum Dipping Sauce
INGREDIENTS:
½ cup plum jam

2 tsp. prepared horseradish

2 tsp. Dijon mustard

2 tsp. freshly squeezed lemon juice

Pinch of salt
DIRECTIONS:
Combine all ingredients in a small saucepan, bring to a boil, stirring, reduce heat and simmer 5 minutes.

P

urée if too chunky.

Cool and serve at room temperature with hot coconut shrimp.

Spicy Sweet and Sour Dipping Sauce
INGREDIENTS:
½ cup apricot jam

3 tbsp. freshly squeezed lime juice

1 tbsp. Thai fish sauce

2 ripe red Thai bird chiles

1 tsp. grated fresh ginger
DIRECTIONS:
Combine all ingredients in a small saucepan, bring to a boil, stirring, reduce heat and simmer 5 minutes.

Purée if too chunky.

Cool and serve at room temperature with hot coconut shrimp.

Crab Toast
(makes 24)
INGREDIENTS:
6 slices of white bread from a pullman loaf, crust removed

½ cup lump crab, picked over to remove shells

⅓ cup mayonnaise

⅓ cup grated Parmigiano Reggiano

2 green onions, finely chopped

2 tbsp. roasted red pepper, finely chopped

1 tsp. fresh chervil or tarragon

¾ tsp. freshly squeezed lemon juice

freshly ground black pepper, to taste

salt to taste
DIRECTIONS:
Preheat oven to 400°F.

Cut each slice of bread into 4 triangles. Place on sheet pan and toast in oven until golden, ~5 minutes.

In a medium bowl combine the remaining ingredients.

Mound an equal amount of crab mixture on each toast point. Spread to edges so entire top of toasts are covered, place back on sheet pan.

Bake 7-9 minutes or until puffed and golden.