Main Content Starts Here
Demo Kitchen Recipe: North Carolina "Piedmont Style" Pulled Pork Sandwiches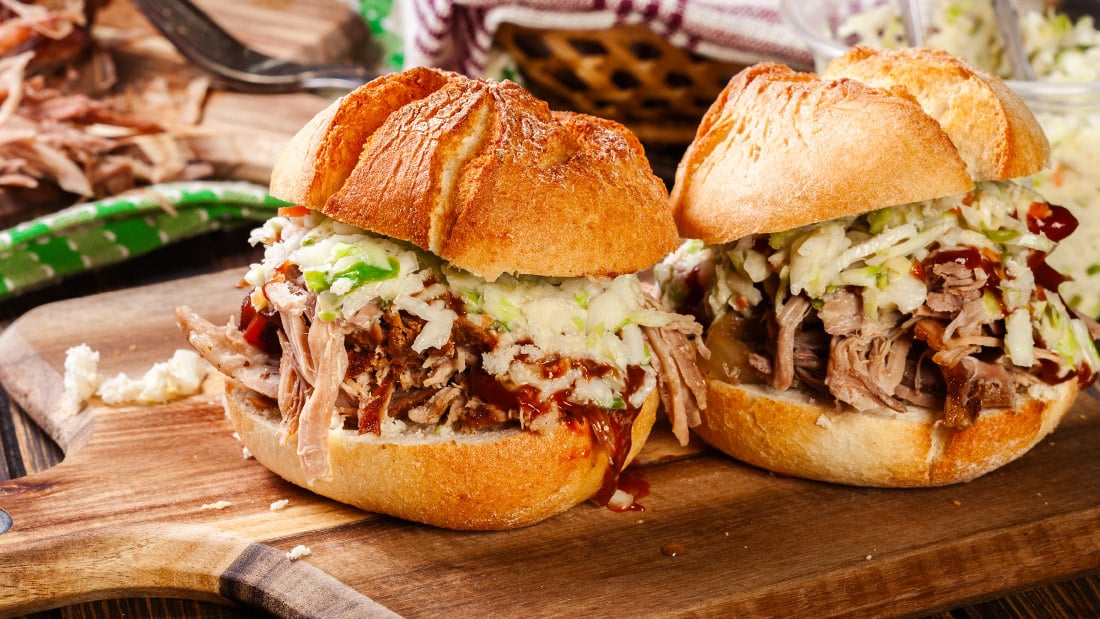 There are few traditional American foods that rival BBQ when it comes to Fourth of July celebrations. Such rich regional traditions exist that the question quickly becomes: What style of barbeque? Texas brisket? Memphis dry rubbed ribs? KC burnt ends? Alabama chicken with white sauce? Pork, beef, or even mutton?
This recipe is for Carolina barbequed pork, but even here there are intense rivalries. In South Carolina, the sauce is often mustard based. In eastern North Carolina it's always a whole hog, pig pickin' affair with ultra-tangy and spicy vinegar sauce. As you move west toward the Blue Ridge Mountains, pork shoulder takes over from whole hog and a little tomato starts to creep into that piquant vinegar sauce.
What we have here is in that Western North Carolina tradition, referred to as either Piedmont or Lexington style pulled pork. If you have never had it, you are in for a real treat.
The recipe may look cumbersome at first glance, but in reality it is just a series of very simple steps that can be spread out over a couple of days. The pork and slaw can simply be eaten on a plate but the Demo Kitchen likes to get big, soft hamburger buns (a dozen is about right for this recipe) to make sandwiches topped with zippy coleslaw.
This can be a tricky pairing due to the aggressive vinegar notes. The key is high acid in your beverage, so look for fruity but sharp reds like Barbera, Pinot Noir, or cool climate Syrah. Heartier Rosés are appealing, as are super crisp whites like Dry Riesling, full bodied Grüner Veltliner, or the outside of the box pick Greek Assyrtiko.
Beer is a little easier since both Pilsners and West Coast IPAs work well but for a real treat try a Sour like a Belgian Lambic. Traditional, dry Gueuze, Kriek and Framboise are all excellent for this.
A Tom Collins, a Perfect Storm, or your favorite tall, citrusy cooler are great cocktails to try.
Serves 10-12
Dry Rub
INGREDIENTS:
3 tbsp. Kosher salt

3 tbsp. paprika (smoked paprika if roasting in oven)

3 tbsp. coarsely ground black pepper

2 tbsp. packed brown sugar

1 tsp. cayenne pepper

6 lbs. boneless Boston butt (pork shoulder)
DIRECTIONS:
Combine first five ingredients in a small bowl.
Rub pork all over, getting into any crevices with dry rub. Wrap tightly in plastic wrap and refrigerate at least a few hours. Overnight is better. If you like a lot of bark and/or want to minimize cooking time the pork can be cut into 3 lb. or even 1-1/2 lb. pieces.
Mop
INGREDIENTS:
1 cup apple cider vinegar

1/2 cup Lager Beer or Hard Cider

2 tbsp. Worcestershire sauce

1 tbsp. Kosher salt

1 tbsp. coarsely ground black pepper
1 tbsp. vegetable oil
1 tbsp. liquid smoke (optional and only if oven roasting)
DIRECTIONS:
Combine all ingredients.
Pork Shoulder
DIRECTIONS:
Remove pork from refrigerator and allow to come up in temperature while you build a hardwood lump charcoal fire in the firebox of a smoker or at one side of a grill for indirect cooking. Bring to 225-250°F or preheat oven to 225°F.
Place pork in smoker/grill directly on the grate or in the oven in a large low sided pan.
Maintain temperature, adding fuel as needed and cook basting with mop every 45 minutes or so until an internal temperature of 195°F is reached. If you like it smokey, feel free to add hickory chips to the fire periodically. Cook times will vary depending on the size of your pork shoulder/pieces, smoker/oven and whether an even heat is maintained. Expect a 4-6 hour cook time, at least.
Remove from heat, tent with foil, and let rest until it cools enough to pull with your hands or two forks.
Pork should be very tender and pull easily into bite sized pieces.
Sauce
INGREDIENTS:
1-1/2 cups apple cider vinegar

1/2 cup ketchup

1 tbsp packed brown sugar

1-1/2 tsp salt

3/4 tsp red pepper flakes
DIRECTIONS:
While the pork is cooking, combine all ingredients.
Slaw
INGREDIENTS:
1 cup mayonnaise

1/2 cup BBQ sauce (recipe above)

1 large green cabbage (about 2-1/2 pounds)

Salt and black pepper to taste
DIRECTIONS:
Whisk together mayo and BBQ sauce.
Core, quarter, and thinly shred cabbage. Add to dressing.
Toss and adjust seasoning with salt and pepper.
Assemble Sandwiches
DIRECTIONS:
In a large bowl, mix the pulled pork with a little sauce just to moisten.
Pile pork on hamburger buns. Add more sauce if desired.
Top with slaw.
Prepare to be praised for making such a dang good sandwich.