Main Content Starts Here
Demo Kitchen Recipe: Traditional Tacos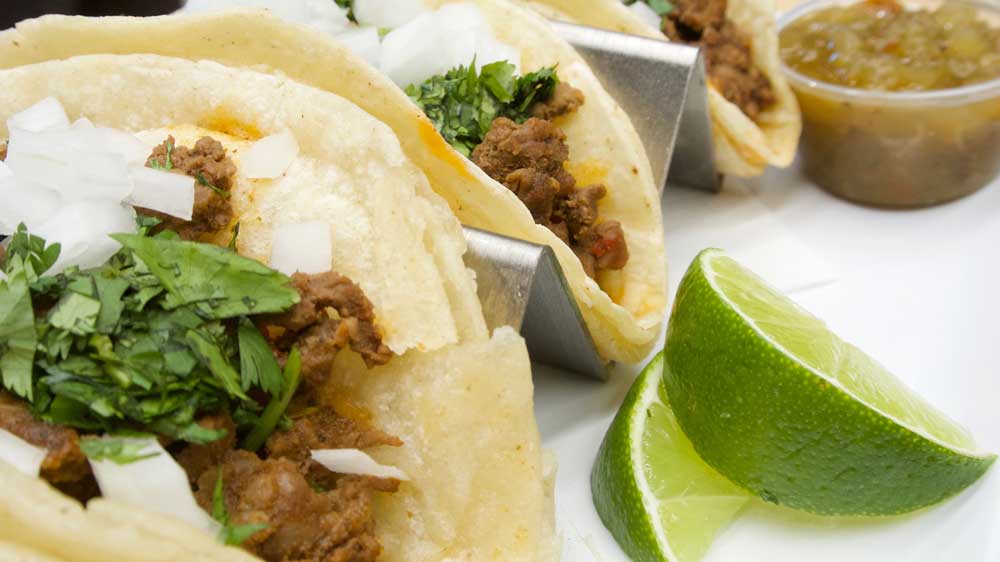 For many, tacos are THE definition of Mexican food. Our recipe focuses on the classic preparation. But whatever you prepare as a filling, we STRONGLY suggest skipping the microwave and warming the corn tortillas in the oven - see step #3 below. The tortillas gain not only an attractive color but also a delicious smoky/toasty note. The perfect pairing with our Taco Night cocktail recipe.
Traditional Tacos
INGREDIENTS:
3 White Onions, diced and divided in half

Vegetable Oil, as needed

5lbs Taco Meat or Ground Beef

1/2 cup Taco Seasoning (see below)

1 cup Water

6-inch Corn Tortillas (~ 40)

2 Bunches Cilantro, chopped
DIRECTIONS:
In a large shallow pan over medium-high heat, sauté half of the onions in a small amount of oil just until they start to turn translucent.

Add the beef and taco seasoning to the pan continue to cook until the meat starts to brown. Add the water, cover, and let simmer until meat is fully cooked.

Wrap the tortillas in aluminum foil in groups of 10. Place the tortillas in a 350-degree oven for 10-15 minutes or until they are soft.

Spoon a small amount of the seasoned beef into each tortilla and top with diced onion and cilantro. Serve with your favorite salsa or lime wedges.
Taco Seasoning (Makes ~1 cup)
INGREDIENTS:
5 Tbsp Chili Powder

2-1/2 Tbsp Cumin

2 Tbsp Kosher Salt

2 Tbsp Black Pepper

2-1/2 tsp Paprika

2 tsp Garlic Powder

1-1/2 tsp Italian Seasoning

1 tsp Chili Flakes
DIRECTIONS:
Whisk all spices together.