Main Content Starts Here
Demo Kitchen Recipe: Third Coast Crab Cakes with Grainy Mustard Sauce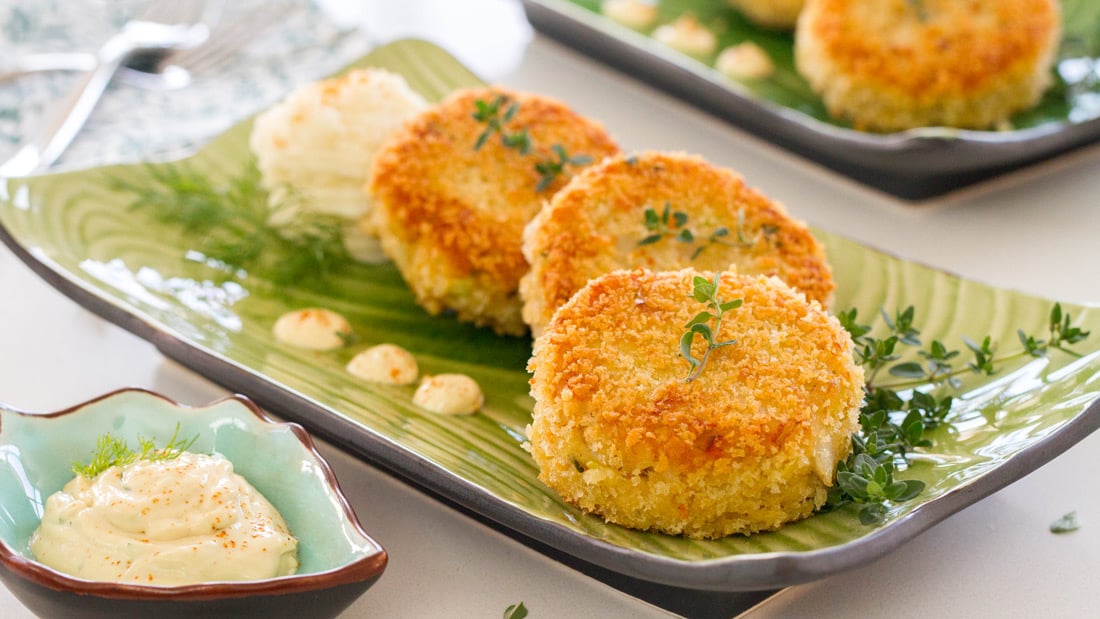 The west coast has Dungeness, and the east coast has Blue; here on the third coast we have canned. Never fear, excellent quality fresh lump crab can be purchased in tub or can from a good fishmonger and will result in amazing crab cakes. The goal of any good crab cake is the same as your favorite concept album (you remember those, right?). They should be all killer and no filler (well, very little, that is) and these don't disappoint. They are loaded with sweet chunks of tender crab with just enough binder to hold them together. March 9 is National Crab Meat Day but who needs an excuse to whip these up? Definitely not the Demo Kitchen. Pinch me, I must be dreaming! No, they really are that good!
Perfect wine pairing options include Dry Riesling from the Finger Lakes or crisp Spanish Albarino. Pils or Kolsch are great beer choices and if you are in the mood for a cocktail a classic Daiquiri would be great.
Third Coast Crab Cakes
INGREDIENTS:
1 cup fresh breadcrumbs (just pulse some good quality white sandwich bread in a food processor)

1/3 cup milk

1/4 cup mayonnaise

1 egg, lightly beaten

1 tsp. Dijon mustard

1 tsp. Worcestershire sauce

1 tsp. lemon juice

2 tbsp. finely chopped green onion (white and green)

1/2 tsp. baking powder

1 tsp. Old Bay

1/4 tsp. Kosher salt

1/8 tsp. white pepper

1 pound lump crab (picked over for bits of shell)

All-purpose flour, as needed

Butter, as needed

Canola oil, as needed
DIRECTIONS:
In a large bowl combine breadcrumbs and milk. Mash together with hands or a rubber scraper.

Add next eleven ingredients and mix well.

Add crab, folding gently, trying not to break up the big lumps.

These can be made into 6 entrée sized or about 32 mini appetizer sized cakes.

For large cakes use a 1/2 cup dry measuring cup to make mounded cakes. Evenly space on a well buttered baking sheet and refrigerate for 30-60 minutes.

For small cakes shape each patty from 1-1/2 tbsp. of mixture. Refrigerate 30 minutes.

Drizzle large cakes with some melted butter and bake in a preheated 450°F oven for 12-15 minutes until golden brown and cooked through.

Heat 2 tbsp. oil and 2 tbsp. butter in a large skillet over medium heat. Dredge small cakes in AP flour. Add to pan without crowding. Cook until golden brown 3-4 minutes and flip to brown the other side. Repeat until all cakes are cooked.
Grainy Mustard Sauce
INGREDIENTS:
3/4 cup mayonnaise

1-1/2 tbsp. grainy Dijon mustard

2 tsp. prepared English mustard (like Coleman's)

1-1/2 tsp. Dijon mustard

1-1/2 tsp. fresh lemon juice

1/2 tsp. honey

Freshly ground black pepper to taste
DIRECTIONS:
Mix all ingredients together in a bowl until well blended.
SERVING:
For entrées, serve one or two large cakes with sauce spooned on the plate or in a small ramekin on the side. For mini cakes serve as passed hors d'oeuvres with a small dollop of sauce atop each cake or on a buffet with sauce on the side. Although these are absolutely delicious, they are very monochromatic so be sure to sprinkle something colorful like chives, parsley or diced red pepper on top.