Main Content Starts Here
Demo Kitchen Recipe: Thai Beef Salad - Yum Nua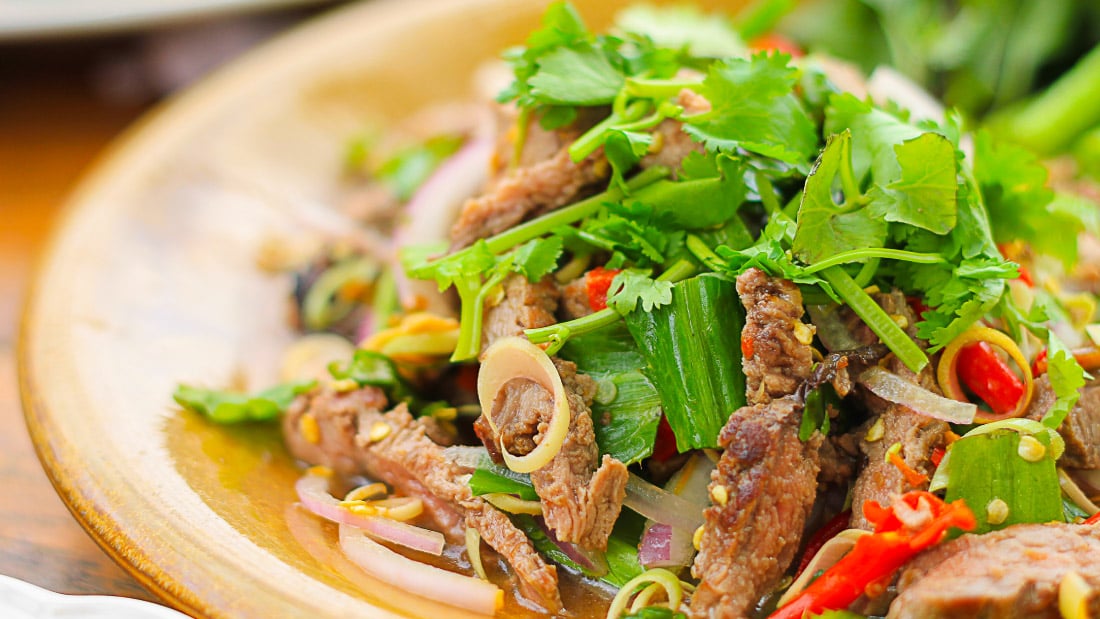 (skip to recipe)

In case you haven't noticed, the Demo Kitchen has been perseverating on the delights of the summer garden and we aren't done yet. This is another great summer recipe for using up all those homegrown veggies. Particularly herbs, chilis and cucumbers. Combine those with the sublime summer pleasure of a meaty grilled steak and you have the crème de la crème of beef salads with everything but Yul Brynner.
We usually don't go for tomatoes in this Thai classic but at this time of year we say – go for it. The addition of sweet cherry tomatoes or wedges of heirlooms would be a welcome addition and really, they are amazing with the ultra-savory and tangy dressing. Hmm...why don't we use tomatoes again? Oh yeah, it's not always August. Use 'em if you've got 'em!
You can even add some tender lettuces if you choose or whatever garden vegetables you might like but we find the stripped-down focus on cool, refreshing herbs and cucumbers deeply satisfying as is. There should be enough dressing to accommodate some additions.
One note – This dish should have a spicy kick but be aware that Thai chilis are relatively intense, so use your own judgement. We like it HOT!
The wine pairing guidance here may seem counterintuitive if you are clinging to the red wine with red meat concept. More often than not, it is the preparation and/or the sauce you should be paying attention to rather than slavishly adhering to pairing the protein. In this case we have veggies, spicy heat, rich umami, and zingy citrus.
Balancing sweet, sour, salty, and spicy means a wine with high acidity and some sweetness of its own. A Late Harvest Riesling like a German Spätlese is the perfect match. A good Riesling has the intensity and weight needed, will handle the lime with aplomb, and the sweetness will provide a thrilling counterpoint to the salty umami and spice. If you like it really hot, don't be afraid to try an Auslese. The hotter the dish, the more you will appreciate body, concentration, and sweetness (with moderate alcohol).
Conversely, if you go easy on the chilis, Dry or Off-Dry Reisling, Chenin Blanc or a Dry Rosé will work well. If you can't imagine flank steak without red, stick to high acid, low tannin, low alcohol, fruity wines. Austrian Zweigelt would be a fun choice.
Beer drinkers, Singha is an excellent all-malt lager with an assertive Saaz hop presence. It's based on the classic European archetype and has been brewed in Thailand since 1933. If you don't know it, it is certainly worthy of your attention.
If you would prefer a cocktail, check out the Gaia Maia Taia or the Singapore Sling.
Serves 4 as an entrée.


Thai Beef Salad - Yum Nua
INGREDIENTS:
1 lb. flank steak

1/4 cup Thai fish sauce (nam pla)

1/4 cup lime juice, freshly squeezed

2 tbsp. palm, coconut or turbinado sugar

2-4 red Thai bird's eye chilis, thinly sliced

2 shallots, thinly sliced

5 scallions, thinly sliced on a bias

1 English cucumber, seeded and sliced on a bias

1/4 cup cilantro leaves

1/4 cup mint leaves

1/4 cup Thai basil leaves
DIRECTIONS:
Season steak with salt and pepper and cook over a hot hardwood charcoal fire. Shoot for a crusty char and a medium rare center, about 4 minutes per side. Let rest on a cutting board.
Whisk together fish sauce, lime juice, sugar and chilis.
Combine the remaining ingredients in a large bowl. Thinly slice rested, room temperature beef, add to bowl and toss with dressing. Taste and adjust seasoning.
Serve with hot jasmine rice.