Main Content Starts Here
Demo Kitchen Recipe: Sweet Potato Waffles with Turkey & Cranberry-Maple Syrup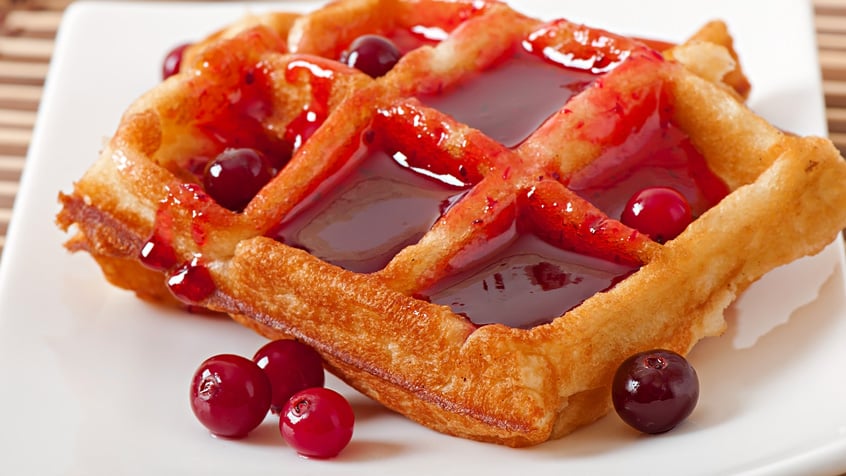 It's Thanksgiving weekend and you have a ton of leftovers and maybe you're less inclined than in other years to go out for brunch. Stay in, use those leftovers to create something completely different and soul satisfying. There are two distinct and delicious chicken and waffle traditions. Follow the recipe to make a variation on the soul food classic or take a que from the Pennsylvania Dutch. If you choose the later, just skip the syrup and reheat your turkey in leftover gravy and top your waffle for a more savory version. Serve with sparkling wine cocktails like a traditional mimosa (maybe with an added splash of Grand Marnier), Moscato d'Asti or a smooth, creamy coffee stout. Serves 6.
Sweet Potato Waffles
INGREDIENTS:
2-1/4 cups all-purpose flour

2 tsp baking soda

1 tsp salt

1 tsp ground cinnamon

1/8 tsp freshly grated nutmeg

2 cups buttermilk

1/3 cup light brown sugar

2 large eggs, separated

1/4 cup melted butter

1 tsp vanilla extract

1-1/2 cups leftover mashed sweet potatoes
DIRECTIONS:
Whisk together flour, baking soda, salt, cinnamon and nutmeg.

In a separate bowl whisk together buttermilk, brown sugar, egg yolk, melted butter, vanilla and sweet potato.

In a third bowl whisk egg whites until stiff peaks form.

Add the dry ingredients to the sweet potato mixture and stir to combine.

Gently fold in whipped egg whites.

Working in appropriately sized batches depending on the size of your waffle iron, scoop batter onto a preheated and greased waffle iron. Cook 5 minutes or until lightly browned and fluffy.

Keep waffles warm in a low oven until ready to serve.
Cranberry-Maple Syrup
INGREDIENTS:
1 cup leftover whole cranberry sauce

1 cup maple syrup

1 oz Grand Marnier
DIRECTIONS:
Combine ingredients in a small saucepan and heat over medium low. Stir until well combined. Serve warm.
SERVING:
Reheat roughly 2lbs of leftover turkey.

When you are ready to serve, put a waffle on a plate, butter generously and top with turkey. Pour syrup over the top and enjoy.