Main Content Starts Here
Demo Kitchen Recipe: Summer Garden Panzanella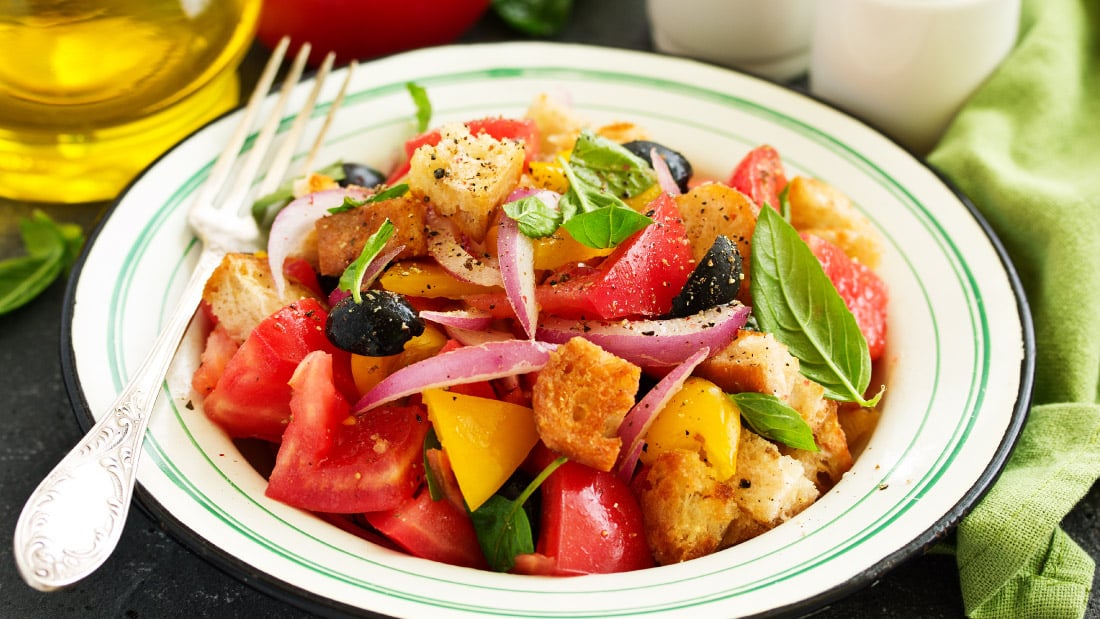 Chicago and its environs have a bit of a reputation for being a meat and potatoes kind of town. When Frank Sinatra came to his kind of town; we know he was often found seated in Booth 1 at the legendary Pump Room. We don't know his go to order but we're guessing it was something meaty like Steak Diane or Tournedos Rossini, probably not a salad. One thing is certain, he had a glass of Jack Daniel's in his hand.
It's a dated reference, after all Chicago's culinary scene has come a long way since Frankie Machine haunted the North Side. For example, what Chicagoan doesn't order the creamed spinach at a steakhouse, chow down on elote covered in butter, mayo, and cheese at the New Maxwell Street Market, or drag their hotdog through the garden? We put peppers on our Italian Beef and even allow for ketchup on a hamburger. (Ketchup is a vegetable, right?) Case closed! Chicago is a veggie kind of town.
Still not convinced? Well, check out this modern riff on the classic Tuscan bread salad, panzanella, designed specifically to delight all you Illinois home gardeners and mavens of the Green City Market. Purists might object to what we've done here but the results are fantastic, and we manage to exploit peak summer vegetable season to the hilt.
The Demo Kitchen loves this bright, fresh but umami laden delight as a salad course or as a side salad at summer parties. Most often, however, we like to marinate paillards of chicken breast in lemon, garlic, olive oil and every fresh garden herb in our arsenal, grill them over a hot hardwood charcoal fire and serve them right alongside SGP for a light, nutritious summer supper.
So, what do you say, Chicago? You down with SGP? Yeah, you know me! Who's down with SGP? All the homies! (Also hopelessly dated, but oh well.)
You can't go wrong serving crisp Italian whites like Tuscany's own Vernaccia di San Gimignano, Vermentino, or a fresh Pinot Grigio. An Italian Rosato would also be quite nice. If you are struggling with a massive crop from your garden, try it with the strangely refreshing, vegetable centric Resurrection Mary cocktail.
Serves 6-8
Summer Garden Panzanella Vinaigrette
INGREDIENTS:
2 tbsp. red wine vinegar

1/2 tsp. Dijon mustard

1 clove garlic, finely minced

1/2 tsp. Kosher salt

1/4 tsp. freshly ground black pepper

1/3 cup extra virgin olive oil
2 tbsp. capers, rinsed
1 tbsp. fresh oregano, thyme or any herb or combo you like
DIRECTIONS:
Whisk together vinegar, Dijon, garlic, salt, and pepper.
Whisking constantly, drizzle in olive oil to form an emulsion.
Stir in capers and herbs. Set aside while making salad.
Summer Garden Panzanella Salad
INGREDIENTS:
4 cups cubed Tuscan or French bread (~1" cubes)

2 tbsp. extra virgin olive oil

Kosher salt

3 medium, ripe red or multicolored heirloom tomatoes, 1" dice. Season with a little salt.

1/2 large English cucumber, halved, seeded, cut into 1/2" slices

1 large red or yellow bell pepper, seeded cut into 1" dice. Use the color that contrasts most with your tomatoes of choice.
1/2 medium red onion, sliced
1/3 cup pitted Taggiasca or Kalamata olives, rinsed
12 large basil leaves, torn or coarsely chopped
1/4 cup coarsely chopped flat leaf parsley
DIRECTIONS:
Preheat oven to 400°F. Spread the bread cubes on a low-sided baking sheet and toss with olive oil. Season with kosher salt. Bake until dry and golden brown, 10 to 15 minutes. Cool on a wire rack.
In a large bowl, combine tomatoes, cucumber, pepper, onion, olives, basil, and parsley.
Add cooled bread cubes and vinaigrette. Toss thoroughly.
Let rest at room temperature for an hour or so. Taste, adjust seasoning with salt and pepper. Feel free to drizzle on a bit more vinegar and/or olive oil if you think it needs it. If you prefer extra crispy croutons adjust seasoning and serve immediately.