Main Content Starts Here
Demo Kitchen Recipe: Southwest Turkey & Green Chile Hash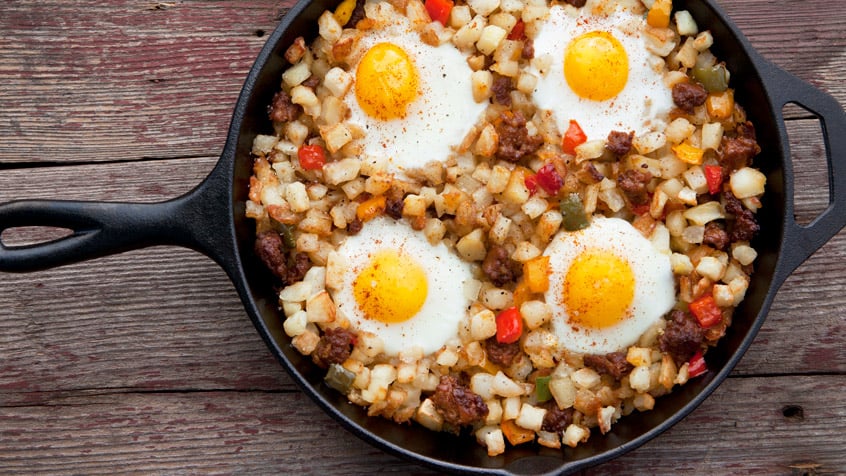 Hash is a fantastic way to repurpose leftover meat whether it's corned beef, roast beef or turkey. This version has the flare of New Mexico making for a spicy Thanksgiving weekend brunch or even dinner. Hash recipes are incredibly flexible, so if you want to add leftover veg, like corn, go for it. Just make sure you keep the size of any ingredient in line with everything else. Sparkling wine and Riesling Kabinett are perfect with this as are crisp lagers and, of course, spicy Bloody Marys or Micheladas. Serves 4.
Southwest Turkey & Green Chile Hash
INGREDIENTS:
2 tbsp butter

1 tbsp olive oil

1 medium white onion, finely diced

1 red bell pepper, 1/2 inch dice

2 cloves garlic, minced

1 cup roasted, peeled, seeded and chopped Hatch Green Chiles (you can sub in poblanos). New Mexico chiles range from mild to very spicy so choose wisely. We like a bit of heat. Canned are fine.

1 tsp ground cumin

1/2 tsp ground coriander seed

1/2 tsp dried Mexican oregano

2 cups 1/2 inch diced leftover russet potatoes (if you plan ahead you can set these aside when you make mashed potatoes. Feel free to use diced sweet potatoes too. A fifty-fifty split is nice.

2 cups shredded or diced leftover turkey (preferably dark meat but use whatever you have)

1/4 cup leftover turkey gravy mixed with 1/4 cup heavy cream

salt

freshly ground black pepper
DIRECTIONS:
If you don't have precooked potatoes, here is what you need to do- Place diced potatoes in a pot with two quarts of heavily salted cold water. Add 2 Tbs. of vinegar (this is optional, but your potatoes will hold their shape better). Bring to a boil over medium-high heat and cook until just tender and strain.

In a large cast iron or nonstick skillet melt butter with olive oil over medium-low heat.

Add onion and red pepper. Sweat, stirring occasionally until crisp/tender about 6 minutes.

Add garlic, cumin, coriander and Mexican oregano. Cook for a minute then add green chile. Adjust seasoning with salt and pepper.

Turn heat up to medium. Add potatoes and turkey. Stir gently to evenly distribute all ingredients. Cook, stirring occasionally until potatoes start to brown.

Gently stir in the gravy/cream mixture. Taste and make your final adjustment to the seasoning with salt and pepper.

Cook undisturbed until liquid dries and a crispy crust develops on the bottom. Flip and crisp other side if desired.
SERVING:
A couple of sunny side up eggs with rich, runny yolks are called for but scrambled or poached work too. Feel free to garnish with any or all (go all the way!) of these tasty embellishments - sliced avocado, diced tomato, shredded cheese (like Chihuahua or Monterey Jack) cilantro, lime wedges and hot sauce. Buttered warm flour tortillas on the side are a must.