Main Content Starts Here
Demo Kitchen Recipe: Sicilian Caponata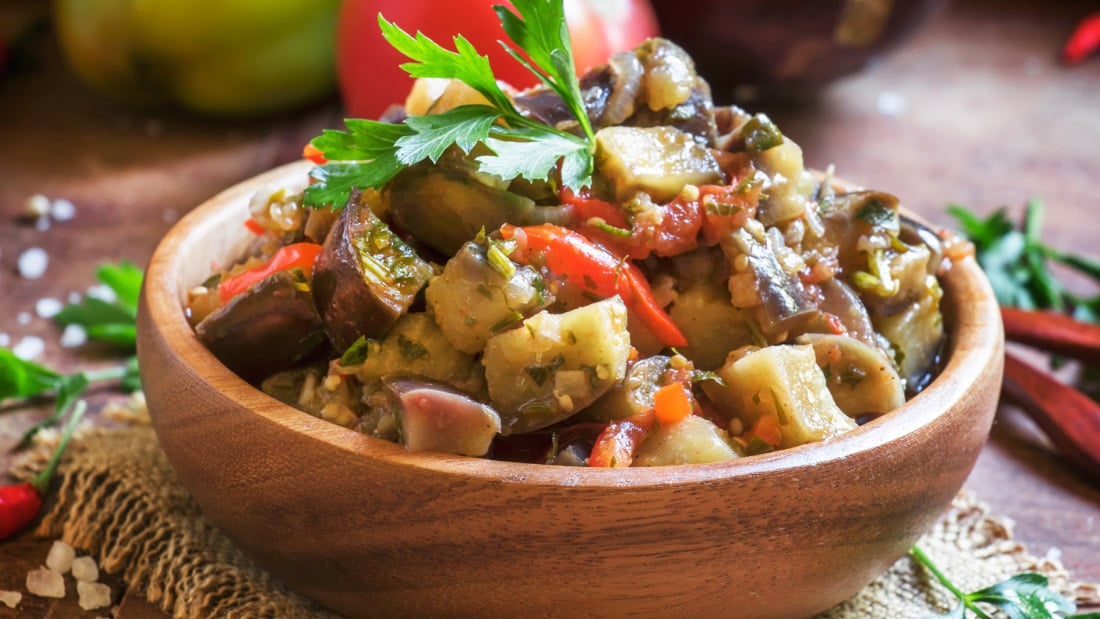 Caponata is a signature dish of Sicily. It's a slightly sweet and sour mixture of vegetables akin to France's Ratatouille or Spain's Pisto Manchego. It can be eaten on bruschetta, as an appetizer or as a side for fish or chicken. The agrodolce flavor profile calls for a fruity and fresh red. Donnafugata's Sedara Nero d'Avola is perfect as is the outside of the box but great beer pairing with Rodenbach Flemish Red Ale. May we also suggest that you can up your Aperol Spritz game by going from knocking back this refreshing Italian aperitivo on its own to creating a sublime match with caponata.
Sicilian Caponata
INGREDIENTS:
1-1/2 lbs. eggplant, unpeeled cut into 1" cubes

3 tbsp. extra virgin olive oil

1 medium onion, chopped

2 stalks celery, diced

3 large garlic cloves, minced

2 red bell peppers, diced
1 lb. ripe plum tomatoes, peeled, seeded and finely chopped
1/4 cup capers, rinsed and drained
3 tbsp. pitted green olives, chopped
2 tbsp. honey
3 tbps. red wine vinegar
Kosher salt and freshly ground pepper to taste
DIRECTIONS:
Toss the eggplant in 1 tbsp. olive oil and roast on a baking sheet at 400°F until crisp/tender.
Heat 1 tbsp. of the oil over medium heat in a large sauté pan and add the onion and celery.
Cook, stirring, until the onion softens, about 5 minutes, and add the garlic. Cook just until the garlic begins to release its aroma.
Add the peppers and a pinch of salt. Cook, stirring, until almost tender, about 6-8 minutes.
Add another tbsp. of oil and the eggplant. Season to taste with salt and pepper.
Add the tomatoes to the pan with a pinch of salt. Cook, stirring and scraping the bottom of the pan often, 6-8 minutes, until the tomatoes have cooked down and become fragrant.
Add the capers, olives, honey, and vinegar. Turn the heat to medium-low and cook, stirring occasionally, for about 20 minutes, until the vegetables are very tender and the mixture has thickened.
Season to taste with salt and pepper and remove from the heat. Allow to cool to room temperature. Flavors will blossom in the refrigerator overnight if you have the time. Serve at room temperature.