Main Content Starts Here
Demo Kitchen Recipe: Shrimp & Asparagus Quiche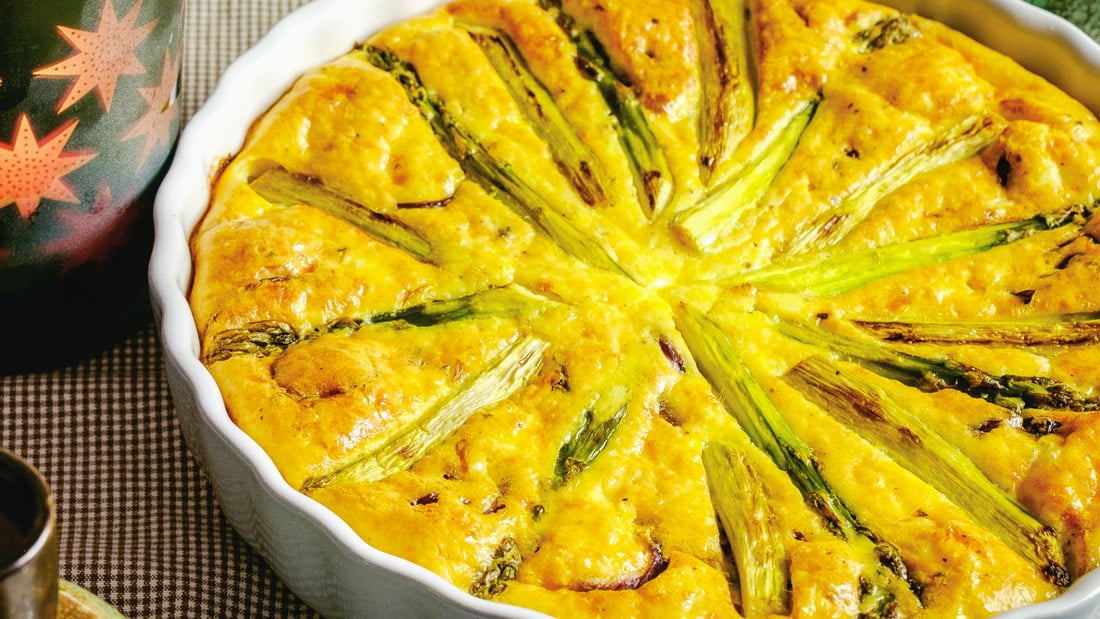 This is the third and final installment of the Demo Kitchen's spring brunch series. Put them all together and you are well on your way to a groaning board of brunch delights featuring both sweet and savory options that will thrill anyone lucky enough to have a seat at your table. This week: Quiche.
Quiche is delicious for breakfast, lunch, or dinner and always welcome at the brunch table. For this version we decided to combine shrimp, a stalwart of the brunch buffet, with the fresh spring flavors of asparagus and chives. If you are in a hurry or intimidated by the prospect of making a crust, a store-bought crust can be used but nothing compares to a tender, flaky, all-butter crust made from scratch. Give it a try, you will thank us.
This will be fantastic with Champagne and all the usual suspect brunch cocktails, especially a nice Bloody Mary. It is also absolutely wonderful paired with the white wines of Alsace, including Crémant. The Demo Kitchen never says no to a cool glass of Dry Riesling to sip with our quiche.
Serves 8. More on a buffet.
Crust
INGREDIENTS:
1-1/4 cups all-purpose flour

1/2 tsp salt

8 tbsp cold unsalted butter, cut into tablespoon sized pieces

3-4 tbsp ice water, as needed
DIRECTIONS:
Whisk together flour and salt.

Cut in butter with a pastry cutter or fingers (if using hands be sure not to heat up the butter too much). The result should be evenly distributed pea sized pieces of butter coated in flour.

Slowly drizzle in water a tablespoon at a time and gently toss with a fork. When the dough comes together stop adding water. You should be able to form it into a ball, but it should not be too wet.

Flatten the ball into a disc about 3/4" thick, wrap tightly in plastic and refrigerate for at least half an hour or better yet overnight.

When the time comes, preheat oven to 400°F, remove dough from fridge and let rest 10-15 minutes. Roll out disk on a lightly floured surface to fit your 10" tart pan or 9" pie plate. In a tart pan, position dough to fit with a bit of slack on the inner sides and cut the dough by pushing a rolling pin over the top. Then use your fingers to gently push the dough into the fluted edges. If using a pie pan, the dough should fit the pan and drape over the sides. Trim excess dough about 1/2" past the edge of pan, fold the edges under to make it flush with the sides of the pan. Crimp edges with fingers and thumb.

Dock (prick) the bottom of the dough with a fork, chill for 30 minutes. Line with parchment or foil and fill with pie weights or dry beans. This will help the dough hold its shape while baking.

Bake about 15 minutes until lightly browned. Remove weights and paper, bake another couple of minutes. Cool.
Filling
INGREDIENTS:
4 large eggs

1 pint heavy cream

2 tbsp sliced chives

1/4 tsp freshly ground black pepper

1/8 tsp freshly grated nutmeg

3/4 cup grated Gruyère

3/4 cup small, peeled, deveined, and cooked shrimp

14 lightly blanched asparagus spears; 8 whole, 6 sliced

2 tbsp butter, cut into pea sized pieces
DIRECTIONS:
Lower oven to 375°F.

Whisk together eggs, cream, chives, salt, pepper, and nutmeg.

Evenly distribute the cheese, shrimp, and sliced asparagus in the bottom of the tart shell.

Gently pour custard over the shrimp, etc. in the tart shell then gently lay the remaining asparagus spears on top of the custard so that each of eight slices will have a spear running down the center. Dot the surface of the custard with the little pieces of butter.

Bake in upper third of oven for 30-35 minutes or until a knife inserted in the center comes out clean. It should be puffed and browned. It will sink as it cools. Serve warm.