Main Content Starts Here
Demo Kitchen Recipe: Seared Duck Breast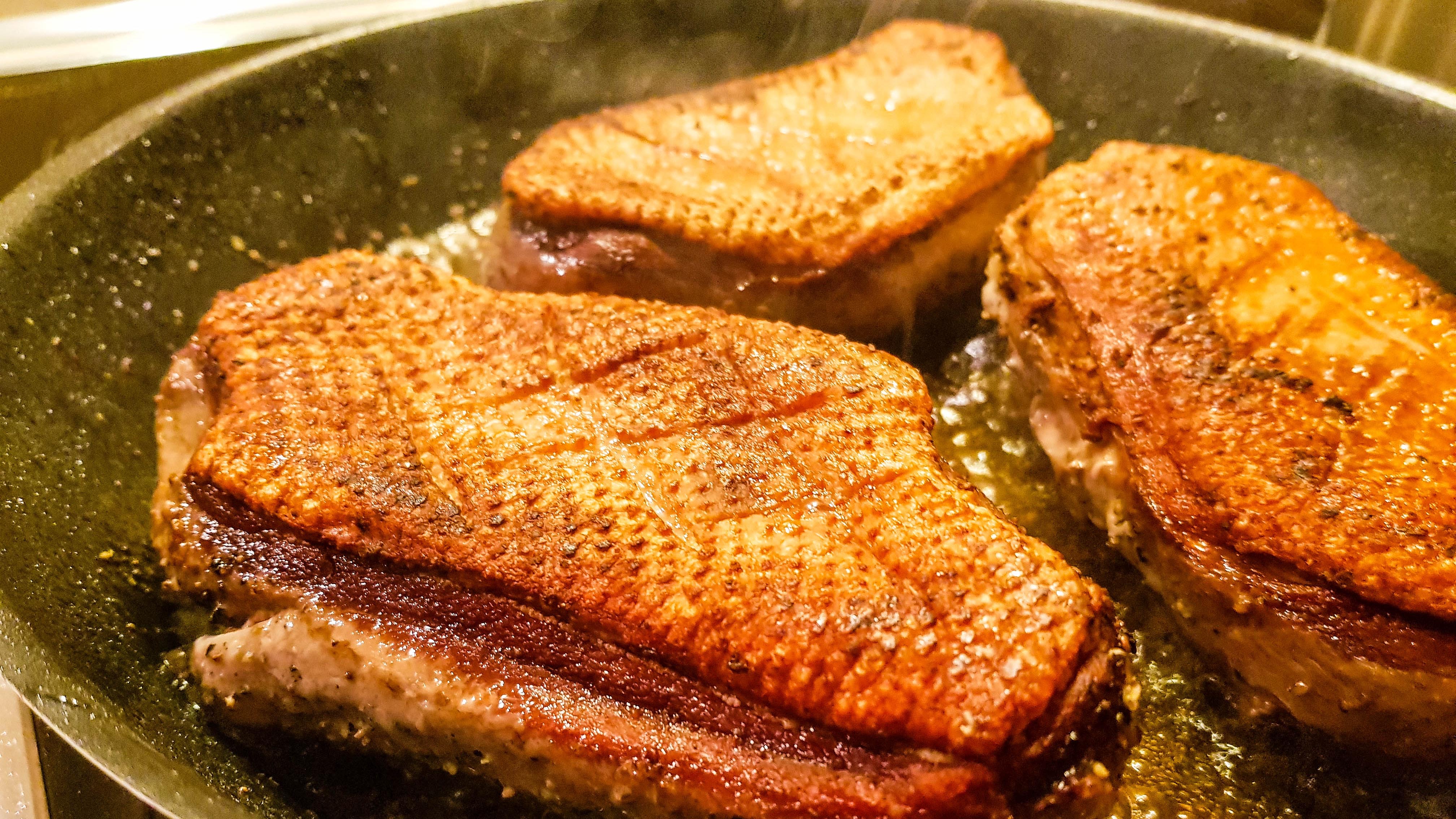 With its caramel-colored, crispy exterior and tender pink core, a perfectly seared duck breast is a culinary wonder - and easy to prepare. The following preparation with roasted corn salad is a keeper. But a number of sides will work - pan seared duck breast with caramelized root vegetables makes for a great autumn dish. Just keep the following pro tips in mind when searing:
Cut no corners! As you score the skin with a crosshatch pattern, take your time and add as many crosshatch scores as you can - scoring the skin increases the surface area of the fat and exposes more of the fat to heat, allowing the fat to render off faster.
If you see the meat, you've cut too deep! Be mindful that your crosshatch cuts do not expose the flesh core. That layer of fat protects the meat, allowing it to cook gently and evenly. Cutting through to the flesh will expose the meat to direct heat, overcooking it before enough fat has rendered out.
Low and slow is the way to go! But keep the following in mind: (a) too high a temperature will leave an overcooked duck breast with too much fat and too tough a texture; and (b) too low a temperature lets the duck breast cook too long, leaving a duck breast that overcooks before the fat fully renders.
Burst the bubble! Start with a cold pan. As the fat renders you should hear after ~5 minutes bubbles bursting like frothy waterflow. That is your Goldilocks sweet spot temperature for searing the breast to perfection.
Waste not, want not! Continuously pour away or ladle out rendered fat while the duck breast cooks. Once it cools, filter the rendered fat and store in a fridge for use another day - say for duck fat roasted potatoes.
Follow this sequence in your preparation of this dish:
Twenty four hours prior to serving, begin brining the duck breast.
Approx 1 to 1-1/2 hours before serving, roast the corn for the salad.
As the corn cools, sear the duck.
As the duck cools, assemble the salad.
Slice the duck breast.
Dress and plate the salad, then layer the sliced duck on top of salad.
Pair with a Duchesse De Bourgogne sour ale, Elijah Craig Small Batch Bourbon or Diplomatico Reserva Exclusiva 12 Year Rum.
Seared Duck Breast
INGREDIENTS:
6 large duck breasts, scored

3 qt water

1/2 cup kosher salt

1/4 cup granulated sugar

3 bay leaves

4 thyme sprigs

4 cloves garlic, crushed

1/2 onion, sliced

1-1/2 tsp ground black pepper

1-1/2 tsp pickling spice

1-1/2 tsp whole clove

salt and pepper to taste
DIRECTIONS:
Bring all ingredients except duck to a boil in a large stockpot.

Reduce heat and simmer for 5 minutes.

Let cool at room temperature.

Pour over scored duck breasts.

Cover and let sit in the refrigerator for 24 hrs.

Pat dry and season duck lightly with salt and black pepper.

Place the duck skin side down in a cold pan pan and turn the pan on to medium-low. Sear for ~15 minutes or until fat has been rendered and skin is brown.

Flip duck over and sear for another 3-4 minutes.

Check the duck's temperature (should be 130°F for medium rare), if necessary finish the duck in a 350°F oven until desired temperature is reached.

Let the duck rest for 5-10 minutes before slicing.
Roasted Corn Salad
INGREDIENTS:
6 ears of corn, shucked and kernels removed

2 tbsp extra virgin olive oil

1 tbsp fresh thyme leaves, chopped

1/2 tsp chili powder

1 medium red onion, sliced

1-1/2 cup halved grape tomatoes

3 cups arugula, roughly chopped

1 lime, juiced

salt and pepper to taste
DIRECTIONS:
Preheat your oven to 400°F.

In a medium bowl, toss the corn with 2 tbsp of oil, thyme, and chili. Season to taste with salt and pepper.

Spread the corn on a sheet pan and roast for 30 minutes, rotating half way through. Let cool.

In a large bowl toss together the corn, onion, tomatoes, arugula, oil, and lime juice. Season to taste with salt and pepper.

Serve underneath sliced duck breast.